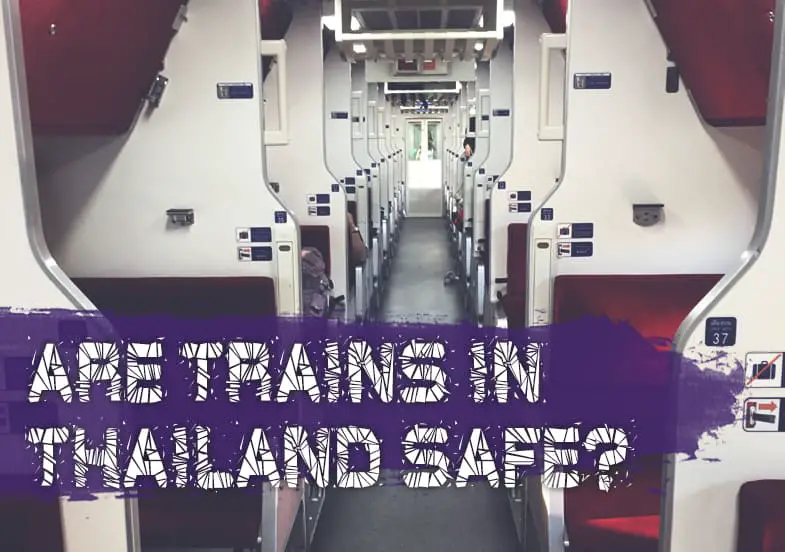 Train safety in Thailand is something many tourists are concerned about. Accidents involving trains are happening in Thailand every year, but most of them are not train derailments anymore as it was a few years ago. Nowadays, most of them are irresponsible or not cautious enough drivers who ignore the red light signal and cause collisions with trains.
So, are trains in Thailand safe? Nowadays, trains are a reliable way of getting around Thailand. In recent history, various accidents, but especially train derailments, happened almost every month. In past years Thailand is working hard to fix the condition of its railroad tracks and to renew its passenger trains. Traveling in Thailand by train is becoming safer each year.
Thailand is on the right path to reduce train derailments, but the train cars have been improved by a lot as well.
I mean the train route from Bangkok to Chiang Mai. When traveling with trains number 9 and 10, and in the 1st or the 2nd class, you can not tell that you're in Thailand unless you take a look outside the window.
Not that they would disturb or anything like that, but there are no or close to zero locals on these train cars. I will explain why is that later in the article.
Thirteen hours long train ride from Bangkok to Chiang Mai is smooth, comfortable, and it feels safe.
When judging by the first looks, it doesn't seem to be a safe activity, but Maeklong Railway Market is a place I recommend visiting during your trip to Thailand. Many choose to visit this place for picturesque Instagram photos.
Are Overnight Trains In Thailand Safe?
So the most popular overnight train route in Thailand is from Bangkok to Chiang Mai.
The newest and most comfortable trains are:
Train number 9 from Bangkok to Chiang Mai;
Train number 10 from Chiang Mai to Bangkok.
These trains are new, they look good inside and out, and they surely feel safe.
I should also mention that train number 9 leaves from Bangkok's central train station (Hua Lamphong) at 18:10 and arrives in Chiang Mai at 07:15.
Train number 10 leaves Chiang Mai at 18:00 and arrives in Bangkok at 06:50.
Unlike other trains in Thailand, these two are always precise. They leave precisely at the scheduled time and arrive with high precision as well.
Depending on your travel dates, tickets on 12Go Asia for this route will cost about 40 USD. I recommend booking tickets early because of both 1st and 2nd class sleeper train tickets being sold out fast — especially the 1st class tickets.
Riding trains number 9 and 10 feels like traveling by train somewhere in Europe. These are the newest trains in Thailand. The ride is quiet and smooth. Train attendants who prepare berths for sleeping wear white gloves. Toilets are nice as well. It is one of my favorite ways how to get around Thailand.
Who are the other travelers?
You might think that the train is the cheapest option of how to travel between these two cities, but it isn't.
Vans, buses and even planes can sometimes be a cheaper option. Not to mention that a plane will do the distance six times faster than a train. For example, the plane ticket from Bangkok to Chiang Mai in the low season costs only 28 USD. By checking some of the cheapest airlines in Thailand, you could probably find even less expensive tickets.
It is the reason why most people using both of these trains are foreign tourists. For many locals, it is simply too expensive.
Also, when traveling in the low season (from July to October), the train could be half empty. Nevertheless, you should book tickets as soon as you know your travel dates.
Is sleeping on an overnight train safe?
Sleeping on an overnight train feels safe. It is quiet, and people seem to respect each other's privacy. Especially if you've booked the 1st class sleeper train tickets.
1st class passengers get a private train cabin to themselves. It costs only 20 USD more than 2nd class sleeper tickets.
For 2nd class passengers, their berths are no less comfortable than in the 1st class. The main difference between both is that for the 1st class passengers, they have doors, but the 2nd class passengers hide away by using a curtain.
So it is the main reason why the 1st class travel on an overnight train feels safer than on any other class.
Yes, the 3rd class passenger cars are available as well, but it could be a too extreme adventure for travelers from the 1st world countries. For adventurous travelers, it is an option to consider. Usually, locals and backpacker lifestyle travelers choose the 3rd class train cars.
Oh, and for the solo female travelers, women-only train cars are possible as well. For bookings, use 12Go Asia as well.
So the 1st and 2nd class train cars are quiet and safe, but as it takes more than 12 hours to get from Bangkok to Chiang Mai, I can imagine how some passengers could get bored. If so, a restaurant car is a place to be. Depending on other passengers, you might appear in the middle of a real party. There is no Dj or anything like that, but people use their imagination and have fun. So wait for a late evening and head to restaurant car to meet other travelers from all around the world.
How Safe Is Bangkok Train Station Luggage Storage?
The luggage storage at the Bangkok train station (Hua Lamphong) doesn't seem to be the safest place where to leave your belongings, but there are no alternatives to it.
Yes, there is a guy to whom you pay for taking care of your belongings, but he might not always be there.
I remember this one time when I returned to the luggage storage to have my belongings back, but no one could help me. Two men were somewhere deeper inside the room, but it was another business. What they knew was that the guy responsible for the belongings was somewhere away.
I have used the Bangkok train station luggage storage only once. Let's hope that my experience was an exception. All the bags are easy to access to anyone who might want to steal them.
It is cheap to store your bags at the Bangkok train station, but it is definitely not safe.
Related Questions
Can You Smoke On Trains In Thailand?
Technically it is forbidden to smoke on the trains in Thailand. Nevertheless, the reality is different. You may see people smoking on the train where the train cars are connected or at the train restaurant. It seems like during the daytime everyone respects the sign forbidding the smoking inside the train.
The smoking is prohibited nor only on the trains, but on the station platforms as well.
The maximum fine for smoking either on the train or the station platforms in Thailand is 5000 Baht (USD 165, EUR 149, GBP 127).
How To Book Trains In Thailand?
The most convenient way of booking train tickets in Thailand is by using the 12Go Asia website. It is a trustworthy platform for booking tickets for trains, buses, ferries, and transfers.
Unlike other platforms, they don't ask for personal data that they don't need. It is also entirely in English.
When you've found your ride, read other people's reviews about the transport. For example, if you've found a train ride from Bangkok to Chiang Mai, click on the type of train car and look for reviews. These reviews might give you an even better idea of how good the trip will be – there are so many recommendations for taking an overnight train from Bangkok to Chiang Mai.
Have a safe travel to Thailand!