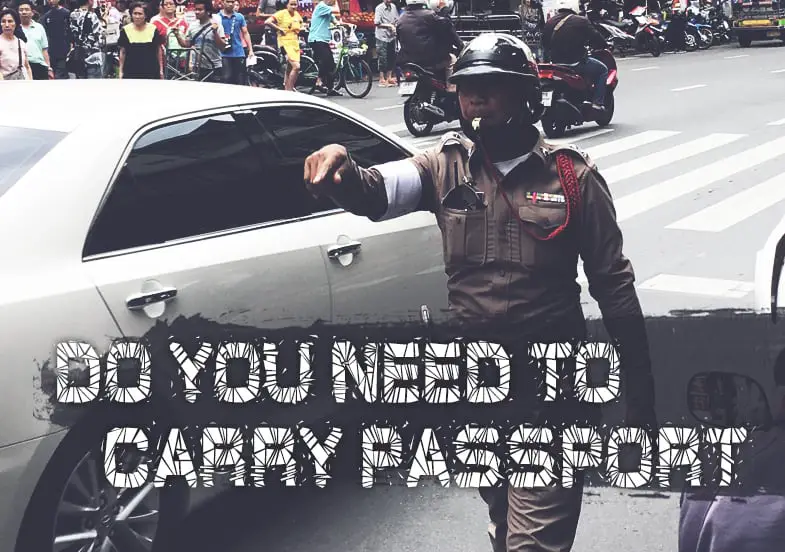 Use this article as a guide and reminder of how to avoid getting fined for not having a passport with you in Thailand.
I will also share several Thailand specific tips on how to keep your passport safe at all times.
So, do you need to carry a passport in Thailand? Yes, there is a requirement for all tourists to carry their passports in Thailand at all times. Thai authorities might request to show a passport during raids on nightclubs, at roadblocks, and on other occasions. It is possible to get around Thailand without carrying a passport, but there is a risk of 2000 Baht fine for not having a passport with you.
It doesn't sound too convenient, right? And many travelers, including me, choose not to carry their passports with themselves when traveling around Thailand.
But what are the actual risks of doing so?
Are the hotel room safes in Thailand a secure place where to keep your passport?
And how to act when you're asked to leave your passport at a shady scooter rental office?
So the law requests that you should be carrying a passport with you at all times. Follow this one rule, and you will avoid any unpleasant misunderstandings.
Here are a few occasions when to be prepared for your passport to be checked:
During police raids on bars and nightclubs;
When driving a scooter and being stopped at many of the roadblocks;
When exchanging the currency;
When receiving the previously booked tickets;
When acting inappropriately.
I have never witnessed a police raid at a bar or nightclub in Thailand, but I know that such raids do happen.
Driving a scooter and being stopped by the Thai road police has to be the occasion in which they will almost always ask for your passport. Especially if you won't be able to provide them a valid International Driving Permit. Driving without one will result in a fine of 500 Baht (USD 16.53, EUR 15.03, GBP 12.84).
Note that the number one reason why tourists who drive a scooter are being pulled over is the fact that they don't wear helmets. Yes, quite often, tourists will be pulled over, but the locals will drive by past even without wearing helmets.
So if you plan to drive a scooter, I recommend taking a passport with you. And especially in such touristy areas as in Bangkok, Pattaya, Patong, and Chiang Mai, where police use roadblocks for driver license verification and passport control as well.
When exchanging the currency in Thailand, most of the currency exchange places will ask for your passport. Nothing to worry about here – show your passport to them, do the exchange, and that is it.
If you've bought your bus, train, ferry, or transfer tickets from 12Go Asia, then you will have to show your passport tickets at their office when picking up the tickets.
And of course, if you will not behave yourself, you might be approached by the police officers and asked for a passport. To give you some examples, you should not disobey the dress code for visiting temples, smoking where it is forbidden, flying drone where it is prohibited, and so on.
How To Keep Passport Safe In Thailand?
So let's take a look at some Thailand specific situations which potentially could lead to unpleasant misunderstandings.
1. Don't keep your passport in the hotel room safe.
If there are any, choose the hotel lobby safes instead. It is a much safer option. I am not saying that many thefts are happening – it is a bit of advice I have heard from other travelers.
2. Don't leave your passport at shady scooter rental offices or with similar businesses.
Yes, to rent a scooter, jet ski, or a car, they will often insist that you leave your passport at the rental office. Avoid it by any means because this request could be a part of a scam.
The rental company might rent you the already broken vehicle without you even noticing it. This article is written by thailandtravelessentials.com. Sometimes they cleverly hide the damage. Of course, what follows is a request for a large amount of money for the loss, which kind of wasn't there when you first saw the vehicle.
Basically, in this case, they will use your passport to get the money. Often tourist police are helpless in this kind of situation as well.
3. Make several copies of your passport.
It is also recommended to make several copies of the arrival stamp from inside your passport.
When you have several copies of your passport ready, it is advised to give some of them to your fellow travelers as well.
Also, it is recommended to keep your contact details inside your passport in case you lose it.
Also, to solve the shady scooter rental issue, try closing the deal by providing a copy of your passport. If hey will turn it down, look for another business and hopefully more trustworthy one.
4. Keep your passport away from water and humidity.
Have you planned to do island hopping tours in Phuket? Then get some waterproof passport holder or a waterproof pouch to keep your most valuable belongings dry.
Especially when doing island hopping tours, you will often need to climb or jump into the water to get to the coast. Traveling without a waterproof pouch could be quite a challenge.
What's The Best Way To Carry Your Passport
It would be unnecessary stressful either to lose your passport or to have it stolen from you. With pickpocketing being common almost in every country, it can happen in Thailand as well.
Here is a list of few ways how to carry your documents securely:
I have a money belt like this one on Amazon, only in black color. It is much different from the first one I've linked to above. I think it was waterproof as well. It will come handy when traveling by long-tail boats.
Do not carry your passport in your back pocket or your backpack, as both of these are the unsafest places where to keep it. Wear it on your body instead.
So when choosing a money belt, check that it has the RFID protection. It is the protection against electronic pickpockets. They use credit card reading devices to collect credit card numbers and expiry dates. Having this kind of info is enough to make a purchase online.
How Long Does Your Passport Have To Be Valid To Travel To Thailand
On the day when you will enter Thailand, your passport has to be valid for at least six months. So do some calculations to make sure you will be able to enter Thailand with no problems.
Airlines could be the first ones who could deny boarding if your passport expiry date does not meet this requirement.
If the airlines have permitted you to fly even with a passport not meeting this requirement, you risk being sent back from Bangkok if Thai immigration authorities will decide so.
Also, if you've already made some reservations and it appears that you have to change the passport, I recommend sending a message to the company and informing them that your passport number has changed. With most companies, they won't charge you any additional fees for that.
So if you find yourself a responsible traveler, then carry your passport with you during your trip through Thailand at all times. Have a safe place where to keep it, and none of the possible issues I've described in this article will bother you.
Remember that for tourists, it is an official requirement to carry a passport in Thailand at all times. By leaving your passport at questionable businesses (transport rentals, hostels, etc.), you risk being scammed. Hotel room safes are not that secure as well, and keeping your passport at the hotel lobby safe will be a safer option.
Have a safe trip to Thailand!