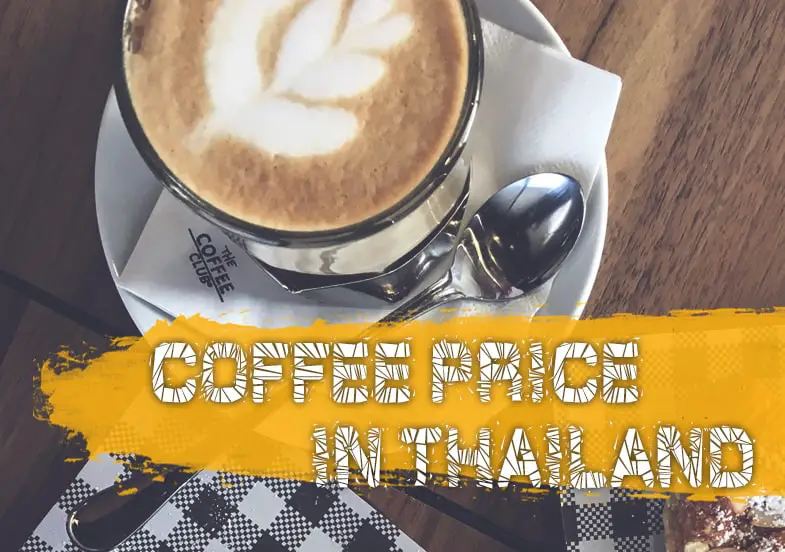 This article is a quick review of coffee prices in Thailand. Besides finding out how much does a cup of coffee costs in Thailand, you will also find out about the world's most expensive coffee.
This article will also share some recommendations about the unique possible coffee experiences around Thailand.
So, how much does coffee cost in Thailand? The average price for a cup of coffee in Thailand is 70 Baht (2.29 USD, 2.08 EUR, 1.75GBP). The price varies from 30 Baht for a cup of hot coffee from a coffee cart on a sidewalk to more than 30 000 Baht for a kilogram of Black Ivory Coffee, which is the world's rarest coffee. To your surprise, it is naturally refined by elephants in Thailand. 
All the prices mentioned above are for the hot drinks. Usually, the price for iced coffee will be by approximately 40% higher. And when in Thailand most likely you will prefer iced coffee over the hot one.
So keep reading to find out about:
The world's most expensive coffee that is produced in Thailand;
Most famous Thai coffee brands and their prices;
Unique coffee experiences around Thailand.
How Much Is A Cup Of Coffee In Bangkok?
So the average price for a cup of coffee in Bangkok is approximately 70 Baht (2.29 USD, 2.08 EUR, 1.75GBP).
The most expensive coffee in the city is at Starbucks and various unique and creative coffee shops. Often such coffee shops can be found by simply walking the streets of Bangkok. Sometimes they're hidden in small side alleys.
Starbucks is one of the most expensive coffee shops in Bangkok.
Some of the most popular coffee shops in Bangkok are:
Blue Owl Cafe
Doi Chaang Coffee
Black Canyon Coffee
Wawee Coffee
The Coffee Club
Coffee Lab
Cafe Kaldi
So, Cafe Latte in Starbucks costs 115 Baht (3.77 USD, 3.42 EUR, 2.88 GBP). The same size Cafe Latte in Blue Owl Cafe will cost you only 69 Baht (2.26 USD, 2.05 EUR, 1.73 GBP). 
Both Starbucks and Blue Owl Cafe and the other coffee shops I've listed above are stylish and modern places, but you could also stop by a coffee cart and get your coffee there.
To buy Cafe Latte from a coffee cart, you will have to pay as little as 30 Baht (0.98 USD, 0.89 EUR, 0.75 GBP).
If you're a coffee-lover, then you're in luck because coffee in Thailand can be bough almost on every street corner.
Do They Grow Coffee In Thailand?
There are four main regions in Thailand where they grow coffee:
Doi Chang;
Doi Tung;
Kanchanaburi;
Chumphon.
What is the most expensive coffee in Thailand?
So the most expensive coffee in Thailand is the Black Ivory Coffee. 2.2 pounds (1 kilogram) of Black Ivory Coffee cost 30 000 Baht, which is 972 USD, 883 EUR, 748 GBP.
This company has built a meaningful brand. By purchasing Black Ivory Coffee, you will support the Golden Triangle Asian Elephant Foundation as well as the families taking care of elephants.
If you would like to read more about the world's rarest coffee, which is made in Thailand, visit the Black Ivory Coffee Company website.
Try unique coffee experience in Chiang Mai.
If you're up for another unique coffee experience, I recommend visiting Arabica Coffee Research Station near Chiang Mai.
This research and training center is owned and operated by Chiang Mai University Faculty of Agriculture. It is not easy to find nor to reach this place, but it is worth getting there.
Arabica Coffee Research Station address is Don Kaeo, Mae Rim District, Chiang Mai 50300, Thailand. Here is the address in the Thai language if you decide to go there by motorbike taxi – ตำบล ดอนแก้ว อำเภอแม่ริม เชียงใหม่ 50300.
I doubt that anyone with a car will ever agree to take you there because of the bad road surface leading to it. For beginner drivers, I find this road too dangerous and especially in wet conditions. But for more experienced drivers, it could turn out to be a fun experience.
To locate this place on Google Maps, you have to look for Wat Phrathat Doi Suthep. It is a Buddhist temple, and it is one of the most visited tourist attractions in Chiang Mai. Then look for Small Cafe near Ban Khun Chang Khian village. Small Cafe is the actual place of Arabica Coffee Research Station you're looking for.
A cup of hot coffee at the Small Cafe will cost you approximately 60 Baht (1.95 USD, 1.77 EUR, 1.49 GBP). Not bad for a freshly brewed coffee in a beautiful place that is hidden away from the stream of tourists.
Another place worth visiting is The Giant Chiang Mai. It is a coffee house in a giant tree.
A hot cup of coffee will cost you 85 Baht (2.76 USD, 2.50 EUR, 2.12). Iced coffee will cost 120 Baht (3.89 USD, 3.54 EUR, 2.99 GBP).
 The most popular coffee brand in Thailand is Doi Chaang.
A pack of premium quality coffee beans from Thailand could be a great souvenir to bring back to your home country.
Doi Chaang is one of the two brands in Thailand that are approved by the EU Coffee Association for quality and taste.
For example, an 8.8 oz (250 g) pack of Doi Chaang Peaberry coffee costs 450 Baht (14.60 USD, 13.27 EUR, 11.23 GBP).
Visit Unicorn Cafe Bangkok.
Unicorn Cafe Bangkok is one of the weirdest cafes I've been to. Everything is unicorns, rainbows, and colors there — one of the best Instagram worthy cafes in Bangkok.
Its address is 44/1 Soi Sathon 8, Khwaeng Silom, Khet Bang Rak, Krung Thep Maha Nakhon 10500, Thailand.
The food quality isn't the best, and I don't know what coffee brand do they use in their cafe. The prices in Unicorn Cafe are reasonable. For example, a cup of hot coffee costs 65 Baht (USD 2.07, EUR 1.82, GBP 1.55).
To find out more about this exciting place, read this Unicorn Cafe Bangkok Review.
Is Starbucks In Thailand?
Currently, there are approximately 140 Starbucks in Thailand.
Most of them are located in Bangkok, but in Phuket, there are lots of Starbucks as well.
Outside Bangkok, the highest density of Starbucks are in the world-famous party location Patong Beach as well as in the digital nomad's hotspot Chiang Mai.
So if you're a collector of their mugs, you shouldn't be worried about finding one in Thailand.
By the way, the Starbucks at CentralWorld (shopping plaza in Bangkok) is the 2nd largest Starbucks in the world. The largest Starbucks in the world is located in Shanghai.
It is worth visiting Starbucks at CentralWorld. Its address is 999/9 Rama I Rd, Pathum Wan, Pathum Wan District, Bangkok 10330, Thailand.
Starbucks Thailand Menu Prices
HANDCRAFTED BEVERAGES
| ESPRESSO | Tall (12 oz.) | Grande (16 oz.) | Venti (20 oz.) |
| --- | --- | --- | --- |
| Caffe Latte | 115 Baht | 130 Baht | 145 Baht |
| Flat White | 130 Baht | 145 Baht | 160 Baht |
| Caramel Macchiato | 140 Baht | 155 Baht | 170 Baht |
| Caffe Americano | 105 Baht | 120 Baht | 135 Baht |
FRAPPUCHINO (Blended Beverages)
| COFFEE | Tall (12 oz.) | Grande (16 oz.) | Venti (20 oz.) |
| --- | --- | --- | --- |
| Coffee | 125 Baht | 140 Baht | 155 Baht |
| Caramel | 140 Baht | 155 Baht | 170 Baht |
| Mocha | 140 Baht | 155 Baht | 170 Baht |
| Espresso | 140 Baht | 155 Baht | 170 Baht |
100 Baht is 3.28 USD (2.96 EUR, 2.50 GBP).
Note that prices of Starbucks coffees may vary depending on which city you are in.
So the average price for a medium-size handcrafted beverage in Starbucks in Thailand is 137.50 Baht, which is 4.51 USD (4.07 EUR, 3.55 GBP).
How To Say Coffee In Thai?
Locals will understand you if you will order your coffee in English. But they will be pleasantly surprised if you will try doing it in Thai.
For iced coffee, you should say, "gaa fae yen."
For hot coffee, you should say, "gaa fae ron."
If you would like to have a takeaway coffee, you should say "ow glap baan."
So depending on where you're from, you might find coffee prices in Thailand either low, reasonable, or high. The most expensive cafes in Thailand are in Bangkok and other tourist hotspots. Modern design coffee chops can be found all around Thailand, but especially in Bangkok and Chiang Mai.
As I've already mentioned, Chiang Mai is one of the regions in Thailand where they grow coffee, but it is also the capital of digital nomads, and so there are plenty of unique and cool coffee shops to check out.
With Thailand's coffee culture being on the rise, Thailand is a welcoming and must-visit destination for every coffee lover.