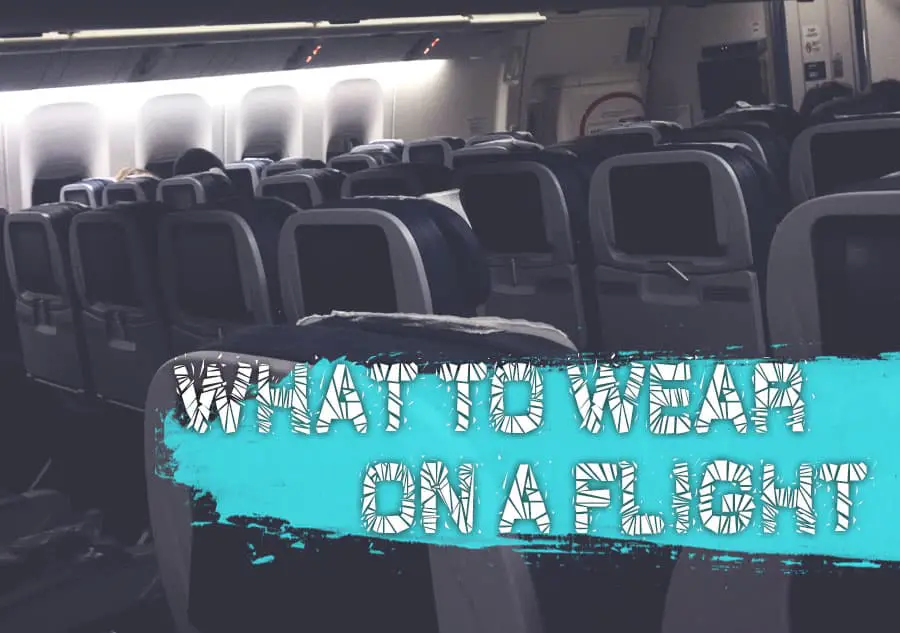 Flight to Thailand won't be the most fun part about your trip to this colorful country.
If you're about to buy a flight to Thailand or you have already done it I recommend you start thinking about ways how to entertain yourself on this upcoming long haul flight right now. How to dress for a flight will be one more thing to think about.
Here is a list of things to wear on a flight to Thailand:
Sweater
Slip-On Shoes
Warm socks
Comfortable pants
Scarf
Sleep mask
Earplugs
Neck pillow
These things to wear, not in any particular order, are the ones my wife and I recommend packing for a flight to Thailand as a must-haves.
1. Sweater
I recommend dressing in layers. Yes, you're flying to tropical Thailand, but at some point, the air temperature inside the plane could get too cold.
So packing a sweater or a sweatshirt for the flight is highly recommended.
Flight attendants will hand you a fleece blanket, and you will be able to get an extra blanket if you need one. You shouldn't worry about its cleanliness because it will be packed in a sealed plastic bag.
2. Slip-On Shoes
I can not imagine spending 13 hours on an airplane with my sneakers or shoes on at all times. Other people feel the same because the most popular footwear on such a long trip is either slip-on shoes, flip flops or just socks.
3. Warm socks
For those who always feel cold, I recommend bringing an extra pair of socks.
I would even say that a pair of gloves is also a good idea. If you don't use them on the flight, you might need them if you will travel to Northern Thailand.
In such popular tourist destinations as Doi Suthep Pui National Park, the temperature might get low.
4. Comfortable pants
I wouldn't say that the passengers on a flight to Thailand will be the most beautifully dressed people around you 🙂 Many would wear sweatpants and shorts. And you should do the same.
If you will be lucky and there will be free seats on the plane, wearing loose clothing will make it easier for you to find a comfortable sleeping position on those extra free seats.
5. Scarf
I already mentioned that there would be blankets available on the airplane. Nevertheless, the scarf is something you could use throughout your trip to Thailand. Especially to cover yourself up in many of the Thai temples where the entrance with uncovered shoulders is forbidden.
I recommend you to read my article about how to dress in Thailand appropriately. It is called "Dress Code For Tourists In Thailand" and you can read it HERE.
6. Sleep mask
I mean on a flight to Thailand during night time you won't need to wear it because it will be dark enough to have a good sleep.
The sleep mask is something you would want to take with you on a flight during the daytime.
7. Earplugs or noise-canceling headphones
Bring your earplugs.
Headphones that will be given to you by the airline staff won't help to reduce the noise. To be honest, they're awful.
To watch movies or to listen to music on board an aircraft I recommend bringing your headphones.
At my work in the office, I use noise-canceling headphones, and I've used them for many flights as well.
Noise-canceling headphones are the best alternative to earplugs, and I always prefer headphones over the earplugs.
Check out my short review about the headphones that I use and genuinely recommend HERE.
8. Neck pillow
The neck pillow is designed to support your neck and head in a natural position. To survive a flight to Thailand, it is a must-have item in your packing list.
Check out this Airplane Travel Kit on Amazon. Maybe it is something you should get? I usually manage to survive the long flights without it, but lately, I consider getting one for myself as well.
Good alternative to neck pillow could be a fair sized inflatable pillow.
Flying To Thailand Tips
Here are some tips for your flight to Thailand that I can think of:
Pay extra for better seats on a plane. It is so worth it. First of all that way you can sit next to the window. And on a 20 hours long flight it is a big deal even if you are flying during the night.
Your flight will be quieter if you will book a seat further away from the toilets.
And most likely you would prefer to share the blanket with your beloved one, not with some random stranger. Paying extra for better seats means sitting next to your partner or a friend.
Bring some snacks with you. I can eat everything, but my wife didn't enjoy the food onboard an airplane. That is why I suggest bringing some snacks with you in case you don't like the food that is offered by the airlines as well.
Bring some fully charged gadgets with you. I mean tablets, consoles like PlayStation Vita and Nintendo Switch and portable chargers. Gadgets help to shorten the time.
Related Questions
What To Do On A Flight To Thailand?
You will survive the long haul flight to Thailand no matter what, but it will be much easier if you will have some gadgets with you.
Most likely on your flight to Thailand, you will play games, watch movies and listen to music, but no doubt that on your way back home you will browse your photos from beautiful Thailand.
As it is difficult to sit down for that long and it also increases clotting of the blood in veins many passengers choose to walk around the plane.
What Is The Flight To Thailand Like?
I have flown to Asia with Ukraninan Airlines only, and I can comment only about their planes. I have had two types of planes. First with 3+4+3 seats in one row and the other with 2+4+2 seats in one row. As you can see I am not an airplane expert 🙂
Anyway, my 13 hours long flights to Thailand has always been comfortable. I usually try to get at least 4 to 6 hours of sleep during the flight.
This article highlights the importance of appropriate clothing for the flight to Thailand. I have always followed my dress code tips for the flight, and it has always been a good flight for me.
How Long Is The Flight To Thailand?
Flight to Thailand is approximately 20 hours long. Average flight duration for the fastest one stop flight from the United States to Thailand is  19.5 hours. Longest one stop flight could take up to almost 23 hours.
Flights from the United Kingdom take about 13 hours on average. Flights from Australia takes less – about 11 hours on average. Flight from New Delhi takes about 4 hours on average.
So deciding what to wear on a flight to Thailand is no joke.
I travel from Riga, Latvia and in my case, the cheapest and fastest way how to get to Thailand is to fly from Riga to Kiev, Ukraine and then from Kiev to Bangkok, Thailand. First flight is about two hours long, but the second one to Bangkok is 13 hours long.
As I have a couple of hours at Kiev airport, I have time to freshen up and to change my clothes for maximum comfort during the flight.