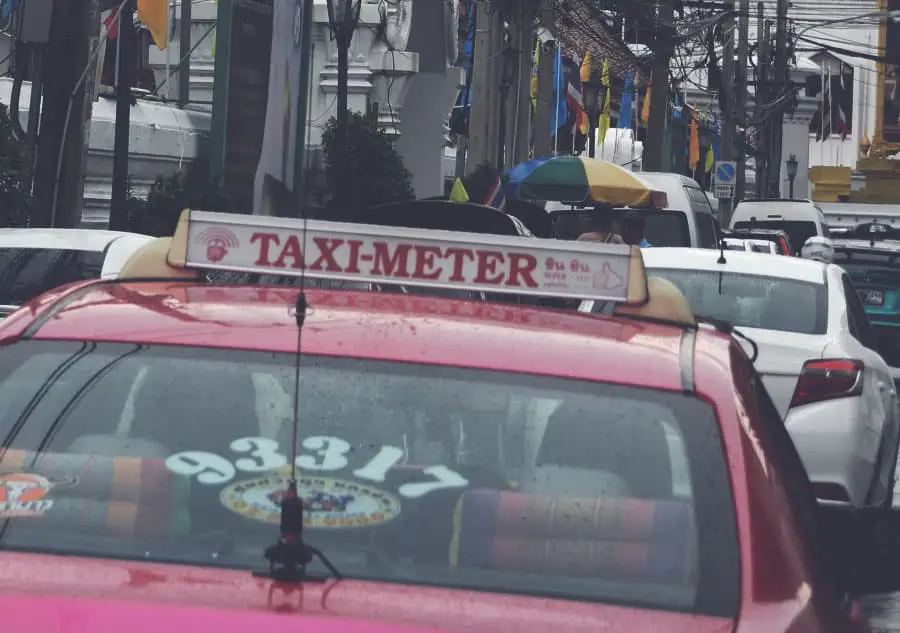 In past years there have been several popular taxi apps in Thailand – Uber, Grab, Easy Taxi, and others. Each of the apps has had its ups and downs, but regarding Uber, it was declared illegal only eight months after its launch in Thailand in February 2014.
Is there Uber in Thailand? Uber in Thailand has shut down its app services since April 8, 2018. On March 26, 2018, Uber noted that it would be transitioning its services and combine its operations with ridesharing service Grab. So, this means that there is no more Uber in Thailand since 2018.
For long-distance travel in Thailand (bus, train, airplane, ship) I always use 12 Go Asia services. It is a trustworthy website and the most convenient way of booking tickets for public transport in Thailand. Take a look at it here HERE.
No doubt that taxi and various ridesharing services are a great way how to get around the Bangkok, but I can think of at least three reasons why booking a taxi within an app is better than getting into one that you've found somewhere around you:
Getting to the correct destination
Overcoming the language barrier
Avoid being scammed
By getting to the right destination, I mean the functionality of the ridesharing apps. I have used taxi services in Bangkok quite a lot, but I haven't noticed that drivers would use any navigation apps. If the taxi driver will not feel confident about the exact address, he may refuse a fare. Sometimes the taxi driver might ask for advice from his colleagues and then give it a try. The Grab app will navigate you to the destination.
Regarding the language barrier in Bangkok, you might face a situation where the driver does not speak nor read in English. I recommend having an address of your destination in the Thai language. The print screen of your hotel address in the Thai language in your smartphone is a clever way how to make things easier for you and the taxi driver.
To avoid being scammed by the taxi driver, you must always ask him to turn the meter on. If not you might end up paying twice as much for the ride as you normally would. I've experienced situations where taxi drivers come up with various excuses to avoid turning the meter on. If the driver insists driving without the meter turned on just look for another taxi.
I've written an article with 27 crucial tips about public transport in Thailand and some of them will surprise you.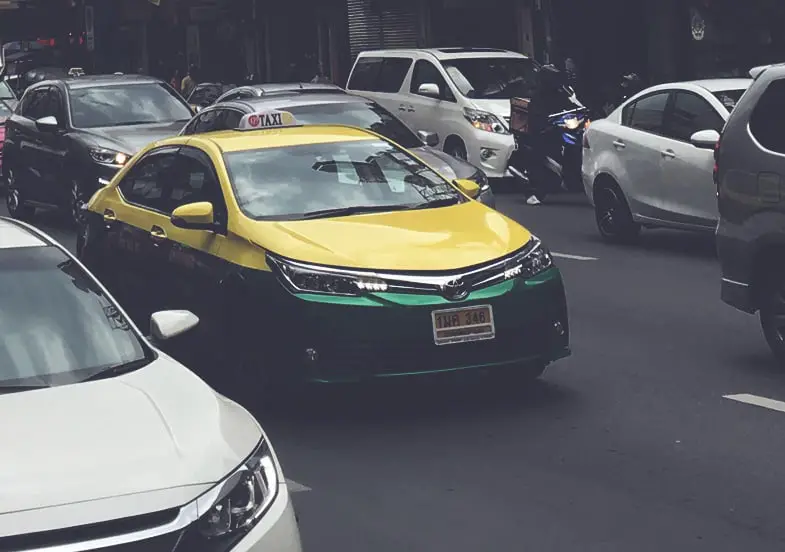 What Is The Best Uber Alternative In Thailand
Until the year 2018, the best alternative to Uber in Thailand was Grab. Now when Uber is gone the most convenient way to book a taxi or a private driver in Thailand is by using the Grab mobile app.
Visit the Grab website and download their app HERE.
It works the same way as Uber does. You have to open the app and pin your location on the map. Either a taxi (Grab Taxi) or a private driver (Grab Car) will approve your request and will pick you up soon. After you arrive at your destination, you will be able to rate the ride.
Other cheap alternatives for Uber to consider are motorbike taxis, BTS Skytrain, MRT metro, and Bangkok's city bus.
Avoid tuk-tuk's as they are more expensive than taxis. If you have no other options than to drive a tuk-tuk, which sounds impossible, always negotiate the price before having the ride. Note that a tuk-tuk ride will always cost you about 2 to 3 times more than a taxi with a meter.
Note that especially in Chiang Mai the Grab might be the best option for how to get from one place to another because there are more tuk-tuk's available for the rides than taxis.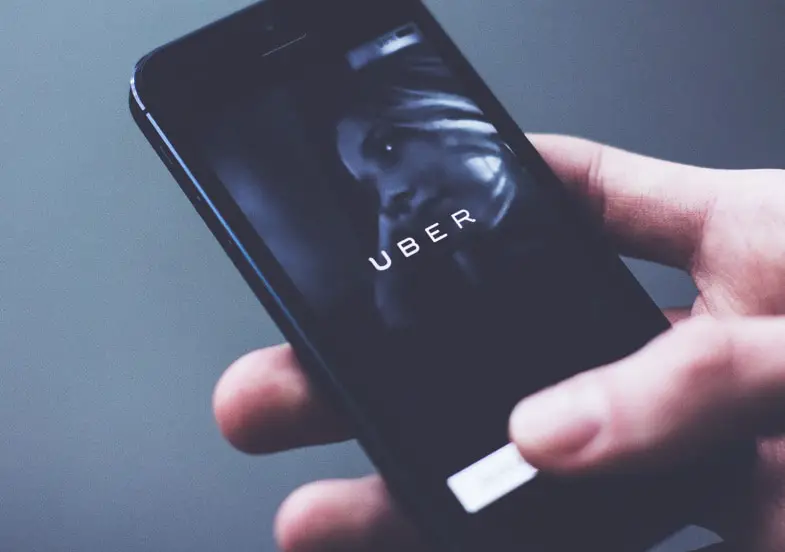 Here is what people have to say about the Grab:
I've noticed a more expensive tariff for the Grab in such locations as Pattaya and Patong.
If I was in Bangkok I think I would not need to use Grab as there is an abundance of independent taxis, but in Phuket it is a bit different because of the taxi and tuk-tuk mafia.
I find Grab prices in Bangkok generally a fair bit higher than a metered taxi. But I get picked up where I want, I know how much I'm paying and there are often promo codes to reduce the cost.
I've experienced awkward situations in Bangkok when taxi drivers don't know the location of my destination. When this happens, the driver waves at you by saying – no, no, no, and drives away. Use the Grab APP to avoid such situations where you're refused the ride only because of the language barrier.
Note that you must have a Thai sim card to use the app.
For me, the best Uber alternative in Thailand is driving a scooter. I wouldn't dare to do it in Bangkok, but in Phuket, it is the best thing you can do. Be aware that to drive in Thailand legally you must hold a valid driver's license and an International Driving Permit. 
Therefore if you plan to drive a scooter or a car in Thailand this article of mine is a must-read and especially for first-time travelers to Thailand.
Alternatively, you could also use such services as viahero.com. Such services connect you with locals. Usually, it makes the planning of your trip through the country a much easier task to accomplish. Of course, it doesn't exclude getting around Thailand by using ridesharing services similar to Uber.
Of course, getting a taxi in Bangkok is much easier than in the Thailand countryside. For example, if you're staying somewhere in a small village and let's say you have a ferry to catch early next morning, I recommend asking for help at the hotel reception desk.
Sometimes they will be your only option to get a taxi or a Grab. Make sure to agree on the price before the ride.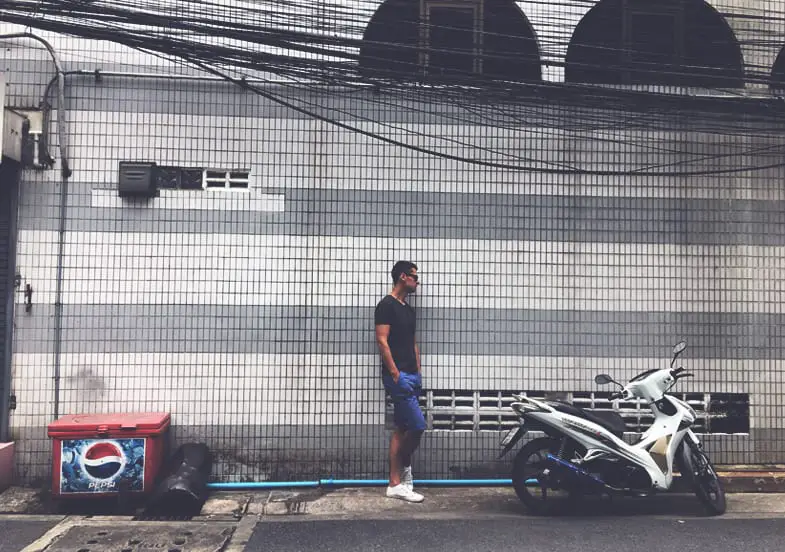 What Is The Difference Between Grab Taxi And Grab Car
Grab Taxi is a regular taxi with a meter. It isn't one particular taxi company that has applied to the Grab Taxi program. The taxi that will pick you up might be pink, yellow/green, or in any other color. All Grab Taxi drivers will have a white Grab sticker somewhere on the taxi window.
Grab Car is a private driver. There might be some locations in Bangkok or hours of the day when there are less regular taxis available. In situations like these, the Grab Car will be the best solution.
Grab Car has three types of cars to offer:
Economy means that you will get a regular 4 seater car.
Plus means having an option to choose from such premium car brands as Mercedes Benz, BMW, etc.
XL means an option to book a van or a minibus. Usually, those are 8 to 12 seaters.
None of these cars will be branded as taxis.
Is There A Booking Fee For Grab Taxi
The minimum booking fee for Grab is 20 baht on top of the fare (USD 0.64, EUR 0.56, GBP 0.49) and it varies based on your pick up/drop off location.
Grab booking fee might get higher for several reasons:
If there is a high demand for the rides at that moment
If you're booking the ride from the outskirts of the city
If you're booking during a rush hour
Booking a regular taxi or a Grab during a rush hour is never a good idea as you might end up spending hours in Bangkok's traffic jams.
Do You Tip Grab Drivers In Thailand?
No, it is not necessary to tip a Grab driver in Thailand, but any tips will be highly appreciated. The most common way to thank for good service is to round up the price for the ride.
The best way to tip a driver in Thailand is by giving some money in cash.
The suggested tip for a taxi ride in Thailand is 10 baht (USD 0.32, EUR 0.28, GBP 0.25), but depending on the distance the tip could be higher. As it is not customary to tip the driver, you will not offend anyone if you will decide not to leave a tip.
Tipping in Thailand among locals is not very common, but lately, it is getting more popular.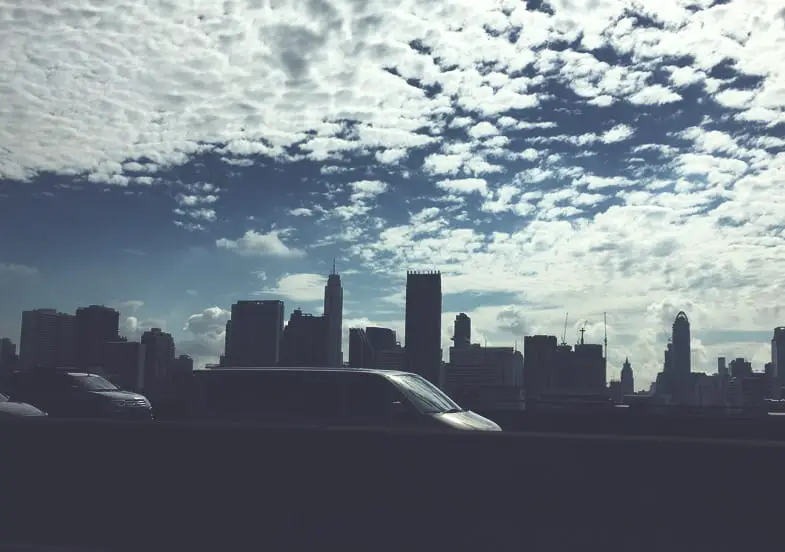 Related Questions
How much is Grab Taxi fare in Bangkok?
The fare starts at 40 baht (USD 1.27, EUR 1.12, GBP 0.98). After the first two kilometers, you will have to pay about 2 baht (USD 0.06 EUR 0.05 GBP 0.04 ) per kilometer.
Taxi is a very cheap way how to get around Bangkok, but because of the huge traffic jams during the daytime, I suggest to choose either a Bangkok's Skytrain (BTS) or a metro (MRT) instead of a taxi.
Is there Lyft in Bangkok?
No, Lyft left Thailand in 2017.
In 2015 Lyft started its partnership with Grab. For Lyft users, it meant possibility to book rides on the Grab platform. Lyft's partnership with the Grab ended in 2017.
So, I hope you had a good read and that this article was somehow helpful to you. Now that you know that there is no Uber in Thailand, its time to plan your ways of getting around Thailand accordingly.
Luckily, there are plenty of Uber alternatives available and you should get around easily.
Remember that the best alternatives to Uber in Thailand are motorbike taxis and other apps that are similar to Uber. If you're staying only in Bangkok, then add BTS Skytrain, MRT metro, Bangkok's city bus, and Bangkok riverboat.
By the way, the Chao Phraya riverboat is among the cheapest ways how to get around the city. Of course, apps like Uber are primarily used by foreigners and the majority of locals use either riverboat or BTS Skytrain and MRT metro to get to their jobs and back home.
I will do my best to keep this article up to date, but currently, there is no Uber in Thailand. So choose among other ways how to get around and have a nice vacation in Thailand.