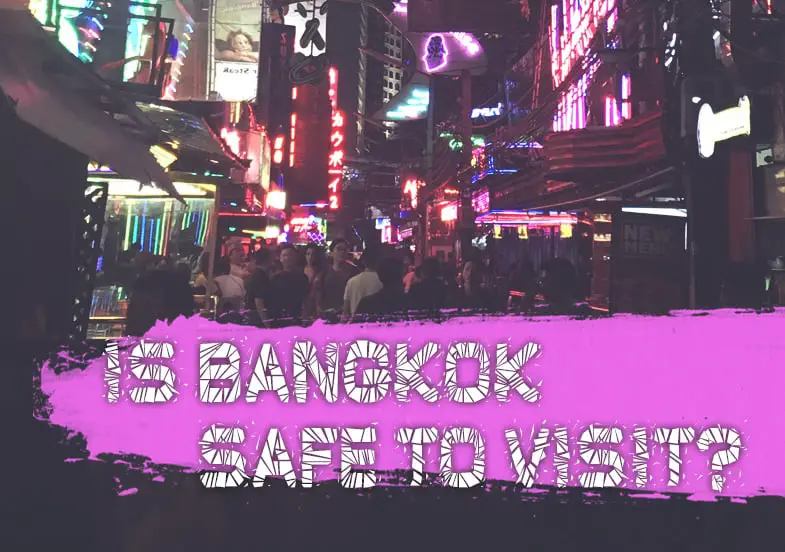 This article includes Bangkok specific safety tips for all types of travelers – families, solo female travelers, backpackers, and others. Especially recommended for first-time travelers to Thailand. Read it through carefully to have a pleasant trip to Bangkok and Thailand.
So, is Bangkok safe to visit? Bangkok is a safe city for tourists to visit, but certainly, there are several safety precautions every tourist should take. The safest neighborhoods in Bangkok are Riverside, Siam, and Rattanakosin. Less secure are Patpong, Nana Plaza, and Soi Cowboy. Usually, most touristy areas in Bangkok are the safest, although, at the same time, these are the places where most tourist scams happen. 
Not that locals would make you feel endangered or anything like that. Still, with so many tourists from all over the world around, it definitely feels safe to travel throughout the country. Especially in such tourist hot spots like in Bangkok, Patong, Pattaya, Chiang Mai, and others.
Also, compared to other countries in Asia, the locals in Thailand are less likely to approach you unless they are the ones who work with tourists. Normally locals do not speak English very well, and it often serves as a number one reason why they avoid starting any conversation with strangers.
Please be warned that in a situation in Bangkok or elsewhere in Thailand where someone approaches you and begins a seemingly friendly conversation, it might be an attempt to scam you. Just be aware of what is happening, and don't let people fool you.
Scammers won't harm you physically. They will often try to convince you to book overpriced services or to purchase overpriced items that you never intended to purchase.
This article contains Bangkok specific safety tips, but I also recommend reading one of my other materials – 22 Thailand Safety Tips Every Tourist Should know.
Is Bangkok Safe For Families?
Yes, Bangkok is safe for families.
The best area where to stay in Bangkok with the family has to be the Bangkok Riverside.
Compared to other neighborhoods, Bangkok Riverside has a much more relaxed atmosphere and is located further away from the most popular nightlife hotspots in the city.
Bangkok Riverside has the most five-star hotels in it compared to other neighborhoods of Bangkok. Many hotels will have swimming pools and other amenities.
Some of the most popular family-friendly tourist attractions in Bangkok are:
The Grand Palace
Wat Arun (a Buddhist temple)
Pak Khlong Talat (authentic flower market)
If I can recommend you one excellent activity to enjoy together with your kids, it is the SEA LIFE Bangkok Ocean.
In this article, I mention several areas of Bangkok that could potentially be more dangerous than others. For example, Khao San Road, Patpong, Nana Plaza, and others.
However, various accidents or scam attempts can happen near previously mentioned Grand Palace, Wat Arun, and Pat Khlong Talat as well.
If you and your family will travel outside Bangkok and you definitely should, I recommend visiting Chiang Mai. In my opinion, it is the most organized city in Thailand. It seems to be cleaner, and the traffic is less dense as well.
Another family-friendly and safe destinations in Thailand has to be Krabi and Koh Samui.
Is Bangkok Safe For Female Tourists?
To answer this question, I asked for help from my ex-colleague. She traveled throughout the country for 14 days and did it alone. She didn't use any travel companies and planned the whole trip by herself.
So these few travel tips for solo female travelers to Bangkok come from Ginta.
1. Dress appropriately
First of all, because you won't be let inside the temples and other religious sites if dressed inappropriately.
But mainly because of people giving you dirty looks.
In such areas as Patong Beach (Bangla Road) or Pattaya Beach (Pattaya Beach Road), there are many people wearing bikinis, sleeveless shirts, see-through shirts, leggings, torn shorts, etc. In most religious sites across Thailand, such clothing is forbidden.
To visit most religious sites, you will have to wear something that covers your shoulders, waist, and ankles.  Thai sarong is the most famous piece of clothing for such occasions.
Very few exceptions for being able to visit temples without wearing a sarong are when visiting small, often abandoned, and forgotten temples, which sometimes can be found along quiet roads somewhere in the jungle.
It is safe to wear anything you want. Your choice of clothes should not get you into any trouble. Just remember to dress appropriately when it is requested.
2. Incidents of drink spiking do happen
Before going to Thailand, Ginta had done her research. She said that she had found several reports about drink spiking in Thailand.
So, if you're planning to visit the world-famous Khao San Road in Bangkok for a party which would include consumption of alcohol, our advice is to avoid drinking from bottles that you didn't open yourself. You should always carefully monitor cocktails being made for you by the bartenders as well.
Of course, drink spiking is something that happens in other countries as well, but why risk spoiling your vacation by being careless. Watch your drink at all times, and you will stay safe.
Take extra caution at such party hot spots in Thailand as in Khaosan Road in Bangkok, Bangla Road in Patong, Pattaya Walking Street, and others.
3. Consider avoiding such areas as Patpong, Nana Plaza, and Soi Cowboy
Patpong, Nana Plaza, and Soi Cowboy in Bangkok are not necessarily the most dangerous areas of the city.
These three areas are the red light district of Bangkok.
Until 1st April 2019, there was another area similar to the previous three, but now it is closed. It was called Soi Pratucha.
We suggest avoiding these areas because of so many men having parties there. Of course, it could be a tourist place to visit, but we would recommend not to go there alone.
I've been to Patpong and Soi Cowboy, and in both places, I have felt safe, but I also can imagine how this kind of activity could be an unpleasant adventure for a solo female traveler.
By the way, the safest areas of Bangkok have to be the Siam, Silom, Chinatown, and Bangkok Riverside.
Often Bangkok Riverside is mentioned as the safest and best place to stay in Bangkok. With so many landmarks in this area, there are always so many people around. And with so many people there will always be scammers, fake taxis and unfair businessman trying to rip you off.
Is Bangkok Safe At Night?
It depends. If you use your common sense and don't look for trouble, it has to feel safe.
Often various accidents happen during early morning hours when the party's end. Usually, those are conflicts among drunk foreigners, locals, and security guards.
Also if you've chosen to ride a scooter or a motorbike, you should be extra cautious doing it at night. Especially in the rainy season when it rains a lot. Add other traffic participants and the city lights, and it soon becomes a real challenge.
And don't risk driving without a helmet. Wear a helmet at all times when driving a scooter or a motorbike in Thailand.
In Bangkok, at the intersections when the red light is on Thai police catch drivers who don't wear helmets.
Are Taxis Safe In Bangkok?
Well, the ride itself is safe. Most of the cars are new, equipped with AC, and it is a better choice than a motorbike taxi.
But there are some taxi safety tips to know for the first time travelers to Bangkok:
Always ask the driver to turn the meter on;
Have the address of your destination in the Thai language;
Use Grab App instead of hailing a taxi in the street.
One of the most popular tourist scams in Bangkok is a taxi scam. It involves tourists getting into the taxi without the meter turned on. On such occasions, tourists almost always end up paying twice or even more than they should.
Sometimes a taxi driver might come up with various explanations why it is not possible to turn the meter on, but all of it is a lie. Ignore such a driver and look for another one. Yes, some taxi drivers will refuse the service if you won't agree to drive without the meter turned on.
So, about having the address of your destination in the Thai language. As many taxi drivers do not speak nor read in English, it is advised to be prepared for such an occasion.
When doing trip planning Google Maps will provide the address of your desired destination in the Thai language as well.
Grab is a ridesharing app. Similar to Uber. Download the app, register, and look for the drivers around you. This way, you will see the total cost of your ride before booking. This way, you will avoid price negotiations and any unpleasant surprises coming your way after the trip.
Is Tuk-tuk safe in Bangkok?
Tuk-tuks are safer than a motorbike taxis but less safe than cars. In tuk-tuks, you're not required to wear seat belts. Also, there are no seat belts.
Driving a tuk-tuk is a fun experience, but at the same time, some travelers might find it too dangerous.
And of course, a tuk-tuk will always cost more than a regular taxi ride.
Is Water Safe To Drink In Bangkok?
No, it is not safe to drink tap water in Bangkok. The best alternative to it is bottled water, although many locals choose the water from the water refill dispensers.
Note that you shouldn't use the tap water for brushing your teeth as well. It is better to use bottled water instead.
Also, if you're at your hotel or Airbnb and you're out of the bottled water, use an electric kettle. Drinking boiled water will be better for you than to drink water from the tap.
Bangkok is hot and humid, and it is vital to stay hydrated. Depending on your body size, you should drink about 35 ounces (2.3 liters) of water per day.
Bangkok Specific Safety Tips
1. Write down the Tourist Police number – 1155.
If anything bad happens during your trip to Thailand, remember this one phone number – 1155. 
Tourist Police doesn't have real police powers, but if you have got yourself into some sort of trouble in Bangkok or elsewhere in Thailand, call them because they're there to help you.
Many of the Tourist Police employees are foreigners living in Thailand. Unlike the real police in Bangkok, the employes of the Tourist Police will speak English. It will help to communicate and solve the problem much faster.
But be aware that they won't be able to help you if you've behaved irresponsibly and have gotten yourself into serious trouble. Let's hope it won't happen, and you won't need their help.
Note that one of many tourist scams in Bangkok is the fake Tourist Police officer scam.
Usually, it starts with a fake Tourist Police officer approaching you. It is not typical for locals nor the policemen to approach you and to start a conversation. When it happens, be aware that it might be the beginning of a scam.
These fake Tourist Police officers will often offer you various services. For example, to get around the city faster, cheaper, more convenient, and so on. You actually might get around more quickly, but it definitely won't be less expensive.
This fake Tourist Police officer scam in Bangkok is not dangerous. It often appears to be a very costly and emotionally unpleasant experience.
2. Being out late is safe, but avoid dark alleys.
In Bangkok, if hanging out with a group of friends, you should feel safe at all times. If you're a couple, it will feel safer to stay out late than to do it alone.
Otherwise, it is like being in any other big city around the world. You have to use your common sense to avoid any unsafe areas. For example, dark alleys late at night where there are no people around aren't the best place to be.
It sometimes feels like the most dangerous areas of Bangkok are the ones where all the partying happens – Khao San Road, Patpong, Nana Plaza, and others. And quite often those are drunk foreigners who are the troublemakers.
Also, the less you will have anything of value on you, the less possibility of someone trying to rob you. Of course, it applies to every other city in the world as well.
3. Be aware of pickpockets.
Of course, pickpocketing in Bangkok happens.
You should keep your valuables safe from the motorbike thieves as well. You shouldn't walk near the curb nor walk with ongoing traffic. Also, carry your valuables on the side furthest from the road.
There are fewer reports about motorbike thieves in such touristy areas as Phuket, Krabi, or Chiang Mai, but you should stay cautious at all times.
4. Don't leave your drink unattended.
There are reports of drink spiking in Bangkok.
To stay safe:
never leave your drink unattended;
don't let others order you a drink;
always carry your drink by yourself;
when going to the restroom, ask a friend to watch your drink.
Other drinks related safety tip is to stay away from the go-go bars. Drinks will have inadequately high prices, and you will be almost forced to buy the drinks for the girls inside as well.
The drinks menu will be useless – you will almost always pay more than you should.
5. Riding a scooter in Bangkok on your own is not safe at all.
For some, it might feel too dangerous to drive a scooter in Thailand. For me, I find it the best way to get around such areas as Phuket, Krabi, Chiang Mai, and others.
Although I wouldn't risk driving a scooter in Bangkok, the traffic is too chaotic, and so many road accidents happen.
Thailand is the number one country when it comes to per capita motorcycle deaths.
Many locals choose to get around the city by using a motorbike taxi. While it might be an adventure on its own, I wouldn't recommend it. See YouTube for "Scarry scooter taxi ride Bangkok" to help you decide either it is something you would like to experience or not.
6. If possible, have the address of your stay in the Thai language.
This one is crucial. So many locals don't speak English. I had had several situations when I had to look for another taxi because the driver couldn't understand what the address of my destination is.
Of course, it isn't that big of a deal to look for another taxi. But if you're in a hurry and there is a chance of being brought to a wrong destination, why risk?
Another tourist scam includes tuk-tuk drivers pretending they do not speak any English at all. How the scam happens is that after the ride, they will pretend that both of you have agreed on another fare.
For example, you will think that you have to pay 14 Baht while the driver will insist that those are 40 Baht that need to be paid.
Therefore it is recommended to write down the fare before the ride so both you and the driver can agree on it.
So, do you think now you're ready for your trip to Bangkok? I hope you are!