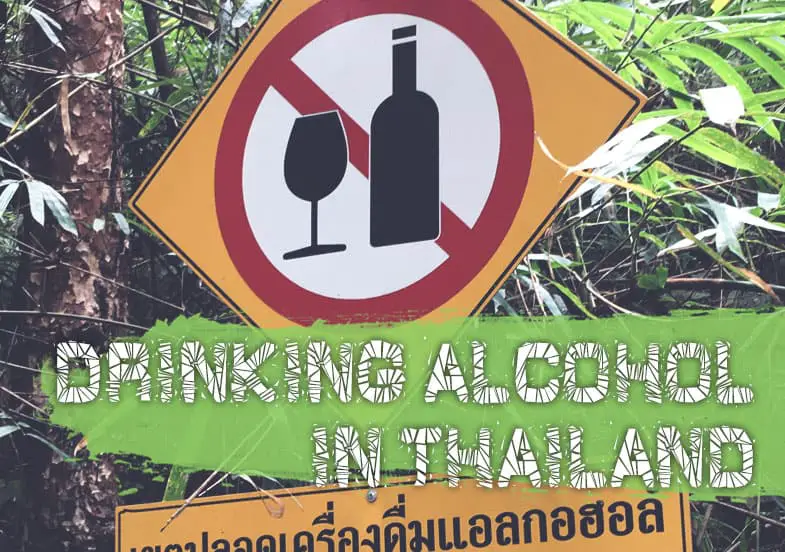 This article about the alcohol restrictions in Thailand will be a useful read for every first-time traveler to Thailand.
While most of the alcohol restrictions and laws in Thailand are meant for businesses, to avoid hefty fines and even a jail sentence, some rules should be obeyed by the locals and tourists as well.
So, can you drink alcohol in Thailand? Drinking alcohol in Thailand is legal, but it is restricted for use in such locations as temples, parks, gas stations and other. It is allowed to drink alcohol in public, but walking around with an opened bottle in Thailand is less socially acceptable. Thailand alcohol ban prohibits selling alcohol in convenience stores and supermarkets from 12:00 midnight to 11:00 and from 14:00 to 17:00. 
If you find the restriction to sell the alcohol during the late afternoon weird, how about being jailed for taking a selfie with an alcoholic drink in Thailand and publishing it online.
So keep reading to find out more.
Drinking Alcohol In Thailand
Surely you can drink alcohol in Thailand, but you have to keep a few things in mind. Especially if you're a tourist.
Here is the list of locations in Thailand where it not allowed to drink alcohol:
Spiritual sites
Educational institutions
Public parks
Shopping malls
Hiking trails
Beaches
Gas stations
Railway, metro and Skytrain stations
Signs forbid using alcoholic drinks at almost all temples and other religious places in Thailand.
As in Thailand, there are so many religious sites, not all of these places are equipped with signs disallowing to use alcohol. In most locations where there are lots of tourists, there will always be signs that warn about alcohol restrictions and fines.
In more rural areas of Thailand, there might be no signs at all, but it doesn't mean that it is allowed to drink there.
It will also be polite not to use alcoholic drinks near the temples or the other locations I have mentioned before.
An exception of drinking alcohol in the temple could be during some worship ceremony. Of course, such kind of event isn't something in which a regular tourist would participate.
Regarding beaches, hiking trails, and other locations in nature, you have to look out for the signs as well. In these places, it will be more likely allowed to drink alcohol than not.
The fine for breaking the law and drinking alcohol in Thailand is either a large sum of money that has to be paid or even imprisonment.
The maximum amount of money that has to be paid for disobeying Thailand alcohol laws is 20 000 THB, which is approximately 650 USD or 585 EUR.
Another fine is imprisonment. Depending on the alcohol level in the blood, the heaviest possible punishment is imprisonment for one year.
Keep in mind that locals and tourists are often treated differently if caught breaking the law. Of course, for tourists, it almost always means paying heftier fines compared to locals.
It is never a good idea to break any laws when visiting another country, but especially in Thailand.
Can You Drink Alcohol On The Beach In Thailand?
On most beaches in Thailand, it is allowed to consume alcoholic drinks.
As I have already mentioned, you have to look if any signs restrict the use of alcohol on the beach.
On many beaches in Thailand, you will meet people selling alcoholic drinks. Just double-check for the signs, and you're okay to have a cold beer or anything else for your rest on the beach.
Needless to say that tourists are the only ones consuming alcohol on the beaches in Thailand.
Can You Drink Alcohol On The Street In Thailand?
It is allowed to drink alcohol on the street, and you can walk around with it.
Similar to what I have written previously, you won't find Thai people drinking alcohol on the street. An exception could be some festival or other big gatherings.
Another thing to avoid when in Thailand is to drink and drive. First of all, don't do it for your safety as well as for the fact that in past years the penalties for drinking and driving in Thailand have been increased drastically.
Thailand has one of the highest road traffic death rates, and many tourists choose not to drive on Thai roads by themselves at all. I wouldn't drive a scooter in Bangkok, but in Phuket, it has to be the best option of how to get around.
You should know that in such touristy areas as in Phuket, Krabi, Chiang Mai, and other locations police roadblocks are a common thing.
So be respectful and obey the Thai drinking laws not to let the local authorities to use the law against you.
What Is The Drink Driving Limit In Thailand?
In Thailand, the alcohol limit for drivers is 50 milligrams of alcohol per 100 milliliters of blood. For those drivers who have passed their drivers exam and got their license in less than five years, the alcohol limit is 20 milligrams of alcohol per 100 milliliters of blood.
It is not worth the risk to drink and drive in Thailand. The penalties for driving under alcohol influence are harsh, and there is a risk of getting jailed.
Tourists have to be extra cautious not to break the law in such areas as Patong and Phuket. Police roadblocks there are a common thing.
When Can You Buy Alcohol In Thailand?
Now that I have explained about the alcohol consumption restrictions in Thailand, there are few things worth mentioning about the restrictions towards purchasing alcohol in Thailand.
All convenience stores and shopping malls in Thailand are restricted to sell alcohol between 00:00 to 11:00 and between 14:00 to 17:00.
Correct! You won't be able to purchase any alcoholic drinks in convenience stores and shopping malls in Thailand from 14:00 to 17:00. It is to do with the fact that Thai authorities are trying to decrease the number of youngsters who are purchasing alcohol when their school ends.  I haven't found any statistics or another prove that this restriction has any effect on the problem that they're trying to solve.
Maybe the reason behind that is that many small vendors choose not to obey these alcohol rules.
So buying alcohol during these few hours won't be possible in such stores as 7-Eleven, Family Mart and others.
There is one more thing that restricts businesses from selling alcohol in Thailand. It is the location. It is forbidden to sell alcohol near educational institutions, religious sites, and gas stations.
Another option where to buy alcohol in Thailand is in many of the bars. Especially around Phuket, where most beach towns are packed with restaurants and bars. Unlike in convenience stores and shopping malls, restaurants and bars sell alcohol with no restrictions.
Note that it isn't possible to buy alcohol in Thailand when the election is going on or when the King or Queen are celebrating their birthdays.
Where to buy alcohol in Thailand?
Alcohol in Thailand can be bought almost everywhere:
in convenience stores
in shopping malls
in many of Thai markets
from the street vendors
on the beaches from the individuals selling things including alcohol
in hotels
In such touristy destinations as in Pattaya beach or Patong beach, almost every establishment near the beach is either a bar, restaurant or a club and the alcohol is very accessible. In these locations, it is more common to see people walking around with beers in their hands. The tolerance towards walking around with alcohol is higher there.
What Time Can You Buy Alcohol In Thailand?
In the convenience stores and shopping malls, it is possible to purchase alcohol until midnight if they're open that late. It is not possible to buy alcoholic drinks between 14:00 to 17:00. In the morning convenience stores and shopping malls are allowed to start selling alcohol after 11:00.
In cafes, bars, and restaurants, it is possible to buy alcohol with no time restrictions.
Mom-and-Pop shops is another alternative where to buy alcohol. Places like these might sell alcohol outside the allowed hours as well.
On national holidays when there is no one around selling the alcohol, the hotels could be the last option where to get it.
What Is The Legal Age for Alcohol In Thailand?
The legal age to drink alcohol in Thailand is 20. For bars, shopping malls, and other establishments which usually sell alcohol, they have a restriction for selling alcohol to people under the age of 20.
Be Cautious And Have Safe Trip
There are numerous laws in Thailand which sometimes sound silly, but the fines for braking them are hefty.
The best advice to avoid any troubles for drinking alcohol in Thailand is to look for the signs that restrict doing it.
Have a fun and safe trip!