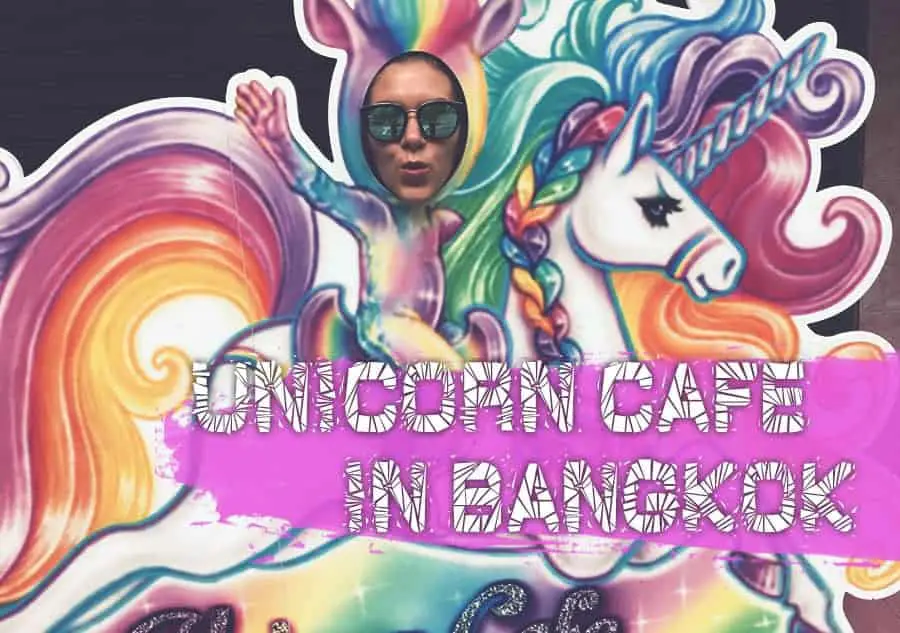 Unicorn Cafe Bangkok is one of the must-visit cafes in Bangkok. If you think that this tourist destination in Bangkok is for travelers with kids only you're wrong. It seems like young adults are their primary target audience because while having breakfast in the cafe we didn't saw any kids in there. Maybe we didn't notice them because of the amount of sugar that we had eaten.
So, is Unicorn Cafe Bangkok worth visiting? Yes and especially if you're looking for Instagram worthy cafes in Bangkok. It is colorful, unusual and even if you're not a fan of unicorns and rainbows it somehow makes you smile for an indecently long time. Unicorn Cafe Bangkok is one of the best-themed cafes in Bangkok and definitely worth a visit.
If you're a guy traveling together with your lady be aware that Unicorn Cafe will be the spot where a ridiculous amount of selfies will be taken 🙂
I write this blog to share my colorful Thailand experience with you and Unicorn Cafe in Bangkok has to be the place in Thailand that is the most colorful I've been to. If you're planning to visit it don't put your expectations too high – just go there and enjoy it.
Before I review the Unicorn Cafe in more detail here is our (my and my wife's) scoring to it.
The average score for the Unicorn Cafe cafe is 6,33.
Although it might seem a quite low score, I still recommend visiting the place. Don't take this score too seriously as those are only two people judging it.
I would like to shortly explain each of the scorings:
Prices
Food variety
Food quality
Atmosphere
Service
Location
Prices in Unicorn Cafe are reasonable for Bangkok. Of course, you can buy cheaper chicken wings from the street vendors, but it would mean skipping all the unicorn theme. I checked online what are other people opinions and some say that it is a great value for money meanwhile others say that it is too expensive compared to other places in Bangkok.
Food variety could be better. You can have a proper meal in the cafe although most of their dishes are fast food and desserts. If you're looking for a local Thai food experience than look in some place another.
Food quality is okay. I am not a gourmet and from what I've seen online people have very different opinions about the food quality in the Unicorn Cafe. If you will check Tripadvisor reviews, you will notice that actually, quite a lot of reviews are negative.
The atmosphere is the best. Don't pay attention to what other people including me have to say about the cafe. Go there and experience it for yourself. If your traveling with your kids they will absolutely love it. And as I've already mentioned the Unicorn Cafe might be a fun experience for grown-ups as well.
Service is good. The staff is polite, and they allow to take as many photos and videos as you want. Of course, they do because word of mouth is the best advertisement.
Location is quite far away from the areas where tourists usually stay in Bangkok although it is easy to get to the cafe by Skytrain (BTS) or a taxi.
Unicorn Cafe Bangkok Menu
Make a wish. Unicorn Rainbow Spaghetti? You got it! Fried chicken wings with rainbow lava? You got it!
We went there to have breakfast, so we ordered coffee, waffles, and macaroons, but on their menu, there are burgers, spaghetti, steaks, and other proper meals as well.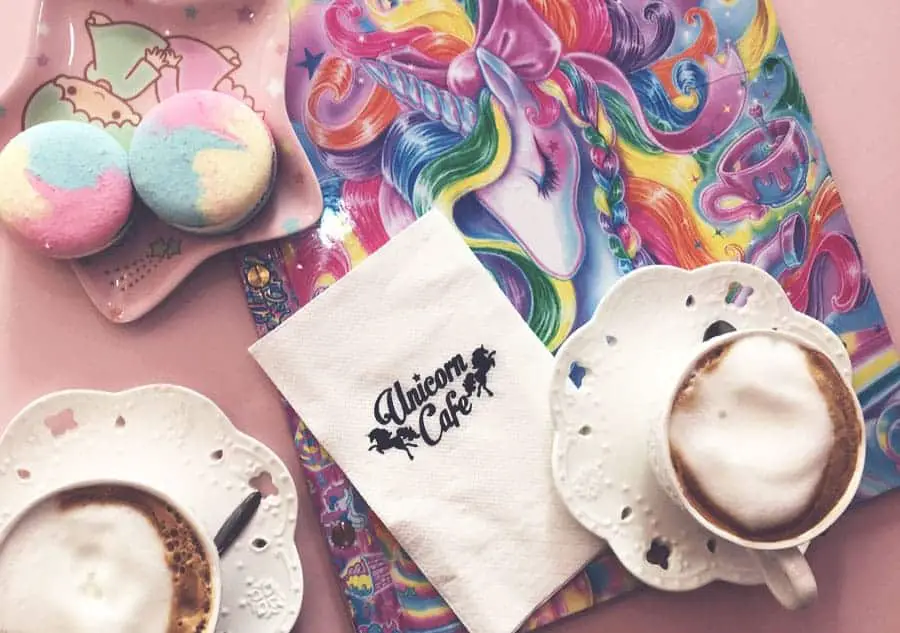 Salad
When we visited the Unicorn Cafe they had four types of salads in their menu:
Fried shrimp salad
Caesar bacon salad
Hamburger salad
Strawberry salad
No rainbow nonsense over here – just a regular salad.
The average price for the salad was about 200 Baht (USD 6.38, EUR 5.61, GBP 4.82).
Spaghetti
Let the fun begin! Here is what are the names of their spaghetti dishes:
Unicorn rainbow spaghetti Carbonara bacon
Unicorn rainbow spaghetti Burger lava rainbow cheese
The first one costs 220 Baht (USD 7.02, EUR 6.18, GBP 5.30) and the second one 280 Baht (USD 8.94, EUR 7.86, GBP 6.75).
Both of these dishes have to be the most colorful and unique spaghetti's that you will ever try.
Burgers
The average burger price in Unicorn Cafe is about 250 Baht (USD 7.98, EUR 7.02, GBP 6.03). On the menu, they look like regular burgers except that they are served on the star-shaped plates.
And of course there has to be one Unicorn themed burger, and that is Unicorn Rainbow Cheese Burger. It is the most expensive burger in the cafe and it costs 280 Baht (USD 8.94, EUR 7.86, GBP 6.75).
Steaks
Regarding steaks there are four options:
Salmon steak with Tartar sauce
Pork chopsteak
T-bone steak
Sirloin steak
Cheapest is Salmon steak, and it costs 300 Baht (USD 9.55, EUR 8.39, GBP 7,21). For Sirloin steak you will have to pay 500 Baht (USD 15.92, EUR 13.99, GBP 12.02).
Drinks
There are several regular and some really unique drinks available at the cafe.
You can order regular coffee and tea. They have Americano, Espresso, Cappucino, Mocha, and Late and each can be ordered either hot or cold.
Just like in other indoor places in Bangkok they have air conditioning inside the cafe. Therefore if you will stay there for a meal, I recommend ordering hot coffee or tea because at some point it will get chilly.
The average price for the coffee is 75 Baht (USD 2.39, EUR 2.10, GBP 1.80).
Regular tea costs 100 Bath (USD 3.18, EUR 2.80, BGP 2.40).
Now let's move on to something more interesting – Sodas. There are Cotton candy soda, Galaxy soda, and Reggae soda – very colorful and most likely sugary drinks that cost 70 Baht (USD 2.23, EUR 1.96, GBP 1.68) each.
There is more. How about Unicorn blood? Or maybe you would prefer Milky way star? You can have Reggae and Galaxy stars as well. All of these are colorful frappes filled in heart and star-shaped glasses.  Each of them cost 150 Baht (USD 4.78, EUR 4.20, GBP 3.61).
Other items in Unicorn Cafe Menu
Other items in their menu are:
Rainbow cakes
Unicorn cupcakes
Rainbow macaroons
Unicorn rainbow Crepe rolls
Unicorn Cheese pie
Unicorn Choco toast
Unicorn Rainbow waffles
Unicorn brownies
The average price for these sweet dishes is 190 Baht (USD 6.05, EUR 5.31, GBP 4.56).
Order any of these, and you will be surprised by how colorful they are and all the small details.
As you see the food variety could be better although I believe that in most cases everyone will be able to find something to eat. And let's be honest that this unique cafe in Bangkok is worth a visit just because of its interior and all of the unicorns and rainbows. Food is secondary.
Prices In Unicorn Cafe Bangkok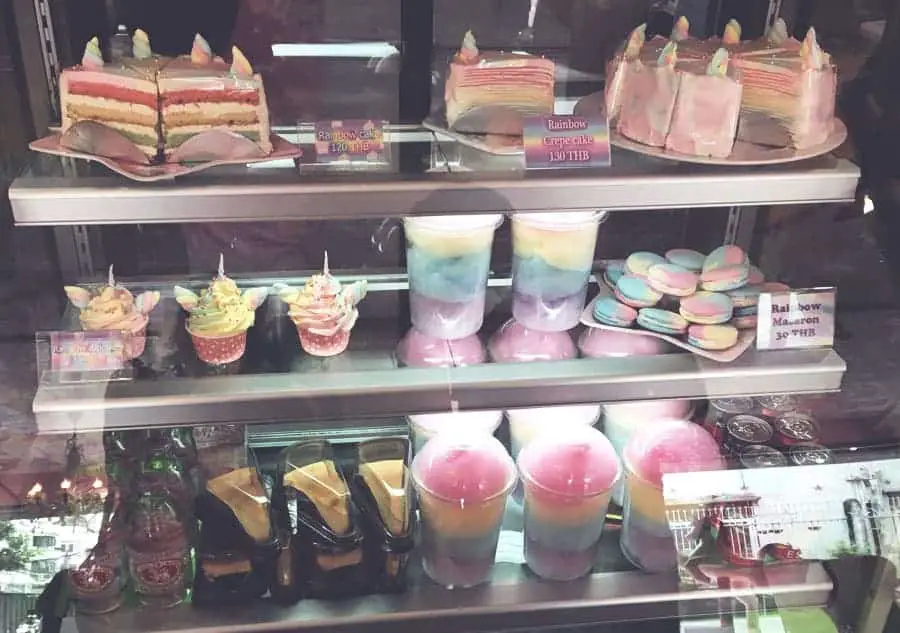 So, why did we gave it 5/10? Because the prices in the cafe are average compared to other cafes in Bangkok.
Here is a list of the average prices for the various food categories in the Unicorn Cafe:
Cake (1 peace) 120 Baht (USD 3.82, EUR 3.36, GBP 2.87)
Macaroon (1peace) 30 Baht (USD 0.95, EUR 0.84, GBP 0.72)
Cupcake (1peace) 150 Baht
Waffles 200 Baht (USD 6.36, EUR 5.95, GBP 4.78)
Toast 200 Baht
Cheese pie 180 Baht
Brownie 180 Baht
Spring rolls 180 Baht
Cheese sticks 120 Baht
Chicken Karaage 170 baht
Salad 210 Baht
Burger 250 Baht
Spaghetti 250 Baht
Chicken wings 210 Baht
Steak 270 Baht (USD 8.59, EUR 7.55, GBP 6.45)
Hot coffee 65 Baht (USD 2.07, EUR 1.82, GBP 1.55)
Cold coffee 86 Baht
Hot tea 100 Baht
Soda 70 Baht
Frappe 150 Baht
Note that this is a comparison to other cafes in Bangkok not in the whole of Thailand. If you will travel North, for example to Chiang Mai, you will notice that prices over there are much lower than in Bangkok or Phuket. It applies not only to cafes but also to souvenirs, entrance fees, and others.
Unicorn Cafe Bangkok Location
Unicorn Cafe address is Sathon 8, Bangkok, Thailand.
Its full address is 44/1 Soi Sathon 8, Khwaeng Silom, Khet Bang Rak, Krung Thep Maha Nakhon 10500, Thailand.
Unicorn Cafe Bangkok Address In Thai
Unicorn Cafe In Bangkok address in Thai is 44/1 ซอย สาทร 8 สีลม.
In Thailand, it is wise to have the address of your destination in the Thai language with you. Especially if you're planning to use a taxi because many taxi drivers do not speak or even read in English and the language barrier sometimes might be a real issue.
Do not take it personally if the taxi driver refuses you the ride. As Unicorn Cafe is located on the very small street, not all taxi drivers might know the place. And as I've noticed the use of the navigation Apps isn't popular among taxi drivers in Bangkok as well.
Unicorn Cafe Zone A And Zone B
Note that those are actually two separate Unicorn Cafes in the previously mentioned address, but owned by the same owner. Zone A opened in 2015 and in 2017 they expanded by opening Zone B.
Zone B is newer and much nicer. When we got there we went inside the Zone A. On that day we were the first visitors, and the waitress almost insisted that we should visit their other cafe. As we didn't get that it was next door we stayed at Zone A. It was a good and fun experience, but when we left the Zone A, we noticed the Zone B. We went inside and all of it felt newer and even more colorful compared to Zone A.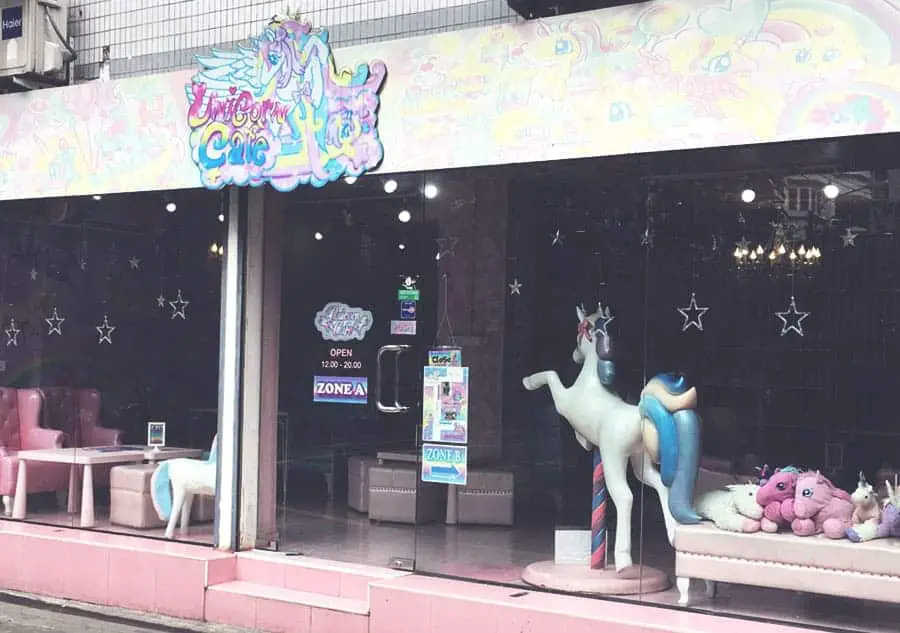 How To Get To Unicorn Cafe Bangkok?
Of course, there are hotels and Airbnb's everywhere in Bangkok, but this area where the Unicorn Cafe is located is not among the most popular areas where tourists usually stay. Therefore most likely you will have to get there either by a Skytrain (BTS) or the taxi. I recommend choosing the Skytrain over the taxi because in most cases it will be the fastest and the cheapest way of getting there.
Getting to Unicorn Cafe by Skytrain
Nearest Skytrain (BTS) station to the Unicorn Cafe is Chong Nonsi station. When you arrive in Chong Nonsi station choose Exit number 4. The walking distance from the station to the cafe is 1476 feet (450 meters) and it should take you about 12 minutes.
Getting to Unicorn Cafe by Taxi
If you feel confident that your taxi driver understood the correct location of your destination, get in the taxi, and off you go. Note that during rush hours even a short taxi ride can take up to more than an hour to get to your destination. I recommend using a taxi only late at night when the metro (MRT) and Skytrain (BTS) is closed.
Good alternative to a regular taxi in Bangkok it is Grab which something like Uber. I have an article about Grab and its use in Thailand. Read it HERE.
Note that this Unicorn Cafe that we're talking about in this article is the only Unicorn Cafe in Thailand.
Unicorn Cafe Bangkok Opening Hours
Unicorn Cafe is opened from 12:00 -20:00. It is opened every day from Tuesday to Sunday. On Mondays, the Unicorn Cafe is closed.
We knew that we wanted to visit the cafe but as we weren't aware of its opening hours we arrived half an hour too early. When it opened, we were the first visitors. After a couple of minutes, more people showed up. I believe it took about 15 minutes until it was almost full.
I am not saying that you should go there as early as possible, but be aware that it is a popular cafe in Bangkok and you might have to wait for a table to free up.
What Else There Is To Do In The Cafe?
Here are other things that you could do in the cafe beside eating sugar:
Take the most colorful pictures
Dress like a unicorn
Buy unicorn souvenirs
Everyone is taking selfies and pictures of the interior, and most likely you will do the same. It is a too unique place not to do that. #instagram 🙂
Another cool service offered by the cafe is a possibility to dress like a unicorn. It will cost you 100 Baht to rent a unicorn onesie. Let's be honest – most likely you wouldn't do that in your hometown, but you're far away from there so why don't have some fun?
And then there are souvenirs. Everything you could imagine as a souvenir is there, and it is all unicorn branded – unicorn tote bags, jackets, onesies, wallets, pillows, bracelets and other.
Other People Reviews Of The Unicorn Cafe
Here is what other people have to say about the cafe.
So much fun! I had a blast! The people were really nice and I think although the food was a bit expensive, it was probably just for all the amazing decorations! Such a creative shop!
I was pleasantly surprised by the quality of food and beverage! Great value for money unlike other themed cafe's I've been to. My only gripe was the air con was too high so it felt a bit chilly.
The food is very Instagram friendly, but taste bad. The rainbow drinks are overly sweet and I could only taste sugar.
The decor, once you see past the Unicorn magic, is tired and somewhat dirty. The seats are splitting and the soft toys are dirty. I enjoyed myself but I can see why others wouldn't.
My husband and I came here for a slice of cake and a coffee. Although it obviously wasn't my husbands first choice of cafes, he did say it was pretty cool and I absolutely loved it!
The best part was, wearing the unicorn onesie. The staff was accommodating! Super magical interior.
I found it super cold over there. I don't know why they put the AC full blast. I guess that the people who rent unicorn onesies don't feel too hot.
Related Questions
What is the Unicorn Cafe Bangkok Facebook Page? The real Unicorn Cafe Bangkok Facebook page is THIS. They post very often, and it seems like their newest info can be found on Facebook rather than on the website. If my article wasn't colorful enough head over to the Unicorn Cafe Facebook page.
How about Unicorn Cafe entrance fee? There is no entrance fee at the Unicorn Cafe in Bangkok. Judging by the number of unicorns inside the cafe some might think that it is a unicorn museum with its entrance fee, but it is not. It is a regular, but a cleverly themed cafe.