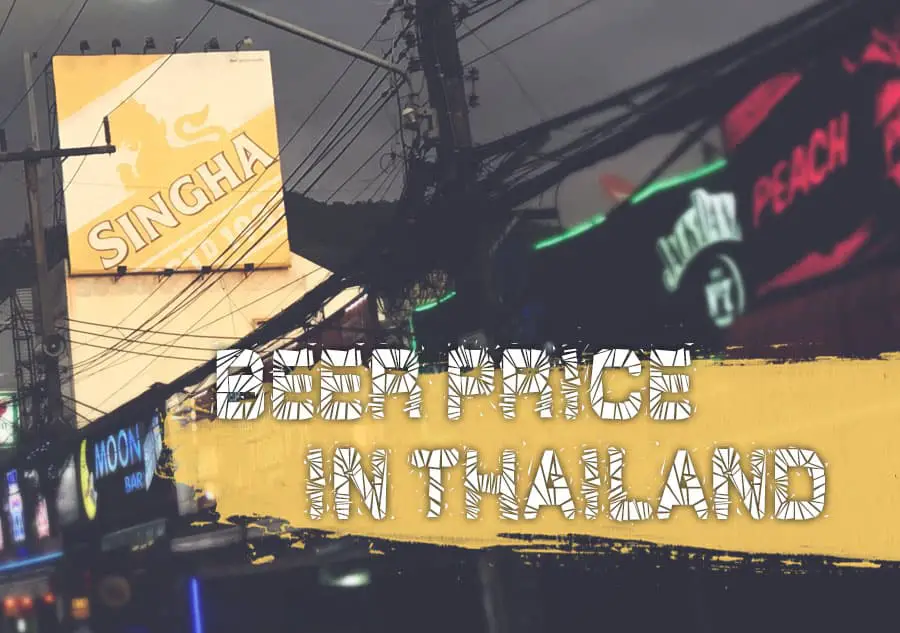 I believe that water, fruit smoothies, and beer are the top 3 drinks in Thailand for tourists. Thailand has many local beer brands to offer, but also well known international beers can be found.
So, how much does a beer cost in Thailand? The most popular beer brands in Thailand are Singha, Chang, and Leo and their average price in supermarkets is 45 Baht (USD 1.44, EUR 1.25, GBP 1.10). In bars and restaurants, the average price for these Thai beers is 70 Baht (USD 2.24, EUR 1.96, GBP 1.71 ).
In all Thai supermarkets or convenience stores such as 7-Eleven, the beer price always is about THB 45, but in bars and restaurants, the beer price may vary from 50 to 120 Baht.
Let's take a closer look at the most popular beers in Thailand. Besides comparing their prices, I've also gathered various opinions from forums online about each of the most popular beer brands in Thailand.
What Is The Most Popular Beer In Thailand
There are two really popular beer brands in Thailand:
It seems like among tourists Chang beer is a more popular choice than Singha. You just notice people drinking Chang more often. It is also more likely that bars and restaurants in Thailand will have Chang available more often rather than Singha.
SINGHA BEER 
Singha with 5% ABV is a pretty strong beer, and it is recommended to pair it with spicy dishes.
It could be that you've seen this beer outside Thailand because it is the most popular Thai beer and it is exported all around the world.
How Much Is A Singha Beer In Thailand?
In 7-Eleven Singha will cost you about 50 Baht (USD 1.60, EUR 1.40, GBP 1,22).
Singha beer in a bar or a restaurant will cost you about 110 Baht (USD 3.84, EUR 3.36, GBP 2.93).
Here are some comments I've found online about Singha beer.
Singha I find to be the least upsetting. Don't even get me started on the elephant juice (Chang), that stuff is rather nasty and certainly upsets my stomach.
+1 for Singha. You can drink it steadily all night (if you like to pace yourself) and still be fit to operate in the morning.
I'll vote for Singha as the pick of the locals but as I'm sure is obvious the regional style (i.e., bland flavored pale lagers) sets the bar pretty low.
CHANG BEER 
As I've already mentioned that Chang seems to be the most popular beer in Thailand, and you can purchase it everywhere. It is sold both in cans and bottles.
How Much Is A Bottle Of Chang Beer In Thailand?
In 7-Eleven one bottle of Chang will cost you about 40 Baht (USD 1.28, EUR 1.12, GBP 0.97).
Chang price at a bar or a  restaurant is about 80 Baht (USD 2.56, EUR 2.24, GBP 1.95).
Read below what people have to say about Chang beer.
I'll trade you two six packs of Singha for one bottle of Chang.
From experience, Chang gives me (and several people I know) hangovers (or at least worse hangovers).
Pretty much all beers tasted the same except one- Chang. Fuller flavor more like a Bavarian lager as opposed to the others that seemed to be mimicking an American lager style.
It is a good idea to ask locals for the best beers in Thailand because some of the brands are hidden from touristy places and you have to search for them. Also, some beers that you will find in Phuket, you won't be able to find in Chiang Mai and vice versa.
Here is a list of other beers to consider trying when in Thailand:
Leo beer
Beerlao
Archa
Angkor Beer
Phuket Lager Beer
Tiger beer
Larue beer
Why Is Craft Beer In Thailand So Expensive
If you have a feeling that craft beer in Thailand is expensive compared to other goods, you're right. It is because the Thai government has levied high taxes, also known as "sin taxes" on all alcoholic beverages, cigarettes, and sugary drinks.
I haven't visited this place, but when I searched for comments about Thai beers, I noticed that many people refer to one particular bar in Bangkok as a good place where to taste good craft beer. It is called Apoteka.
The price for the bottled craft beer in Apoteka is 160 baht (USD 5.12, EUR 4.48, GBP 3.90).
For beers on tap, the price is 320 Baht (USD 10.24, EUR 8.95,  GBP 7.80).
Here is a list of top craft beer bars in Bangkok that people refer to:
Craft Intersect
Chit Beer
Mikkeller Bar
Changwon Express
Tawandang German Brewery
As best craft beer bars in Phuket people online most often mention these:
Craft's & CO in Phuket Town
Craft Beer Lounge in Patong
Full Moon Brewworks in Patong
Beer On The Rocks
You might not know that locals in Thailand drink beer with the ice. It might sound wrong, but actually, it works fine. The beer stays cold for longer and because of extra hydration it prevents the hangover.
Here is what people say about it.
The only blokes who put ice in beer in gogos are the blokes holding their beer for an hour, so they don't have to buy another one while enjoying the eye candy.
Chang with ice. Happy and hangover free.
Ice in Thailand is factory made by the same companies which make bottled water, and delivered in big bags. Personally, in years of frequent visits to Thailand, I've never been the least bit ill from iced drinks (including often getting iced coffee from a street vendor).
Is It Legal To Drink In Public In Thailand
For Thai people, it is not acceptable to drink in public. Few exceptions could be some festivals or celebrations. In Thailand, proper behavior in public places is important. To respect Thai people, it is better not to drink any alcoholic drinks in public.
I guess in such places like Khao San Road in Bangkok and Patong Beach in Phuket it would be okay to walk down the street with an opened bottle of beer because locals avoid these places and it would be less possible to offend anyone.
Note that drinking in Thailand is not allowed in temples and public parks. In places where it is forbidden to drink alcohol, there will be signs.
Related Questions
At what age can you drink in Thailand?
The legal age for the use of alcohol in Thailand is 20.
What other drinks should you try in Thailand?
Most popular alcoholic drinks in Thailand are Whiskey and Beer. Most famous whiskey brands in Thailand are Mekhong and Sangsom.
Wine is not that popular in Thailand, but it doesn't mean you won't find anything interesting to try.