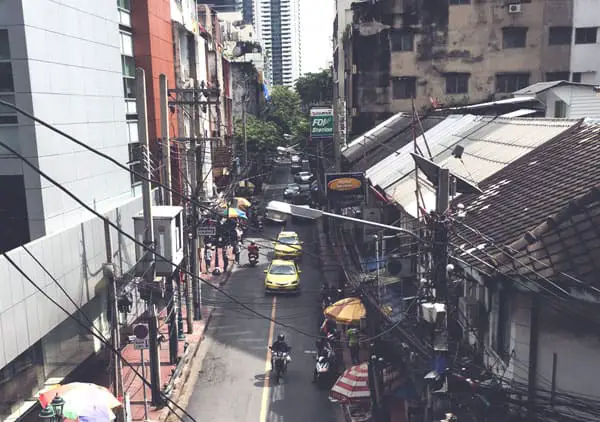 Crossing a street in Thailand is yet another adventure that you will have to experience. There are several good options for how to cross the street in Bangkok, but in cities like Phuket or Chiang Mai, I find it much more dangerous. Read this article to find out how to cross Thai roads safely.
So, how to cross the street in Bangkok? The 5 best ways to cross the street in Bangkok safely may vary on your location, but here are the top ones I would recommend to you.
Crossing The Street At Signal-controlled Intersections
Elevated Walkways
Metro Stations (MRT)
Skytrain Stations (BTS)
Traffic Islands
This article will help you to prepare for your Thailand trip. Keep reading and find out more about Thailand specific road crossing safety tips.
1) Crossing The Street At Signal-controlled Intersection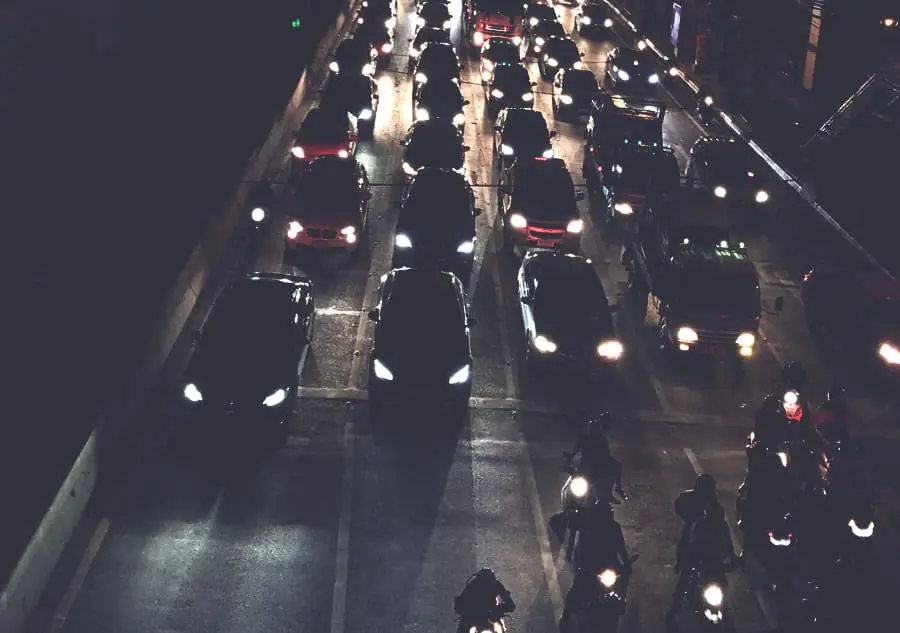 The man idea of signal-controlled intersections in Bangkok is the same as in the US or Europe except that in real life it works differently.
Yes, cars stop at red relight and pedestrians cross the street when their green light is on although impatient Thai drivers make the difference — especially motorists.
I've experienced quite a few situations in streets of Bangkok when I had to avoid a motorist who runs the red light or jumps the green light. I guess you have to keep your senses sharp to cross the street in Bangkok safely.
2) Elevated Walkways
It is probably the best way how to cross the street in Bangkok. There are plenty of elevated walkways and even elevated pedestrian intersections. It is the safest way to cross a busy street.
There is one more reason why I prefer elevated walkways in Bangkok. I can look at the city from another perspective. I often use these walkways to take some beautiful pictures of the town.
Sometimes the stairs that you have to climb can be quite steep. Also if it rains outside stairs can be slippery. So be careful. Some of Bangkok's elevated walkways have roofs, but some don't.
3) Metro Stations
It is also a decent option to cross the street in Bangkok safely. All metro stations in Bangkok have escalators so you won't have to climb the stairs yourself.
But there might be one downside to it. I am not 100% sure but there might be some law that forbids bringing your food into the metro. In some metro stations, there are big trash cans next to escalators to the metro. Inside those trash cans, there are unfinished smoothies, coffees, and other stuff. So you might have to throw out your cold smoothie to cross the street through the metro station.
I remember watching a YouTube video where this guy said that it is inappropriate to have a meal in a taxi. So maybe the metro is the same.
4) Skytrain Stations
Skytrain is one of the most popular means of transport in Bangkok. Most of the Skytrain stations in Bangkok have regular stairs. In most cases, escalators in Skytrain stations are used only among the second and third level of the station.
Skytrain stations often are very crowded and noisy.
5) Traffic Islands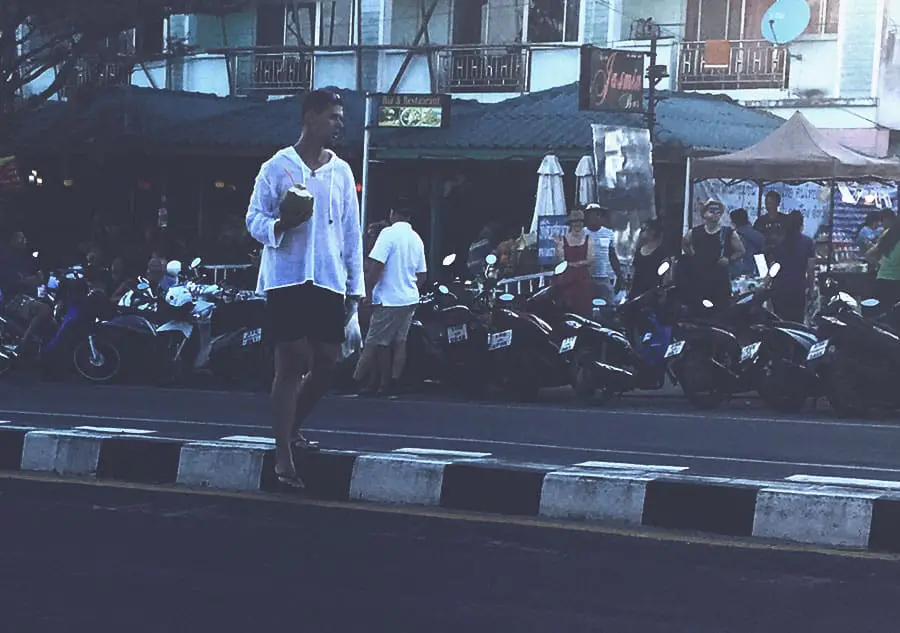 So I've named this as a safe way how to cross the street in Bangkok. It is the most dangerous among previously mentioned options but using traffic islands is better than running across a six-lane road in one take. If this is your only option how to cross the street in Bangkok pay extra attention to what is happening on the road. Look both ways before crossing, wait for your chance and do it fast.
Thailand Pedestrian Safety Tips
Here are some Thailand specific pedestrian safety tips that will help you to cross the streets in Thailand more safely.
Always look both ways before crossing the street.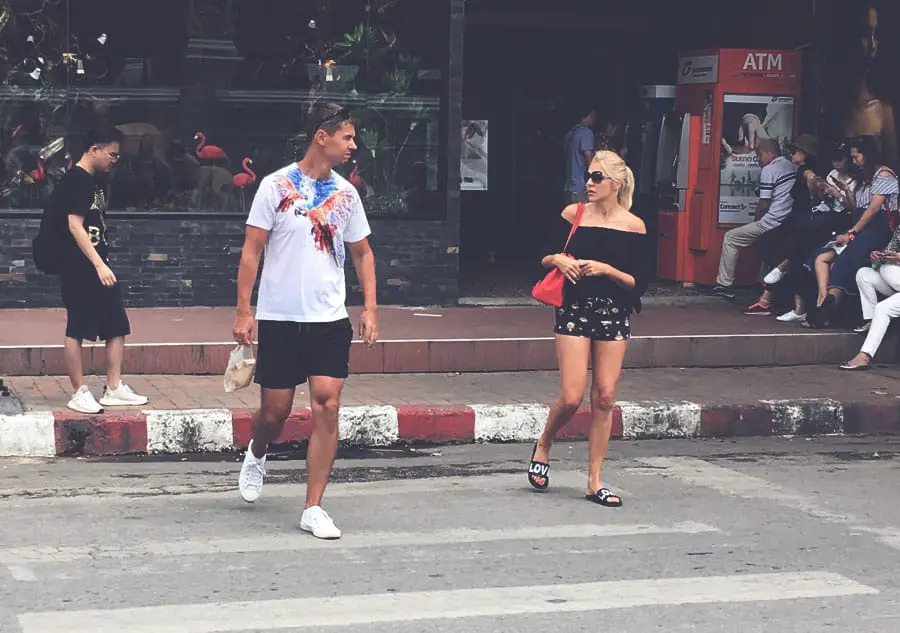 When crossing a street in Thailand always remember to look on your left and right. It is crucial to remember it especially in smaller cities than Bangkok.
For example, in the Phuket region where the overall atmosphere is much more relaxed than in Bangkok, it is a quite common thing to see motorists driving the wrong way.
Try not to cross the signal-controlled intersection at the very last moment.
Thai drivers are very impatient compared to drivers in Europe. And especially if this is a smaller two-lane street somewhere in the city.
It was my first hour in Bangkok when I was surprised by the taxi driver who ran a red light. It was not the intersection but a signal-controlled crosswalk in front of one of the Bangkok's markets. I wouldn't say I was almost hit by a car, but it was close enough.
It is a good idea to blend in a crowd when crossing the street.
Avoid crossing the street where there is no pedestrian overpass.
First look around for any crosswalks that might be near you. Yes, crosswalks in Thailand are perceived as a recommendation, not a must to stop the vehicle, but still, it will be a better option to cross the street with crosswalk than without.
Be patient.
This one is important. If you're at an intersection that is equipped with traffic lights for cars only take your time to catch the rhythm of that intersection.
I remember myself standing at a busy intersection in Chiang Mai to understand when, where and who is allowed to drive and only then trying to cross the street.
Don't use your phone and headphones.
I guess this is self-explanatory. You don't want to distract your attention from Thai traffic. Bangkok is such a vibrant city that you have to use all of your senses to stay safe.
How To Cross The Street In Chiang Mai?
I've already mentioned Chiang Mai in this article. I find it more comfortable to cross the street in Bangkok than in Chiang Mai. Using elevated walkways in Bangkok is easy and safe, but Chiang Mai cannot offer that.
In Chiang Mai, you have intersections with traffic lights for cars only, and this makes it a challenge to cross the street and especially in rush hour. As I've already mentioned, I suggest observing the intersection for a while to get the understanding of its rhythm and possibilities to cross it safely.
Outside of rush hour, some streets of Chiang Mai might even feel empty compared to Bangkok, and it is possible to cross the roads quickly.
How To Cross The Street In Phuket?
Crossing the street in Phuket Town is somewhere similar to Chiang Mai. It is different in outskirts of Phuket Town. Life in Karon Beach, Kata Beach and Rawai Beach is much more relaxed and also the streets are smaller and easier to cross.
An exception is Patong Beach with its busy streets in the early morning and late evening.
Related Questions
What are pedestrian rules in Thailand? In real life? It seems like there are no rules and especially outside Bangkok. In Bangkok, they have those big six-lane roads, and most pedestrians and drivers respect red lights.
Outside Bangkok seems like everyone is hoping to escape all the dangerous situations created by themselves.
Are there any traffic police officers in the streets of Bangkok? Yes. I saw police officers in brown uniforms who were gesturing with their hands and whistling their whistles, but none of that mattered as people drove and walked however they found it the best.