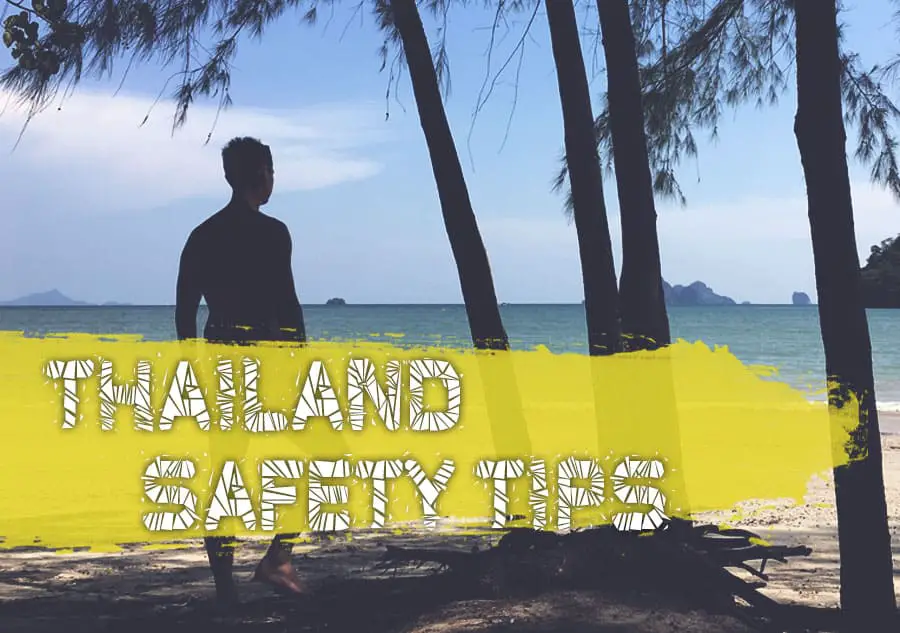 It is safe to travel to Thailand if you are heading to popular tourist destinations such as Bangkok, Phuket, Krabi, Chiang Mai, Chiang Rai, and other places.
Nevertheless, there are numerous ways how to get in trouble and put yourself in danger if you are not familiar with Thai laws.
In this article, I will share 22 safety tips for traveling in Thailand. Knowing these tips will help you to have a pleasant and safe trip to Thailand. 
1. Keep Your Passport Safe And Don't Give It To No One
It is never safe to give away your passport, but especially when being in another country.
One of the most popular tourist scams in Thailand is to rent either a broken scooter or a ski jet. Of course, it includes leaving your passport at a rental business. Never do that because you could be held responsible for the damage that was already there and your passport would not be returned until you pay an unreasonable amount of money.
Here are a couple of ideas about how to avoid that scam:
Better rent a scooter from a hotel or a business that looks credible
Prepare several photocopies of your passport to use them for a rent of a scooter, jet ski, car, etc.
It always feels safer to rent a scooter from a hotel. At least you know its working hours and the staff speaks English in case you need to call them for any assistance. It might cost you a little bit more, but it is worth it.
In small scooter and jet ski rentals, the staff usually don't speak English. They know basic phrases like naming the price, and that is it. God knows where they keep all the tourist passports.
Note that in Thailand police requires tourists to carry their passports at all times because it is the only document you have that proves both your nationality and your right to be in Thailand. Of course, it is not comfortable and to be honest I rarely carry my real passport with me when in Thailand. It is another situation where photocopies of passport come handy.
Another alternative is to keep your passport in portable safe that folds flat and fits in your luggage.
2. What Is The Emergency Phone Number In Thailand?
The main emergency phone number in Thailand is 191.
Here is a list of all emergency numbers in Thailand that you should know:
Tourist police – 1155
Ambulance – 00 66 2011 5222 or 1669 for an immediate nationwide emergency
Fire department – 199
Medical emergency – 1669
Hopefully, your trip to Thailand will be safe, and you won't need any of those numbers.
If you will call for help in case of some injury and no one will pick up the phone you could also try calling to these hospitals in Bangkok:
Bumrungrad International Hospital – 00 66 2 066 8888
Samitivej Hospital – 00 66 2 022 0700
BNH Hospital – also 00 66 2 022 0700
Some of the craziest parties in Thailand happen in Phuket and especially in Patong Beach. With drinking involved accidents happen. Hopefully, you won't need these numbers, but you should write them down for any case.
Phuket Police number – 0726 212 046
Patong Police number – 076 212 046
I also recommend buying a local SIM card when in Thailand. I have an article about all the tourist SIM cards and mobile networks available in Thailand. You can read it HERE.
3. Pedestrian Safety In Thailand
I have to write about Bangkok first. Its traffic is chaotic and dangerous for pedestrians. To walk around Bangkok safely, you have to keep in mind the following things:
Always look both ways before crossing the street
Try not to cross the signal-controlled intersection at the very last moment
Try not to cross the street where there is no pedestrian overpass
Stay sharp, patient and quick
Don't use your mobile phone and headphones when crossing the street
I have an article about alternative ways how to cross the street in Bangkok. Some of them might surprise you. Read the article HERE.
When walking through the streets of Bangkok, I always try to stay focused. Some drivers run the red lights and jump the green lights. Some even manage to drive their scooters on pavements. Be careful at all times when on foot.
Road safety in Thailand in such locations as Phuket and Chiang Mai feels better. The streets are noticeably smaller compared to Bangkok, and there are fewer cars on the road. For me, the Chiang Mai feels the safest city in Thailand regarding road safety.
4. Safest Destinations In Thailand
Visiting popular tourist destinations in Thailand is safe. Such locations as Krabi, Chiang Mai, Hua Hin District, Koh Samui Phang Nga Province are among safest destinations in Thailand.
Deep south close to the Malaysian border is considered the unsafest place in Thailand.
In touristy and crowded areas in Thailand, you should watch out from the pickpockets, scammers etc.
5. Stay Safe From Mosquitoes Bites
The chances of being bit by a mosquito in Thailand are quite low.
Although mosquitoes in Thailand are present throughout the year, they're most active from June until November.
It is more likely to see mosquitoes in the north of Thailand (Chiang Mai, Chiang Rai, Doi Suthep National Park) rather than in the south (Phuket, Ko Samui, Phi Phi Islands, Krabi).
Here are some ideas on how to stay safe and protect yourself from a mosquito bite:
Use an anti-mosquito spray or mosquito repelling bracelet
Wear light colors – mosquitoes don't like it
Avoid using perfume – it attracts mosquitoes
Use mosquito net provided by hotel or bungalow
6. Scooter Driving Safety In Thailand
First of all, you should wear a helmet for your safety. Driving in Thailand is dangerous. It has the second highest road traffic fatality rate in the world.
But there is one more thing. In Phuket, in high season the weather is so lovely that people tend to forget to wear helmets.
Many do not know that it is the number one reason why people are being pulled over by the police. I've seen countless police roadblocks with Thai police officers writing tickets to irresponsible scooter drivers.
7. Get International Driving Permit
During my first trip to Thailand, I was fined 500 Baht (USD 15.73, EUR 13,83, GBP 11.91) for driving a scooter without an IDP. In my home country, I have an A and B categories drivers license, but that didn't help the case. I said to one of the police officers that I drive a sports bike, but he just smiled at me and asked for the documents.
As I was aware of the unpleasant situation, everything I could do was to be polite towards the policemen, and they replied with the same. They were very polite and maybe it was the reason why the fine was only 500 Baht. Although I don't know what is the maximum penalty for driving without an IDP.
So to drive in Thailand legally, you need to have an International Driving Permit with you. 
I've written an article about an IDP. It answers questions about where to get an IDP, how much does it cost, etc. You can read my article HERE.
8. Motorbike Taxi Safety
Motorbike taxi in Bangkok is one of the fastest and at the same time the most dangerous way how to get around the city. It can be a good experience. Just don't be shy to ask the driver to go slowly.
Motorbike taxi in Bangkok is one of the most popular means of transportation among locals. You will see motorbike taxis doing fast and smooth maneuvers through the traffic. To stay safe in the chaotic traffic of Bangkok, you should always remain sharp when driving a motorbike taxi.
When driving a motorbike taxi don't use your phone, don't sit astride on the motorbike and don't to other stuff that might make this situation even more dangerous than it is.
9. Dress appropriately
It is less to do with your safety in Thailand than showing respect to Thai culture. To avoid condemning looks and situations when you're forbidden entrance at the temple you should know some rules about dressing in Thailand.
There are many locations in Thailand where you have to dress appropriately. Thai people dress modestly and to respect them and their culture you should do the same.
Most of the temples in Thailand has a strict dress code policy. No sleeveless shirts, miniskirts, leggings, etc.
Knowing the written and unwritten Thai dress code rules might help you to stay out of the uncomfortable situations during your trip to Thailand as well as to occasionally get some neat little bonuses just because of your looks.
To find out what do I mean by that you will have to read my article "Dress code for tourists in Thailand 2019."
10. Don't Touch Monks
Don't do it because it is against the rules.
In Thailand, Buddhist monks are forbidden to touch women to prevent distraction. It is one of approximately 300 laws that Buddhist monks have to obey.
It means that not touching a monk is a behavior of respect to him.
Of course, there are exceptions when a Buddhist monk could touch a woman. It could be a situation when someone's life is endangered. For example, if someone is drowning.
11. Never Talk With Thai People About The King
Insulting the King of Thailand could end you up with a jail sentence of up to 70 years. It is better not to talk about the King of Thailand at all because any discussion about this topic at some point could be perceived wrong.
12. Respect The Smoking Ban In Thailand
By now there are at least 24 beaches in Thailand where it is forbidden to smoke. Rules for breaking the law are harsh – 100 000 Baht (3200 USD, 2826 EUR, 2455 GBP) or a jail sentence of up to one year.
Other locations where it is forbidden to smoke in Thailand are:
Temples
Public parks
Nightclubs
Airports
Restaurants and other
In my article "Is smoking allowed in Thailand?" I have a more detailed explanation about the topic.
13. Vaping Is Illegal In Thailand
Vaping is illegal in Thailand. The maximum fine for vaping in Thailand is up to 10 years of jail sentence.
It is real, harsh and you should take it seriously. To avoid any unpleasant circumstances leave your vape at home when going to Thailand.
I've seen reports online that people had paid up to 500 USD in fines for vaping.
All smokers and vapers should read my article about smoking restrictions in Thailand.
14. Don't Take Drugs
Access to drugs in Thailand is easy, and they're cheap, but to avoid legal problems you shouldn't do it.
I've already mentioned those harsh penalties of jail sentences about smoking and gambling, but Thai laws towards using or carrying drugs are brutal. Thai law allows for the death penalty although it is rare.
Depending on such factors as quantity and type of drugs, past legal history, citizenship status, and others the punishment for using or carrying drugs in Thailand for tourists most often is a significant amount of money or a jail sentence of few years.
Note that one of the popular tourist scams in Thailand is to sell you drugs and then to call fake police on you. You pay the fine to the fake police, and he splits the money with the seller. When they're done with you they're looking for the next victim.
15. Gambling In Thailand Is Not Safe
All Thailand is a no gambling zone. Two exceptions are a National Lottery and betting on horse racing. All other types of gambling are prohibited in Thailand, and doing it might get you in some serious trouble.
Similar to Smoking in Thai beaches gambling might end you up in jail.
Underground gambling scene in Thailand is huge, but it is not the safest thing you could do in Thailand as a tourist.
16. Never Leave Your Drink Unattended
I guess this one is like everywhere else in the world. There are reports of drink spiking in Thailand.
Note that some bars might replace the spirits of named brand liquors with inferior products to save money, but it is less likely to happen in high-end bars and restaurants.
17. Keep Your Valuables In Hotel Safe
Keeping your valuables in your hotel room safe is better than leaving them laying around somewhere in the room although YouTube is full of videos on how to open the hotel room safes easy.
Another alternative to a hotel room safe is a hotel lobby safe. It is less likely for someone to rob it if it can be seen from the hotel front desk.
18.Address Of Your Home Country's Embassy In Thailand
If anything goes wrong when you're abroad it is better if you have the address of your home country's Embassy with you.
Embassy of the United States in Bangkok
Address: 95 Witthayu Road, Khwaeng Lumphini, Khet Pathum Wan, Krung Thep Maha Nakhon, Bangkok 10330
Phone number: +66 2 205 4000
British Embassy in Bangkok
Address: 14 Witthayu Road, Khwaeng Lumphini, Khet Pathum Wan, Krung Thep Maha Nakhon, Bangkok 10330
Phone number: +66 2 305 8333
Australian Embassy in Bangkok
Address: 181 Witthayu Road, Khwaeng Lumphini, Khet Pathum Wan, Krung Thep Maha Nakhon, Bangkok 10330
Phone number: +66 2 344 6300
Indian Embassy in Bangkok
Address: Ocean Tower 2, 75/120-121, 42nd floor, Soi Sukhumvit 19, Bangkok 10110
Phone number: +66 258 0300-6
Chinese Embassy in Bangkok
Address: 55 AA Building 2nd floor, Ratchadaphisek Soi 3, Bangkok 10400
Phone number: +66 2 450 888
19. Stay Safe From All The Scams In Thailand
Before I went to Thailand for the first time, I remember reading that one comment online. It went something like this: Locals will not approach you unless they want your money.
Before going to Thailand I spent some time watching YouTube videos about popular scams in Thailand and when I was there it all happened to me. Knewing the scams helped me to avoid all of them.
People were approaching me and asking for my destination. When I replied they said that the place was locked because of some holiday although it wasn't true and then they offered me a tuk-tuk tour to someplace another.
Seems like a cashier giving you the wrong change is a norm. Always count the change. Sometimes those are 100 Baht, but one time for me those were 500 Baht. Of course, I asked for my money and got it back.
Then there was a taxi driver in Bangkok who arranged a super expensive private longtail boat ride for me. Those guys asked for 3000 Baht for a one-hour long ride through the old city of Bangkok. Just to compare a full day island hopping tour by a speedboat in Phuket in low season for two will cost you about 2200 Baht (USD 69, EUR 61, GBP 53).
20. Keep Your Valuables Safe And Carry Your Day Pack On Your Front
It is simple as that – carry your day pack on your front. In Thailand, you can be a victim of theft even in the day.
When traveling by the local bus for long distance, it is recommended to keep your bags where you can see them. Many thefts on long-distance buses happen while tourists are asleep or if their luggage is locked where they can not see it.
21. Safe Swimming In Thailand
No, this one is not going to be about the sharks as there are only four reports of shark attacks in Thailand in the last 100 years.
It is safe to swim in all beaches in Thailand although there are some dangers hidden in the waters of the Thai beaches:
Sharp underwater rocks
Rip Current
Box jellyfish
In most of the Thai beaches, there are flags to warn you about unsafe swimming. Here is what each color of the flag means:
Red means a high hazard, and you shouldn't enter the water
Red and yellow means that there is a lifeguard at the beach
A yellow flag means medium hazard. Swimming is allowed, but there might be a possibility of rip current
Black and white checkered flag is a zone for surfers
A green flag means that there is no hazard and the swimming is safe
Note that there are no lifeguards at most Thai beaches.
22. Safe Drone Flying In Thailand
Drone registration in Thailand is a complicated, time-consuming and expensive process. My article "How to register drone in Thailand? Step by step guide." explains this topic in more detail.
In this article, I write about steps that you can do by yourself and while in your home country before your trip to Thailand although to fly your drone in Thailand legally you will need help from inside as well. Read the article – it is all there.
When traveling to more isolated areas in Thailand just use your common sense and take the usual precautions, and you will be safe.
As I've mentioned above, it is recommended to behave good and respect locals as it will make your trip to Thailand as safe as possible.