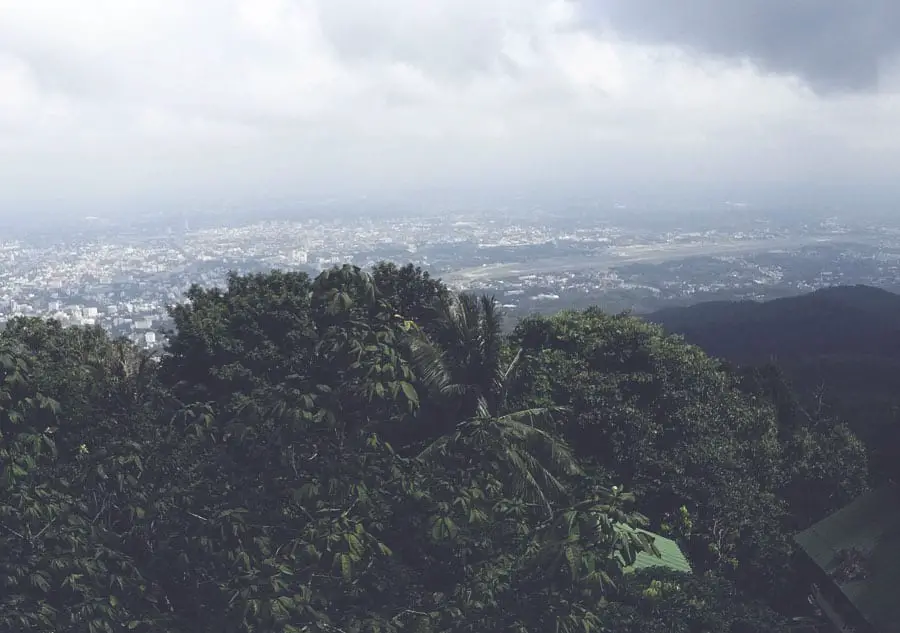 When I was in Thailand, I had an idea of renting a drone. After trying to get one, I soon realized that this wouldn't be easy because of the documents I needed to fly legally.
After doing a little research, I understood that the internet doesn't have the answers as well. So I started digging deeper and here is what I have found about the topic.
So, how to register a drone in Thailand? To register a drone for legal flying in Thailand you need to do it at two different agencies – CAAT (Civil Aviation Authority of Thailand) and NBTC (National Broadcasting Telecommunications). You must have CAAT's permission to fly because your drone is equipped with the camera. NBTC's permission is needed because the drone is radio controlled. You will also need the insurance and temporary import license for your drone.
It sounds complicated, time-consuming and expensive. And it is! But there is more 🙂 After you have your documents ready be aware that there are a lot of no-fly zones for drones in Thailand.
Let's take a closer look at drone registration process in Thailand and other essential things that you should know before flying your drone.
How To Fly A Drone In Thailand Legally?
To fly a drone in Thailand legally you need to have four documents:
Drone registration at CAAT;
Drone registration at NBTS;
Drone insurance;
Drone temporary import license.
You won't need the import license if you've bought your drone in Thailand.
It seems like Thai authorities are getting serious about drones. The fines are bigger than ever before as well as you need to go through a very complicated registration process. The tricky part about drone registration is that official websites may communicate one way of doing it correctly while in real life it is different.
For example, I've seen people commenting on the internet that drone registration forms available at the NBTC office in Bangkok are different than forms you can download on their website.
While Thai authorities are developing drone laws in their country, I have gathered lots of information regarding drone registration process in Thailand that currently is available to us.
How to register your drone at CAAT?
Drone registration at CAAT is needed only then if your drone is heavier than 2 kilograms (4,4 pounds) and equipped with a camera.
You can register your drone at CAAT by yourself, and you can do it online.
Here is the list of things you have to prepare for your drone registration at CAAT:
Drone insurance with minimum cover of THB 1 000 000 (USD 3150 or EUR 2769);
Copy or original of the covering letter with your name, drone name and its serial number on it;
Pictures of your drone from the side, underneath, the front and the back. You will also need the images of drone's and its controller serial numbers;
To register your drone at CAAT, you need to visit their website HERE.
It is how it will look. The website is mostly in Thai, but the buttons that we need are in English.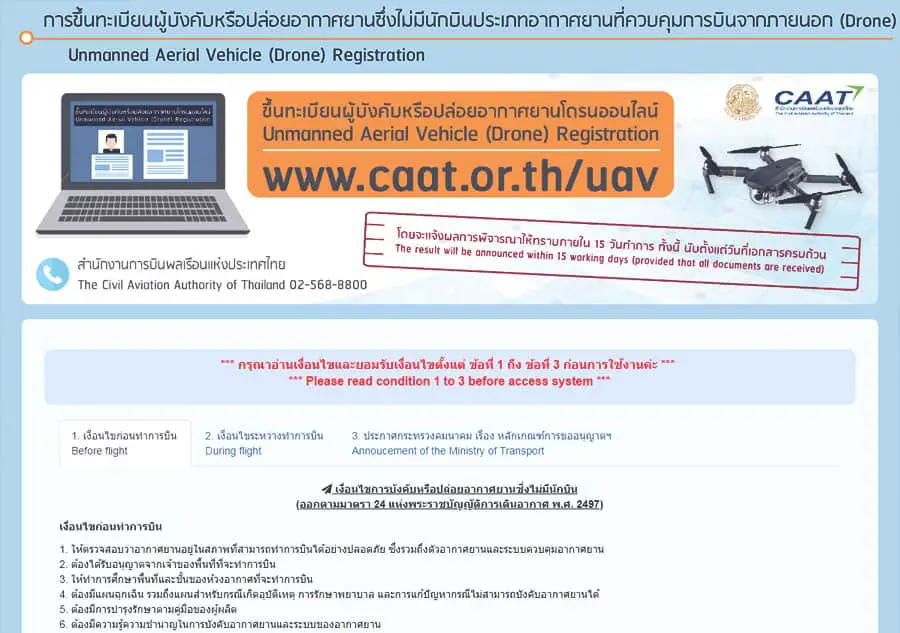 The CAAT drone registration page will have three tabs. We need to take the following steps in each of the tabs:
STEP 1: You will have to read all the rules about preparing for the flight, and at the bottom of the Before flight tab you will need to check the Accept checkbox.
STEP 2: During flight tab. Read the rules and check the Accept checkbox at the bottom of the page.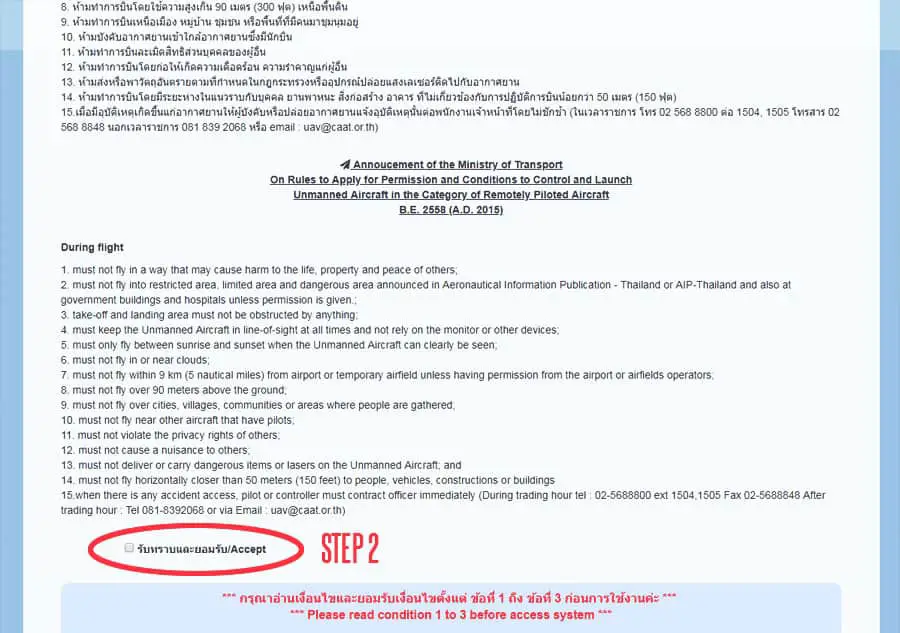 STEP 3: Announcement of the Ministry of Transport tab. Read the rules, download the English language file for the more detailed information and check the Accept checkbox at the bottom of the page.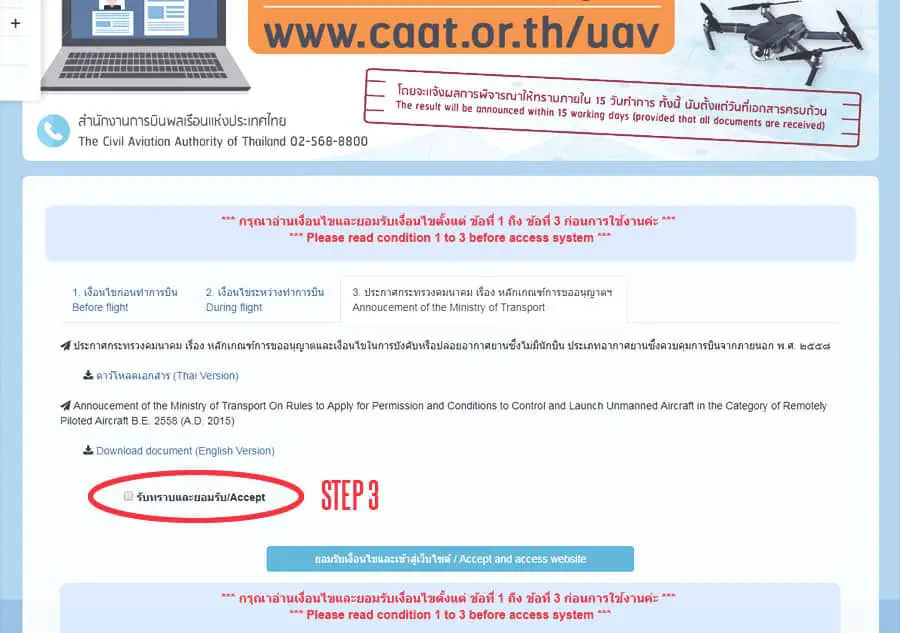 STEP 4: Once you've checked the Accept checkbox in each of the three tabs click the big blue button at the bottom of the third tab that says Accept and access website.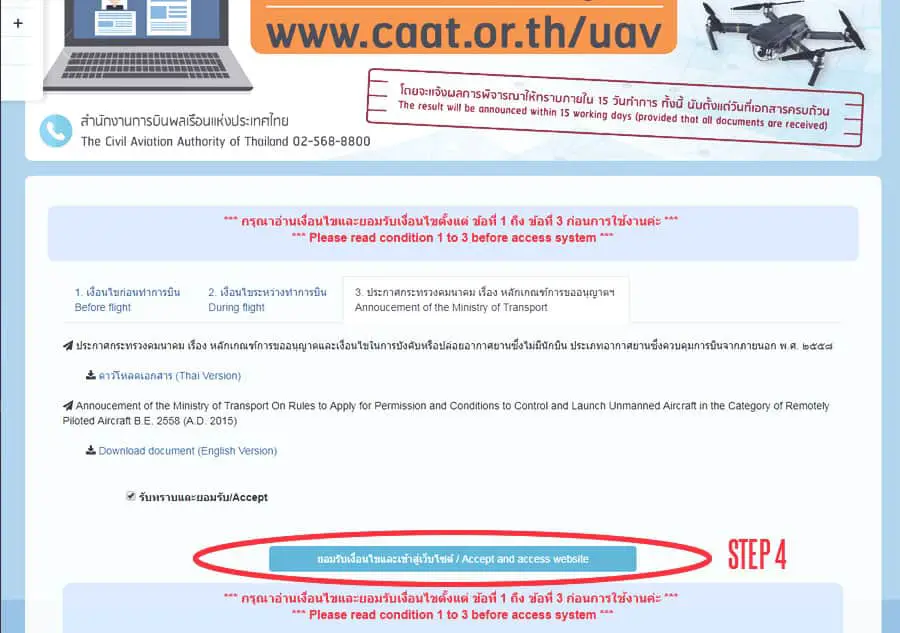 STEP 5: In step five you have to fill out the form and click Submit.
If you're a tourist in the Thai Nationality field type "Passport."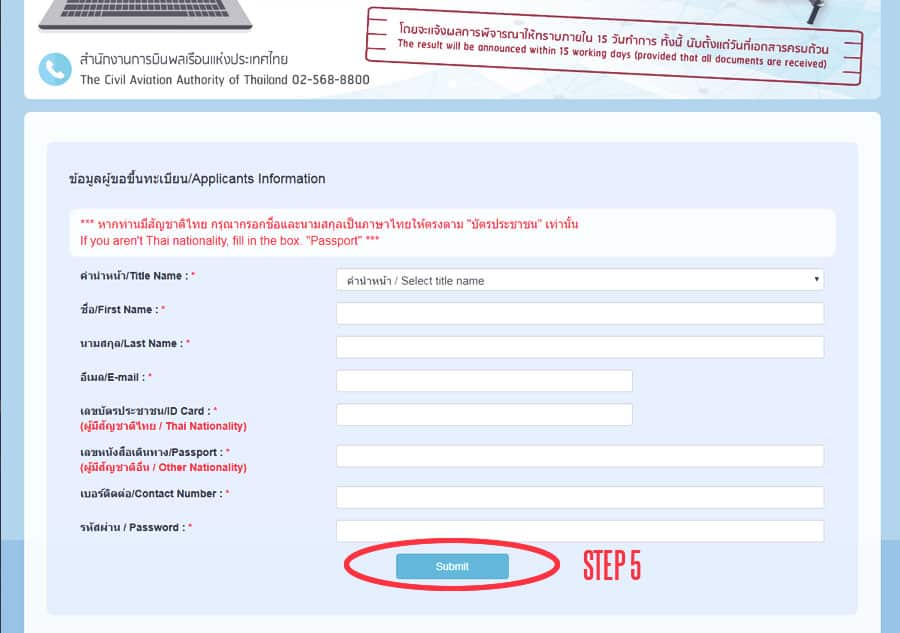 After submitting the form, you will receive a confirmation email.
How long does it take to register drone at CAAT?
CAAT say that it will take up to 15 days to complete the registration, but there are reports on the internet that it takes up to three months to get it done. Technically you can start your CAAT drone registration process six months before your flight to Thailand.
How to register your drone at NBTC?
I spent quite a lot of time trying to figure it out and seems like the only reasonable way of doing this is by contacting Thai company named Drone THAI.
People in several forums refer to this company as the ONLY source in whole Thailand where to register your drone while in your home country. People say that this probably is the less painful way to register drone for flying in Thailand.
Drone Thai (seems like it's one guy in this company) offers to take care of everything – registering your drone at CAAT, NBTC, getting insurance and temporary import license. Here is their (his) price list:
Drone registration at CAAT will cost you THB 1 500 (USD 47,20 or EUR 41,50);
Drone registration at NBTC will cost THB 1 500;
Drone insurance will cost THB 3 000 – 5 000 (USD 94,40 – 157,28 or EUR 83,01 – 138,34).
Remember you can do CAAT drone registration on your own, so this will bring costs down a little bit.
See Drone THAI website HERE.
You can contact this guy Danny at Drone THAI to this email dronethaiinsure@gmail.com
Where To Register Drone In Thailand?
If you have somehow sneaked your drone into Thailand without registering it or you have purchased it in Thailand and want to register it, then this is for you.
Drone registration at CAAT.
So CAAT is easy – you do it online, and you have already seen the instructions. Visit CAAT's website here HERE.
Drone registration at NBTC.
To register a drone at NBTC you will have to visit their office in Bangkok – Office of The National Broadcasting and Telecommunications Commission.
Here is its address: 87 Phaholyothin 8 (Soi Sailom), Samsen Nai, Phayathai, Bangkok 10400.
Drone registration at a local police station in Thailand.
Not that long time ago you could also register your drone at a local police station, but now this option is gone.
When I read the internet I see people commenting about the Thai police at the airport not paying attention to drones at all but recently there was a comment in the Thai DJI Facebook group about being penalized with THB 90 000 (USD 2 830 or EUR 2 489) for bringing in the drone that was not registered.
Where To Get Drone Insurance In Thailand?
So I've already mentioned this guy Danny. There are several comments on the DJI forum, TripAdvisor, Youtube and other websites that suggest asking for help to Danny.
Here is his email once again dronethaiinsure@gmail.com
I've also seen comments saying that there are cheaper alternatives to it, but none of them mentions any company names.
What Are Drone Laws In Thailand?
Here's the list of areas where you should avoid flying your drone in Thailand:
Don't fly in the restricted areas, official or state facilities and hospitals;
Don't fly near any skyscrapers, condo buildings, etc.;
Don't fly close to manned aircraft;
Don't fly in religious hotspots;
Don't fly in tourist hotspots;
Don't fly within 9 km (5,5 miles) from an airport or temporary airfield;
Don't fly higher than 90 meters (295 foot);
There are reports that drones are currently banned in all Thai National Parks with no exceptions. Although some say that you have to ask for permission at the National Park and they will let you fly.
There was a comment on the internet where this guy said that he got permission from the National Park, but there was a man who followed him all the time while he was filming.
Many famous islands in Thailand has "no drones" zones so you won't be allowed to fly in Phi Phi island, Monkey Island and others.
There was another comment where a guy said that he was flying his drone from a long tail boat. I assume drone landing must have been the most exciting part of that flight.
Flying a drone in Bangkok also seems to be impossible unless you get special permission from NBTC. In Bangkok, there is a no-fly zone 19 kilometers (11,8 miles) around Victory monument. It means that you can not fly your drone in Bangkok city center.
After researching this topic, my personal feeling is that it is worth doing all the paperwork. I also feel that it is better to ask Thai authorities for their permission to fly your drone to make sure you won't break any laws or insult local people.
What Are The Fines Of Flying A Drone In Thailand Illegally?
If you've brought your drone to Thailand without the NBTC registration, you might get penalized with a fine of BTH 100 000 (USD 3 150 or EUR 2 769). It will sound brutal, but there is a possible 5-year jail sentence about the infringement.
The penalty for flying drone in Thailand without CAAT registration is THB 40 000 (USD 1 258 or EUR 1 106) and a possible one-year jail sentence.
People report on the internet that Thai authorities check drone forums and Facebook groups for videos that brake the rules. Authors of these videos are then blacklisted and banned from entering the country, or their drones are taken away before entering it.
All of this sounds quite harsh, and many people suggest that it is best to ask authorities before flying.
Can I Rent A Drone In Thailand?
While GoPro camera rent is a popular service in many tourist attractions in Thailand seems like renting a drone is not possible.
So far I've found a couple of companies in Bangkok, but they rent drones together with their professional operators and aerial filmers. Their offered services are for business purposes only.
I also checked forums and apparently, local guys are not willing to rent their drones because they have drone flying permits that are attached to their names.
Related Questions
Do I have to register inexpensive drones in Thailand? If your drone weighs less than 2 kilograms (4,4 pounds) and is not equipped with a camera, then no.
Where to fly drones in Thailand? The best place to fly your drone in Thailand is either somewhere in the countryside or in an island that is not very popular with tourists. This way you will be able to avoid possible no-fly zones or any complaints from locals. And what's important it will still be beautiful scenery of Thailand.