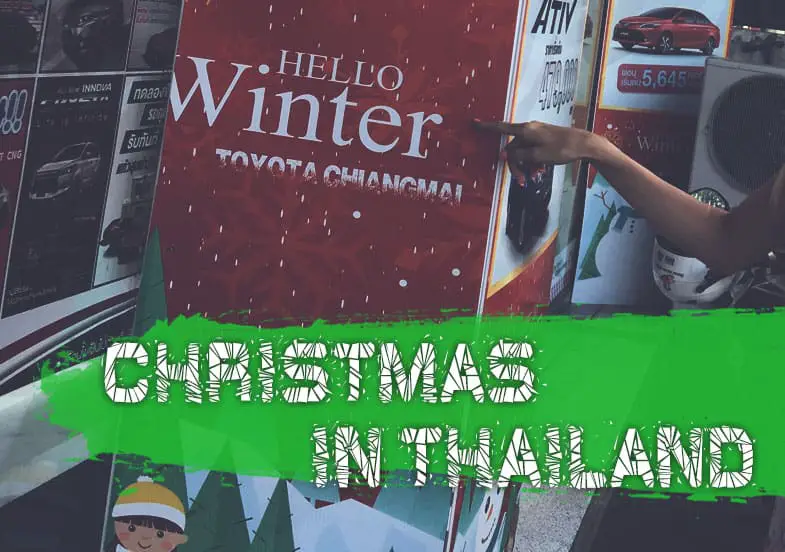 Can you imagine celebrating Christmas abroad and without your family around? Is this your plan for Christmas this year? If so, this article will explain everything you should know about spending Christmas in Thailand.
I will explain how Christmas is celebrated in Thailand, what do they eat and is Christmas a good time to go to Thailand.
So, is Christmas celebrated in Thailand? Thailand is a Buddhist country, and Christmas can not be found on the list of religious and cultural celebrations in Thailand. Christmas is not a public holiday in Thailand. Nevertheless, it is celebrated across Thailand, although the way how Thais celebrate Christmas is different from the rest of the world.
Thais love to party and not having Christmas on the list of public holidays in Thailand doesn't stop them from having a nice dinner with their family and friends. Christmas celebration among locals is nothing like you've used to see at your home country.
For example, kids in Thailand believe and wait for Santa Claus to bring sweets and gifts to their school. We all know that it is not the truth because the real Santa Claus is bringing gifts only while we're at home and asleep.
And it is not the only thing what makes Christmas different in Thailand. Let's see what else awaits you if you've decided to celebrate Christmas in Thailand.
What Is Christmas Like In Thailand?
Christmas in Thailand is celebrated on the 25th of December, but like in the rest of the world, the festive season starts early. The first place in Thailand to notice that Christmas is coming is its shopping malls. Many of the biggest shopping malls put thousands of Christmas lights out. Some even put huge Christmas themed shows on.
If you're in Bangkok in mid-December and you want to see how Christmas time looks in Thailand I recommend visiting at least a couple of these shopping malls:
CentralWorld
MBK Center
Siam Paragon
K Village
Terminal 21
Central Embassy Shopping Mall
These are only a few of the shopping malls in Thailand, but the decorations and shows they're putting on are pretty impressive.
Next, there are hotels and restaurants. You will see lots of Christmas decorations there as well.
Another exciting place to witness Christmas in Thailand is at zoos. They dress smaller animals in various Christmas costumes, but the most popular accessories among all the animals at the zoo are Christmas hats. Thailand has to be the only place on the globe to see a panda dressed up as Santa Claus.
If you will be traveling with kids finding a Christmas wrapping paper won't be a problem. Head to any of the shopping malls I've mentioned and get the wrapping paper of your choice.
Outside Bangkok, Christmas will be less noticeable. Although in such tourist destinations as in Pattaya Beach, Patong Beach and Chiang Mai there will be plenty of Christmas themed bars, restaurants, and hotels. Basically, at every location where there are many people from abroad, there will be some kind of Christmas decorations.
As for the Christmas trees, the most common place where to see them are at the shopping malls. I am talking about big and professionally decorated Christmas trees. Elsewhere those will be small Christmas trees with creative DIY solutions.
Besides shopping malls other places around Thailand to get into the spirit of Christmas are:
Hotels
Christmas Pop-Up shops
Markets
Most hotels to put out decorations are the ones where many international tourists stay.
In high-end restaurants there usually is a special Christmas dinner with a variety of entertainment options. If you're going to research on how to spend Christmas in Thailand, I recommend finding some restaurants you like and asking them about any upcoming Christmas events.
In less known and small hotels around Thailand and even in Bangkok, there might be no Christmas decorations at all.
Small Christmas Pop-Up stores can often offer a unique shopping experience. In this case, the only downside is that I can not recommend any specific store to visit. You will have to look for such kind of stores on your own.
Markets might have some Christmas decorations, but in most cases, it is the Christmas stuff that is being sold at the markets. But there is an exception – Great Gatsby Christmas Market. It is an annual Christmas market which is opened only for seven days on the week of Christmas.
Great Gatsby Christmas address is K Village, Sukhumvit Soi 26. I recommend doing your own research to see what are its opening dates for this year.
For those willing to see Santa Claus, I recommend visiting any of the previously mentioned shopping malls.
How To Say Merry Christmas In Thailand?
To say Merry Christmas in the Thai language, you have to say Sukhsant Wan Khristmas.
Saying Merry Christmas to locals and doing it in the Thai language is the best way how to win their hearts and to discover the true meaning behind the saying that Thailand is the land of smiles.
I recommend finding some basic Thai phrases and learning them before your trip to Thailand. Locals will appreciate you trying to speak the Thai language.
If you would like to write Merry Christmas in the Thai language, it goes like this – สุขสันต์วันคริสต์มาส. 
What Do They Eat For Christmas in Thailand?
Although many Thais do have a special meal at Christmas, it is not the turkey with stuffing nor the Christmas pudding. Roasted chicken, fish cakes, squid salad, and other dishes to be found on the tables for Christmas in Thailand.
As for the restaurants, they will serve traditional Western cuisine as well as traditional Thai Christmas food.
Here is the list of some of the finest restaurants in Thailand to have a delicious Christmas dinner:
Issaya Siamese Club
Suhring
Eat Me
Banyan Tree Bangkok
Is Christmas Day A Holiday In Thailand?
No Christmas is not a public holiday in Thailand. Technically it is a regular day where children go to school and adults go to work. But of course, there is a festive atmosphere in the air.
Tourists shouldn't worry because there are no changes at the timetables of public transportation in Bangkok at Christmas.
All shopping malls, convenience stores, and mom and pop stores are operating just like on any other regular day. With more than 40 million tourists visiting Thailand each year Christmas has to be the best time of the year for many businesses around Thailand. Could it be that Christmas celebration in Thailand isn't that far from the rest of the world after all?
How Are Christmas Celebrated In Thailand?
Christmas in Thailand is built around tourists. Gathering around the Christmas tree in Thailand is not a common thing for locals to do. Nevertheless, many families choose to prepare gifts for each other.
Around Christmas time you will notice many tourists and locals wearing Christmas hats, and it might be the only Christmas related thing you will notice. Not too many things around you will indicate that Christmas is coming.
Sometimes you might find Christmas decorations that will make you scratch your head. Random markets around Thailand are the best locations to look for unbelievable and silly Thai style Christmas decorations.
Christmas shopping in Thailand has to be the one and only Christmas tradition in Thailand. Regarding everything else, people always improvise. Thailand is the place where to find yourself in a different kind of Christmas celebration.
Is Christmas A Good Time To Go To Thailand?
Christmas time is the cool and dry season in Thailand, and it makes the best time when to visit this country. Nevertheless, it is also the busiest time when most tourists choose to visit this country.
Note that during winter months everything is more expensive in Thailand – hotels, Airbnb's, flight tickets and more. The price switch happens when October starts, and everything becomes more expensive.
I remember when I was about to book a villa in Krabi with a sea view. On the 30th of September, its price was 96 USD, but the next day – on the 1st of October – its price was doubled to 180 USD.
Is Thailand busy at Christmas?
Thailand is very busy at Christmas. It is a high season in Thailand, and tourists are everywhere. Especially in Pattaya Beach and Patong Beach. For those willing to escape the crowds, I recommend visiting Chiang Mai – a city in Northern Thailand.
Here is the list of beaches which won't be too overcrowded when visiting Thailand in high season:
Khao Lak
Koh Chang Noi
Koh Phayam
Freedom Beach
Khlong Nin
Consider traveling to Thailand at the end of September. It is the end of the rainy season in Thailand. Around this time of the year, most days are sunny, but you should expect some showers during the daytime as well.
What Is The Air Temperature In Thailand At Christmas?
The average daily air temperature in Thailand at Christmas is 31 °C.
The nightly daily temperature in Thailand at Christmas is 21 °C.
In my blog article, When Is Winter In Thailand: Does It Snow And How Cold Is It I've covered such topics as where to spend winter in Thailand, how to dress for winter in Thailand and others.
Where To Spend Christmas In Thailand?
It depends on why are you heading to Thailand during Christmas time.
If for some reason you're trying to escape Christmas it can be done in Thailand. Lying on the beach with a mango smoothie in your hand sounds like an escape from Christmas.
If you're looking for a different kind of Christmas, it can be done in Thailand as well. There are no real Christmas traditions in Thailand, but they still want to make the best out of this wonderful time of the year.
One last thing! I am sorry if this will make you sad, but there is no snow in Thailand in December.
Have an exciting and safe trip to Thailand!