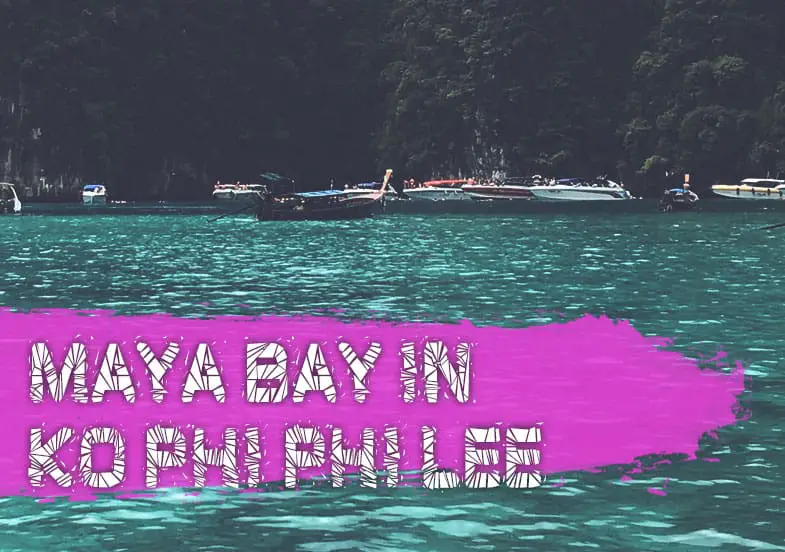 First thing first, it is the Maya Bay that is still closed for tourists, not the whole Ko Phi Phi Lee Island. It is still possible to swim and touch the island where the movie The Beach (2000) was filmed, but there are few things to know if these are one of your must-have activities during your trip to Thailand.
So, is Maya Bay closed? Maya Bay was closed for tourists on the 1st of June 2018. In 2019 the Phi Phi Island (Maya Bay) is still closed for tourists.  Boats are restricted to anchor and land inside the bay. The beach inside the bay is closed for tourists as well. The Maya Bay is being guarded, and it is forbidden to enter it by foot from the other side of the island as well.
All of this doesn't mean that you can not see the Maya Bay and the beach inside it at all. There are still plenty of boat tours which can take you there, but be aware that they are restricted to enter it. Now when the Maya Bay is closed, all boats have to stop 600 feet (200 meters) away from the beach. So seeing the famous beach is still possible.
They almost always have snorkeling gear on their longtail boats or speedboats, which means that snorkeling near Maya Bay is possible as well.
I've heard people asking are Phi Phi islands closed? There are six islands in the group of islands known as Phi Phi. Maya Bay is on the Ko Phi Phi Lee Island. There are no hotels, no restaurants nor other tourist attractions. Ko Phi Phi Lee Island and Maya Bay have always been a place for an hour-long stop during an island hopping tours.
The most famous from the Phi Phi Islands is the Ko Phi Phi Don Island. By the longtail boat, it is only 20 minutes away from the Maya Bay. Most tourists choose to spend a night or two there.
So all Phi Phi Islands are open – it is only the famous Maya Bay that is closed to visitors.
The main reason why the Maya Bay was closed was its apparent incapability to deal with the harmful effects of tourism. Maya Bay was simply overused. Sure it generated income for Thai businesses, but the environmental impacts of tourism were harsh.
For those who plan to visit the Maya Bay because of the movie The Beach, it is worth doing it. You won't be able to step on the same beach where the movie was filmed, but you will be near enough to recognize the parts of the movie. In this article, I will share some tips on how to make the best out of the visit to this famous place.
For those who are looking for beautiful beaches around Thailand and Maya Beach is not their must-see destination, I will share information about my TOP 5 beaches around Thailand.
Why Is Maya Bay Closed?
The Maya Bay is closed to all visitors by the Thai government to rehabilitate the reefs by growing new corals. The whole marine ecosystem around the Maya Bay has to recover from a large number of daily visitors it had in the past years.
Around 6 000 people visited Ko Phi Phi Lee Island and specifically Maya Bay and its beach each day when it was opened.
The worst thing that happened every day was people removing the corals to take them to their home countries as a souvenir.
Note that in Thailand, there are several laws to protect coral reefs. Tourists caught breaking the law have either to pay a hefty fine or to face a jail sentence. There are several reports online with people paying up to 15 000 Baht or 500 USD in fines.
Another reason why the Maya Bay was closed was due to the amount of trash produced and left on the island by tourists.
If you read TripAdvisor reviews about the Maya Beach when it was still opened, you would see many people reporting that the beach was dirty, it smelled terrible, and it was full of people. For most tourists, the Maya Bay has always been a stop for beautiful beach photos, but many people report that is was not possible anymore because of how crowded the beach had become.
This picturesque place with white sand, palm trees, and limestone cliffs had changed.
Now many admire and say that it was the best thing to do for DNP (The Department of National Park, Wildlife and Plant Conservation) to close the Maya Bay.
When is Maya Bay Opening?
There are some reports online that Ko Phi Phi Lee Island and its Maya Bay is going to be open to visitors in 2021.
Thai government closed Maya Bay on the 1st of June 2018. The idea was to shut down the bay for four months, but it wasn't enough to restore the bay area, including the beach as expected.
Then the DNP insisted keeping it closed for one more month. After Maya Bay being closed for five months in a row, they decided to keep it closed indefinitely.
It means that for now, it is not clear when the Maya Bay could be reopened for the visitors.
Environmental organizations and researchers say that Maya Bay should stay closed for visitors for 20 years or even more.
It is also possible that when the Maya Bay reopens, they will limit its daily visitor number to 2 000. In past years when the Maya Bay was opened the number of its daily visitors reached up to 6 000.
So at this stage, it is unclear when is Phi Phi island going to be open. It has to depend on the situation with corals and how fast nature will heal itself.
Recently there was a video published on YouTube of blacktip reef sharks returning to the bay. When tourists were allowed to enter the Maya Bay, it was unimaginable sight.
As they say in the video, it is a sign that the ecosystem is starting to recover, but it could take decades before it fully recovers.
Can You Still Visit Maya Bay?
Nowadays many boat tour companies in Phuket Town, Patong Beach, Krabi and in other touristy locations will still have Maya Bay included in their brochures as one of their main destinations.
Note that boats will not enter the bay, but stop about 600 feet (200 meters) away from the beach inside the bay instead. 
When purchasing the tickets if they will say that the boat will go inside the bay and you will be able to walk on the beach, don't believe them.
They could also sometimes give false information about the time that will be spent in one or another destination.
For example, when I booked a four-island speedboat tour, they said that I would have 2 hours in Ko Phi Phi Don, but when we arrived there, they gave us only one hour for the lunch and the sightseeing.
Needless to mention that on that, I didn't manage to visit the Phi Phi Viewpoint, which at the time was on my Thailand checklist.
Another advice is to go to Maya Bay in the early morning when there are fewer people. Especially in high season.  If you're staying at Ko Phi Phi Don, taking a private longtail boat is the best option.
Getting a private longtail boat from Ko Phi Phi Don to Ko Phi Phi Lee for 4 hours will cost you about 2 000 Baht or approximately 65 USD. 
During these 4 hours, the driver will take you to the Maya Bay (approximately 600 feet away from the beach inside the bay), Pileh Lagoon and Viking Cave.
Most drivers will offer you snorkeling gear. If they do not provide it, it is advised to ask for it. If they don't have it, there will be plenty of options around you to rent it.
Being at Maya Bay around at 08:00 has to be the best time when to visit it. Even now, when the Maya Bay is closed, there are lots of tourists that go there.
Getting to Maya Bay from Ko Phi Phi Don by longtail boat takes 20 minutes.
Is It Possible To Visit Maya Bay With No Crowds?
Surely there are time frames when there are no huge crowds at Maya Bay.
To get to the Maya Bay, you will have to use either a longtail boat or a speedboat. If you choose to travel by longtail boat, it will give you options to decide when to travel. Meaning you could plan a ride to Maya Bay from Ko Phi Phi Don at early morning to be there around 08:00. This way you will avoid crowds, but you shouldn't expect to have the whole place for yourself.
Note that taking a longtail boat to Maya Bay will be an option if you will do it from the Ko Phi Phi Don only because it is near and therefore doesn't cost too much.
Try asking for a longtail boat from Phuket to Maya Bay, and you will be laughed at and asked for 8 000 Baht, which is approximately 250 USD. Not to mention the ride would take the whole day to get there. Don't ask me how do I know it 🙂
The second option is the speedboat. As speedboat rides cost more, you will likely share the journey with other tourists. The worst part about it is that many speedboats leave piers around at the same time. They also meet at the tourist destinations around at the same time as well.
The third option could be a private speedboat, but for most tourists, it will be too expensive. Although if you travel with a group of 6 to 10 people, it could be an okay option. A fancier option.
I wouldn't recommend trying to sneak into the Maya Bay or its beach on your own. As I have already mentioned, the beach is being guarded, and if there is one thing you don't want to do in Thailand, it is breaking the law. Although there are several laws and unwritten rules in Thailand, which sometimes sound silly, and they are difficult to understand why do they exist, disobeying the law in Thailand can get you into serious trouble.
What Are Maya Bay Alternatives?
Of course, for the movie fans, there is only one Maya Bay on the world, but for the rest, it is not the only beautiful island to visit.
Anyway if during your trip to Thailand you had a plan to step on the island from the movie The Beach, you still can do it.
It is only the Maya Bay that is closed to the public. On the other side of the Ko Phi Phi Lee island, there is another bay named Pileh Lagoon. Nowadays many boats have switched from visiting Maya Bay to Pileh Lagoon.
In Pileh Lagoon there isn't a beach, but you can still swim there. Everyone who wants to swim there has to get into the water from the boat and then get back into the boat after the swimming.
Be careful when touching the limestone cliffs because they are very sharp and you can cut yourself easily.
Seeing how many boats drive in and out of the Pileh Lagoon, I wonder how long will it take for the Thai government to close down this place as well.
Another awesome location in Thailand is Railay Beach – a large peninsula which can be reached only by boat.
In some ways, Railay West is similar to Maya Bay. It has clean water, beautiful sand, palm trees, and massive limestone cliffs on both sides of it. Since it can be reached only by boat, it feels hidden as well. And the fact that there are no cars on the peninsula gives it a relaxed vibe. Low season is the best time when to visit this place.
I suggest reading more about it in my article 5 best beaches in Thailand for couples. I've put Railay Beach as my number one beach in Thailand.
I hope this article was well worth a read for you and that you will have a beautiful and safe trip to Thailand.