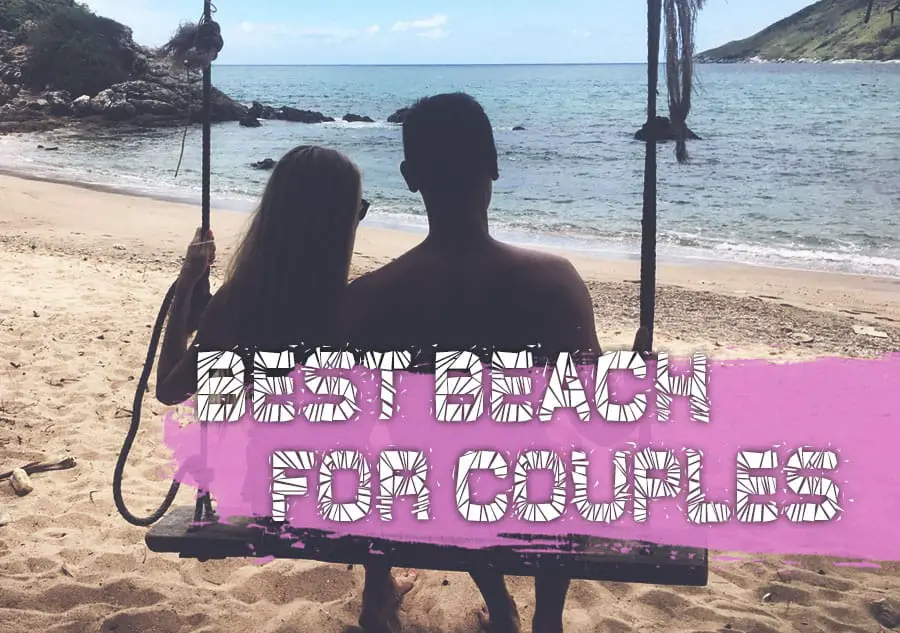 The first time we went to Thailand when it was our honeymoon. For us, there is one beach in Phuket that we like the most. But what would make it the best beach for you and your other half? Should it be small and quite? Maybe there should be lots of bars with endless possibilities for partying? How about romantic sunsets? What else?
What is the best beach in Thailand for couples? Best beach in Thailand for couples is the Railay Beach in Phuket. Technically those are two beaches located in Railay peninsula – Railay West and Railay East. Both can be reached either by long-tail boat or a speedboat only. Railay West and Railay East are connected by walking street, and it is 10 minutes long walk from one beach to another. Railay beach has lots to offer – natural environment, relaxed atmosphere, various foods, hidden lagoon, rock climbing, and other things.
So, Railay Beach is our number 1, but of course, there are other romantic, vibrant, and unique beaches that are worth mentioning.
Therefore I think it is a good idea to make a Top 5 of beaches in Phuket that most likely will be interesting for couples traveling to Thailand.
I will do a short review of our Top 5 by comparing how easy it is to get there, what is the food variety, nightlife, and other aspects.
5 best beaches in Thailand for couples are:
Railay Beach
Yanui Beach
Ao Nang
Karon Beach
Patong Beach
It is our top 5, but for you, those could be the same beaches only in different order. Or maybe those could be even different beaches. Who knows?
Phi Phi island didn't make a list? Well. Yes, it didn't.
GETTING THERE 4/10

ACCOMMODATION 8/10

FOOD 8/10

NIGHTLIFE 6/10

SWIMMING 10/10

ATMOSPHERE 10/10
6/10

2/10

6/10

2/10

10/10

8/10
8/10

8/10

8/10

10/10

7/10

4/10
Below I explain how does the scoring work.
Getting there. It is about options on how to get to the destination. For example, getting from Phuket International Airport to Patong Beach is easy. You can do it by a city bus, airport bus, minivan, and taxi. Probably limousine could be an option as well 🙂 But getting to our winner that is Railay Beach is possible only by water transport. Therefore Patong Beach gets a better score. We're also taking a look at how comfortable it is to get there.
Accommodation. It is about the amount of hotel and Airbnb offers available and the variety of the properties – bungalow, resort, villa, hostel, apartment, etc.
Food. Here we take a look at the amount and variety of restaurants, bars, and cafes on every beach. For example, in Yanui Beach there is only one restaurant, but it is such a nice place that it gets extra points from us.
Nightlife. How many nightclubs or bars are there? How about such activities as gaming rooms, cabaret shows, live music, etc.
Swimming. We're talking about beaches, right? Here we evaluate how clean, crowded, quiet and untouched they are.
Atmosphere. Our overall feeling about the beach. For us, the perfect Thai beach is natural, pure and away from the big crowds.
1. Railay Beach – Best Beach In Thailand For Couples
We visited the Railay peninsula only for a day, and it was too short. We should have stayed there for 2 or 3 days, but we couldn't because of our early bookings in other places in Phuket.
We spent our day swimming, sunbathing and drinking cold fruit smoothies at Railay West. It is beautiful. It is surrounded by nature – palm trees and tall limestone cliffs.
With no cars or scooters on the peninsula, it feels like you've escaped from all the touristy areas in Phuket. It is a quiet beach with a very relaxed atmosphere around it.
Railay Beach has to be the perfect destination for everyone.
How to get to the Railay Beach
Its location is on the coast between Ao Nang Beach and Krabi Town.
The beach is not connected to any roads, and there are no roads on the beach either. Therefore getting there is a little bit more complicated compared to other beaches.
There are several options on how to get to Railay Beach:
By long-tail boat from Ao Nang beach
By ferry from the Phi Phi island
By long-tail boat from Klong Jilad Pier in Krabi Town
By long-tail boat from Ao Nam Mao Pier
Long-tail boat from Ao Nang Beach and ferry from Phi Phi island will take you to the Railay West.
Long-tail boats from Ao Nam Mao and Krabi will take you to the Railay East.
Arriving at Railay East is easy. There is a pier, and it is comfortable to get in and out of the boat.
Railay West is tricky as there is no pier. When arriving in Railay West long-tail boats will stop about 10 to 15 meters (49 feet) away from the coast, and you will have to climb the ladder down into the water. It makes it difficult to get there if you're traveling with suitcases although if you will need help the men from the boat will help you.
Remember to keep your valuables safe because it will be easy to drop your wallet or smartphone into the water while performing stunts on the ladder.
One way long-tail boat tickets from Ao Nang Beach to Railay Beach cost 100 baht (USD 3.20, EUR 2.82, GBP 2.47) and it takes about 15 minutes to get there. Long-tail boat tickets from Krabi Town cost 150 baht (USD 4.80, EUR 4.22, GBP 3.71) and it takes about half an hour to get there.
Accommodation in Railay Beach
You have to book early because there are not that many hotel or Airbnb offers on the beach.
The price range for the one-night stay is really wide. You can book a bungalow for two persons that will cost you about 1000 baht (USD 32, EUR 28, and GBP 25).
The most expensive listings in Railay West are with their price tags up to 21 300 baht (USD 682, EUR 599, GBP 526) per one night.
The price for the hotel or Airbnb can be up to two times higher in the high season – November to February.
It was my honeymoon, so I had this idea of booking a private villa just for two of us. I found an affordable listing, but the owner canceled my booking request because of some technical issues for the property at that moment. When trying to book it, I noticed its price increase from 100 USD to 180 USD next month.
By the way, renting a villa in Thailand for a night isn't that expensive as you might think. Maybe this can be a good idea for your honeymoon as well? You can see the villa that I was about to book HERE.
When I searched for the place to stay, it seemed like there are more offers available on Airbnb than on other platforms such as Booking or Agoda.
Food variety (restaurants, cafes, markets)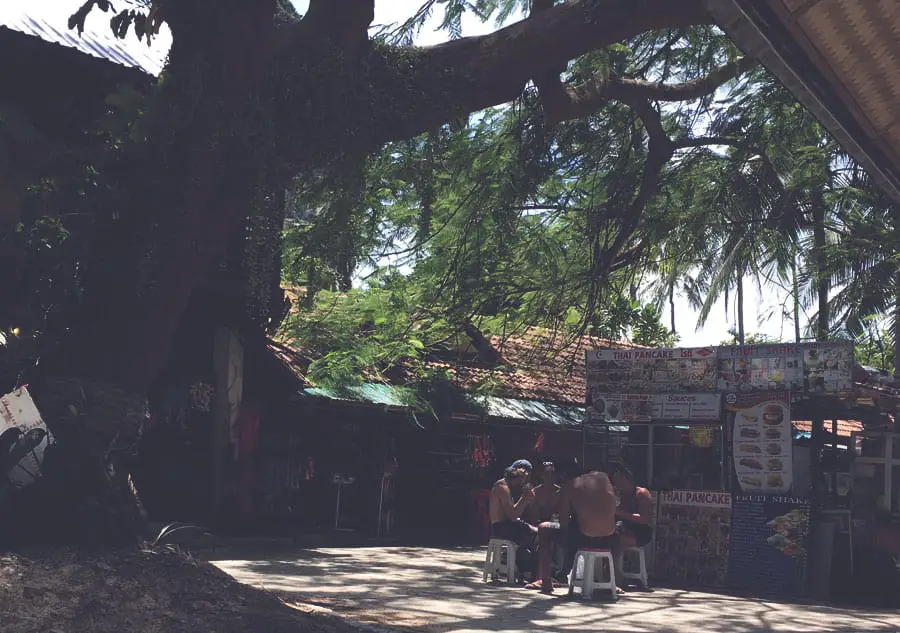 There are not too many restaurants and bars at the Railay Beach, but you won't have a feeling that you're missing out on something. Most of the eateries will serve standard Thai dishes as well as pizza, burgers, kebabs, etc.
The peninsula is so small that you will be able to visit most of its restaurants and bars and check their offers in less than 45 minutes.
The most popular place for dinner in Railay Beach has to be The Last Bar in Railay East. Here is what people have to say about it.
This lovely bar was a little hidden away but what a great find! Amazing viewpoint.
The food was real Thai and tasted so good! Very friendly staff.
It is one of if not the best bar in Railey, they offer delicious food and drinks as well as a variety of entertainment including Mai Thai boxing, flame throwing/breathing, and good DJing!
Parties and nightlife in the Railay Beach
The Railay Beach isn't that vibrant as Patong Beach. The Last Bar is the place for the biggest parties on the beach although it is nowhere near the crowdedness and loudness of Patong nightlife.
The most romantic spot in Railay Beach has to be Tew Lay Bar. It is the place where to enjoy a beautiful sunset with your bellowed one. It has bamboo platforms over the water, white curtains, delicious cocktails, and an amazing view.
Best bar in Railay. Great view. Friendly service. Excellent cocktails & sundowners. Escapism. Reggae. Quiet, calming, chilled. Beautiful walk to get there. Away from the craziness of Railay. Worth a visit.
What a hidden gem this place is. If you want to sit on bamboo platforms suspended over the water with a beer in your hand… this place is for you. What a location!
Don´t ever miss a sunset at Tew Lay! The most beautiful in Railay, that´s for sure! The sun goes down behind the limestone cliffs and palm trees… Marvelous!!
Swimming
The beach is very good for swimming. Especially the Railay West. To swim, you don't have to walk for too long into the sea.
The beach feels untouched and natural. I find the Railay West to be one of the best beaches for taking romantic couple pictures. Majestic cliffs, blue water, clean sand and lots of palm trees without high rise hotels disturbing the scenery.
What to do in Railay Beach
The most popular activities and tourist attractions in Railay Beach are:
Rock climbing
Swimming in the hidden lagoon
Hiking to Railay viewpoint
Visiting Princess Cave (Pranang Cave at Phra Nang Beach)
Kayaking
These five activities and locations are unique to the Railay peninsula, but of course, it has other things to offer as well. Just like in other beaches you will be able to find cooking classes, spa salons, massage, etc.
The Railay beach feels slow compared to other beaches in Thailand. If you will choose to do nothing but to relax I will understand you. We did the same 🙂
The overall atmosphere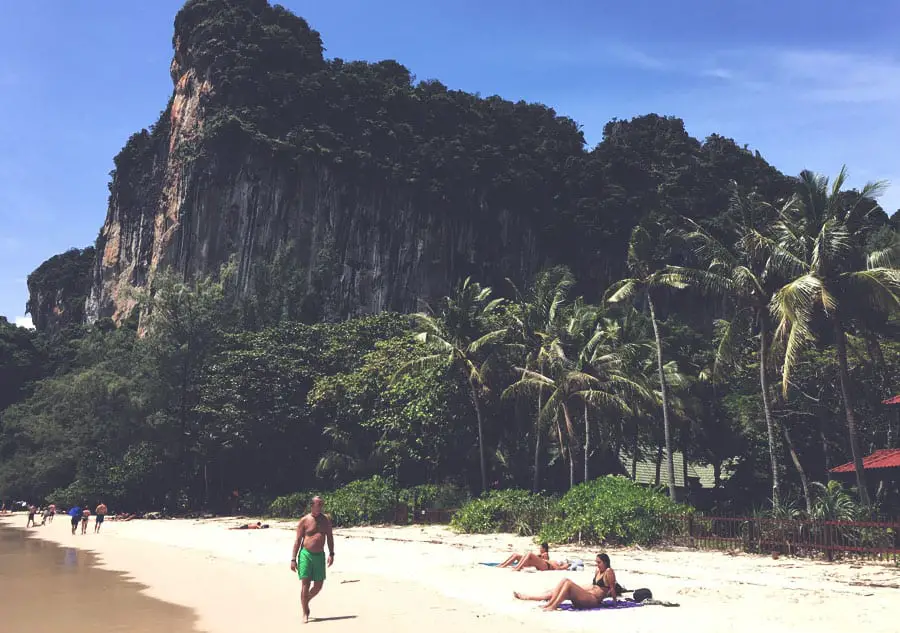 It is relaxed and hidden. That's how it is best described.
We traveled to the Railay peninsula in the low season (September). Luckily the weather was very good, and it was not crowded at all. Railay Beach was one of the best destinations that we visited in Thailand.
2. Yanui Beach
It is the smallest beach from our top 5. There are no shops or hotels nearby, and there is only one restaurant across the street.
If you arrive early in the morning, you might get the whole beach just for two of you.
As there are no touristy attractions, it is a quiet beach to relax, swim and do sunbathing.
Getting there
One of the most romantic destinations in Phuket has to be a Phromthem Viewpoint. I've heard people saying that the Phromthep Viewpoint is the best place in the world where to enjoy a beautiful sunset. It is the reason why so many couples head over to the viewpoint when it is about to get dark.
Yanui Beach is less than a mile away from the Phromthep Viewpoint. Therefore it is a good idea to spend the first half of the day at Yanui Beach and go to a beautiful sunset around 6 PM.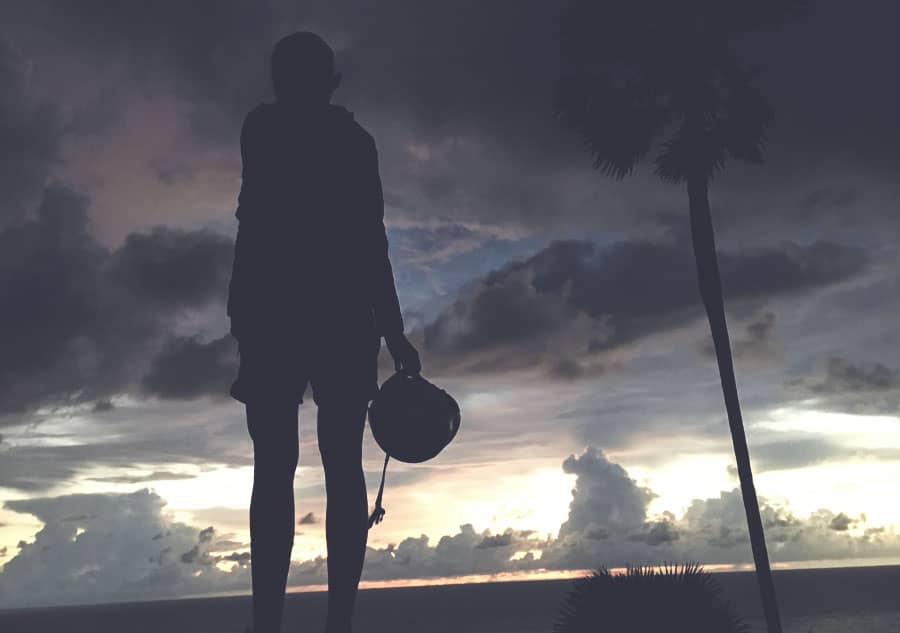 Assuming that you have already arrived at Phuket the most convenient way of getting there is by scooter. All roads leading to the beach are curvy and sometimes very steep, and you will have to drive carefully.
Yanui Beach is only 1,2 miles (2 kilometers) away from the Rawai Beach and 6,2 miles (10 kilometers) away from the Kata Beach.
Accommodation
As I've already mentioned, there are no hotels directly at the beach, but you will be able to rent a place about 650 feet (200 meters) away from it.
Food variety
There is only and quite a simple restaurant across the street. On its menu, you will find all the  Thai dishes as well as french fries, burgers, Austrian schnitzel, etc. I am not a big food expert, but all the fruit smoothies over there are excellent. Kiwi smoothie is my all time favorite.
If you're staying in Rawai Beach consider visiting its fish market. Some say they serve the best seafood in the whole Phuket. You can read my Rawai Beach review HERE.
Nightlife
After the sun has set the beach is quiet and empty. Yanui beach could be the best place for a proposal in Thailand because most likely you would have the place for yourself and no one would bother you.
Swimming in Yanui Beach
It is a good beach for swimming. After you've done about ten steps into the water, you can already swim.
Yanui Beach is the only beach in Phuket where I have felt tiny jellyfish stings. It didn't hurt, but I could feel it.
There is also snorkeling possible on the left side of the beach.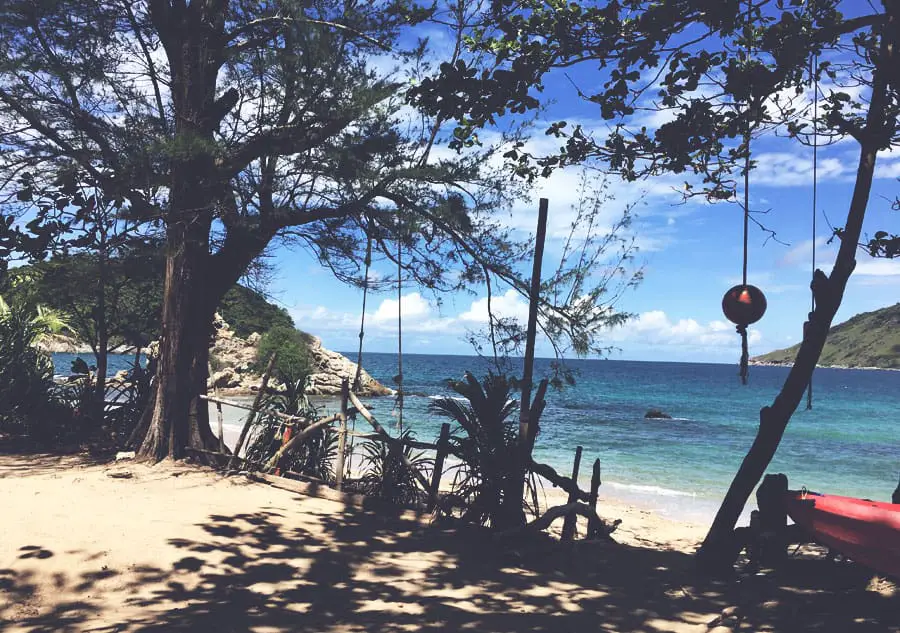 Overall atmosphere
At Yanui beach there is blue water, clean yellow sand, trees, and beautiful scenery. For us, this makes it a perfect beach.
There are swings at the beach for your perfect vacation picture.
Around 13 PM a guy with ice cream scooter will arrive at the beach 🙂
3. Ao Nang Beach – Best Beach In Thailand For Elderly Couples
From our top 5, Ao Nang Beach has to be the most appropriate to elderly couples.
It has only one big street that goes through the town, and maybe this is why it feels uncrowded compared to beaches like Patong.
Unlike in Railay Beach, you feel the presence of transport here, but on the other hand, it allows you to get from one place to another quickly.
Ao Nang Beach has lots to offer – beautiful beach and romantic sunsets, restaurants with a sea view, night market, wide choice of beach resorts and many more.
How to get to Ao Nang Beach
There are two options:
Bangkok – Krabi – Ao Nang Beach
Bangkok – Phuket – Ao Nang Beach
The first option means taking a plane from Bangkok Don Mueang airport to Krabi International Airport. Then by taking a taxi from the airport to the Krabi Bus Terminal 2. Last is a songthaew ride from Krabi to Ao Nang Beach.
Regarding the second option, you can read my article about the best ways how to get from Phuket to Krabi. It will also include a very detailed description of how to get from Phuket to Ao Nang Beach. You can read the article HERE.
Accommodation
It should be easy to find a place where to stay in Ao Nang. There are several high-end hotels with swimming pools, private villas, luxurious apartments and other types of properties for rent in Ao Nang beach.
I always check for Airbnb offers first because that way it is possible to find various unique properties unlike in other accommodation booking platforms.
Food variety
The food variety is excellent. There are restaurants, bars, convenience stores, and even a lovely night market.
Nightlife in Ao Nang Beach
In Ao Nang, there are no crazy nightclubs as in Phuket. The most popular bar in Ao Nang is Chang Bar.
Swimming
There are not too many people swimming in Ao Nag Beach compared to other beaches in our top 5. It is shallow, and you need to walk for about  150 feet (45 meters) to swim. Next to Ao Nang beach, there is Noppharat Thara Beach. Both beaches are divided by a cliff, but once you're there, it feels like it is one beach.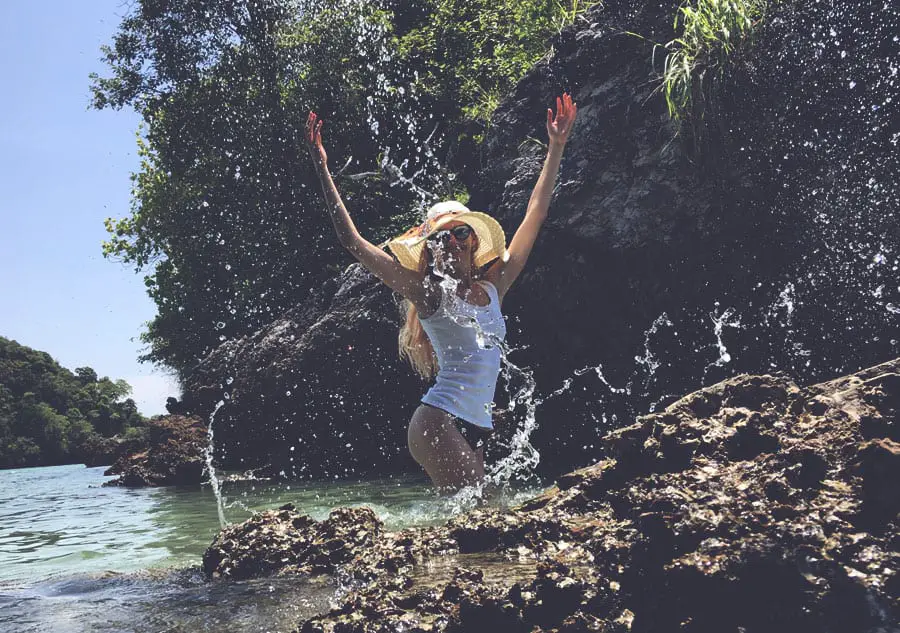 Overall atmosphere
During daytime, it feels laid back and empty, but after 6 PM it comes alive. This beach is great for a long walk during a sunset. There are many island hopping tours available at Ao Nang Beach. A speedboat ride from Ao Nang to Phi Phi islands will take only about 40 minutes, and you should definitely get one of these tours.
4. Karon Beach – Best Beach In Thailand For Couples With Kids
Karon Beach has to be the most similar beach to other beaches in Europe if judged by the looks. The area is cleaner compared to other locations, and it feels safe.
Getting there
Getting from Bangkok to Karon Beach is easy. You have to take a flight from Don Mueang International Airport in Bangkok to Phuket International Airport. To get from the airport to the beach, you will have several options to choose from – taxi, minibus, airport bus, and the city bus.
If you travel with suitcases the most convenient way of getting from the airport to Karon Beach is a taxi. The taxi ride will cost you about 550 baht (17.45 USD, 15.41 EUR, 13.48 BGP) and will take about 40 minutes.
Karon beach is a great location if you plan to visit various tourist attractions in Phuket – Big Buddha, Phuket Zoo, etc.
Accommodation
Lots of beautiful properties available for booking. It seems like there are more private villas available for rent than in other areas in Phuket.
Food variety
The food variety is okay. You can visit restaurants in any of the beach resorts as well as there is a market where to enjoy Thai street food.
Nightlife in Karon Beach
Look for Bangla Plaza. It is an alley where several regular and karaoke bars are located.
Swimming
Of course, it depends on the weather, but in the Karon beach, we experienced the biggest waves than elsewhere in Phuket. The sand is white and beautiful.
Overall atmosphere
There is nothing unique about this beach except that it is somehow similar to regular beaches in Europe.
5. Patong Beach – Best Beach In Thailand For Parties
This beach is for those couples who want to party hard.
It doesn't matter either it is Monday or Saturday evening – lots of people from all over the world gather for the best parties in Phuket.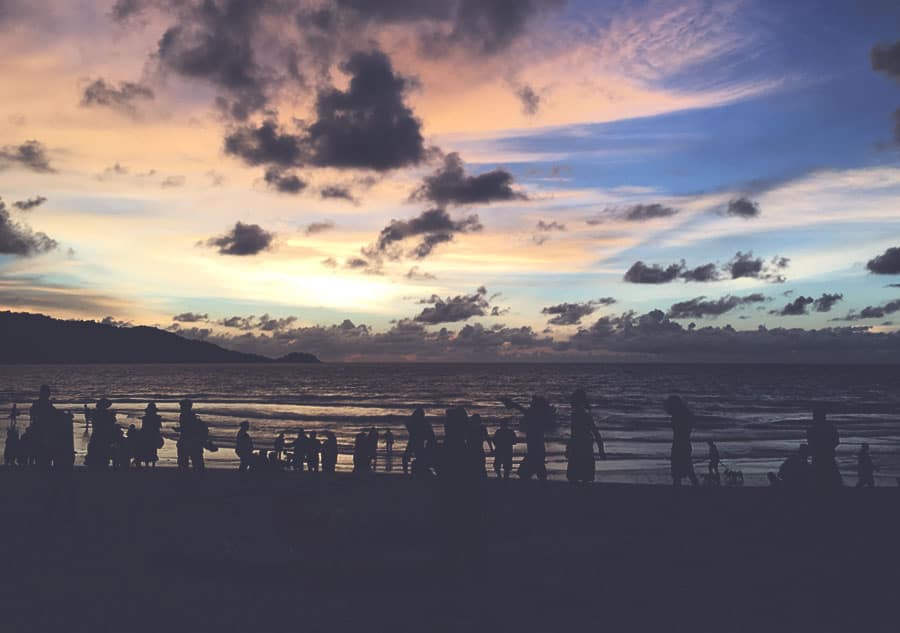 Getting there
It is almost the same as getting from Bangkok to Karon Beach only the distance is shorter. Take the plane from Bangkok to Phuket airport, then taxi and you're there.
Accommodation
There are lots of options available.
What I have noticed is that in Thailand quite often Airbnb properties are much nicer than offers from various hotels. I will give you an example. I booked a hotel room in Krabi, and it said that it is a Deluxe room. To my surprise the room was awful. It had a low ceiling, weird window tint from the inside, but the ridiculous part was the torn apart bed sheets.
I believe that this is because many Airbnb properties are owned by foreigners who might understand tourist needs better.
Food variety
Patong Beach is the place where to find everything that you want.
Nightlife in Patong Beach
Search for the Bangla Road as this is the place where an enormous amount of different nationalities meet for some crazy parties.
Swimming
The beach is almost always crowded, but swimming is good. There are lots of tourist attractions on the beach so you won't get bored. The best thing to try out has to be the jet ski paragliding. Just head over to the beach, and you'll find it.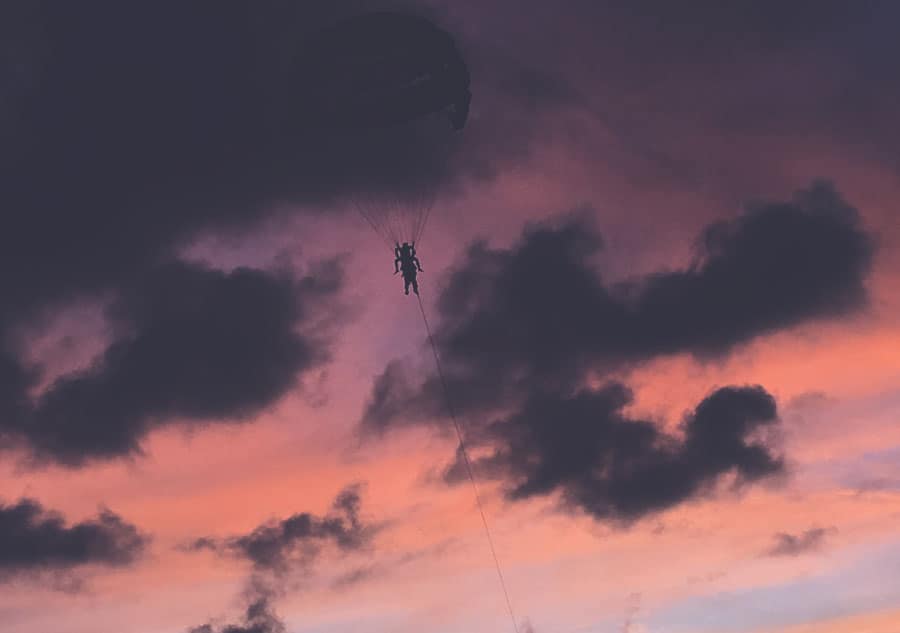 Overall atmosphere
It is such a vibrant area. There are flashy lights and loud music everywhere. Some people are trying to grab you by your hand and to pull you inside the club. It is similar to Khao San Road in Bangkok which might be one of your first tourist destinations in Thailand.
That is it! I tried to highlight unique things that differ these beaches one from another.
And don't take our beach scoring too seriously. It is all about emotions and for us, the Railay Beach with its uniqueness and the laid back vibe was the winner.