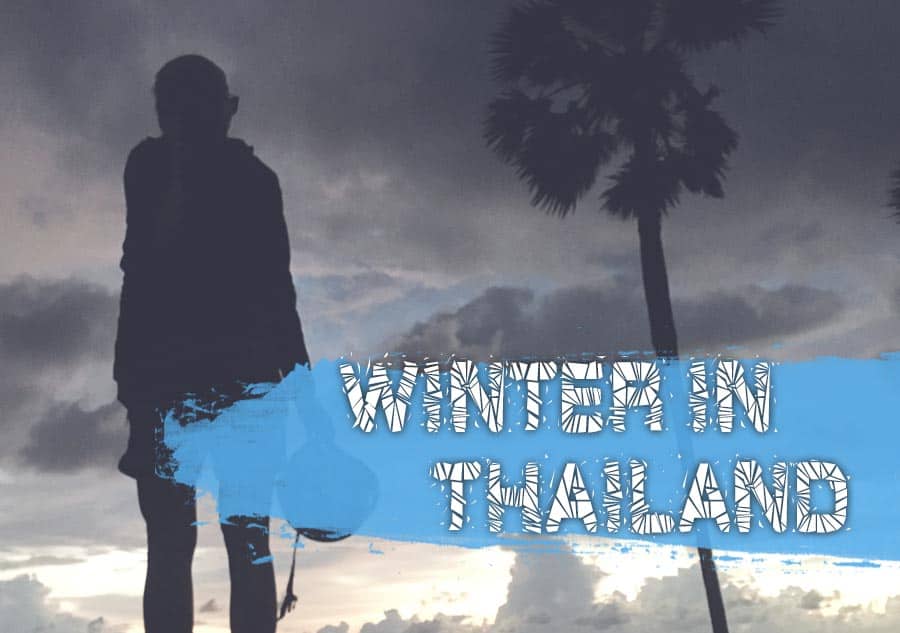 So you are planning to visit Thailand in the winter. Good for you! It is the best time when to visit Thailand. 
In this article, I will write about the air temperature in Thailand during the winter as well as other things to keep in mind when traveling to Thailand in the cool season. If you came here to find out an answer to the question does it snow in Thailand, read the article until the end to find it out.
So, when is Winter in Thailand? Winter in Thailand starts at the end of December and continues until the end of March. By the meteorological calendar winter in Thailand starts either at 21st or 22nd of December and ends either on March 20 or March 21. Winter months in Thailand are November, December, January, February, and March.
It is more common to talk about Thai winter by using such term as cool season because winter in Thailand is nowhere near to cold and snowy winters elsewhere in the world.
Does Thailand Have Winter Season?
Yes, Thailand does have a winter season, and it is the best time when to visit this colorful country.
See this illustration made by BookMundi about the best time when to visit Thailand.
Check out their website to see the information about the rainfalls in Thailand as well.
As I have already mentioned the winter solstice in Thailand is on December 22 although the cool season in Thailand normally begins in November.
What Are The Winter Months In Thailand?
The winter months in Thailand are November, December, January, February, and March.
The good news is that in winter the sun is shining for an average of 8 hours a day. The sunniest months are December and January.
During December, January, and February there is almost no rain at all.
As the air temperature in winter cools off to around 27 °C (79 °F) and occasionally even lower, it is a very pleasant temperature for a perfect vacation in Thailand. Summer temperatures in Thailand are almost unbearable for first-time travelers to Thailand.
When Is Winter In Phuket Thailand?
I smile as I write this combination of words – winter in Phuket 🙂
Winter or the cool season in Phuket begins in November and ends in February. The average air temperature in Phuket during these months is 26.5 °C (79.7 °F)
Phuket has to be the best winter destination in Thailand. Just be aware of big crowds and high prices if you're planning your travel during December and January.
Where To Spend Winter In Thailand?
Of course, most tourists head to Phuket. I would say that it is the best destination in Thailand for first-time travelers. It has beautiful scenery from the pictures that you've seen online, and everyone can find activities that are best suited to their taste. I guess there is no need for me to sell you the idea of going to Thailand as you have already made up your mind 🙂
Note that December and January is high season in Thailand. For tourists, it means paying more for everything. Flight tickets, hotels, restaurants, various services, and everything else will cost you more than it normally would.
To travel cheaper and to still get everything that Thailand has to offer I recommend visiting Thailand already in September or October.
I would say that November is the cheapest month to fly to Thailand. Note that September and October are the months when it rains the most – almost every day.
For me, it has never been a problem as I've noticed that it usually rains after 6 PM when it is already dark outside.
How To Dress For Winter In Thailand?
So, you're planning to visit Thailand in the winter. Although the winter sounds cold, let me remind you that we're talking about 27 °C (80.6 °F) here. Many travelers including myself would say that it is always summer in Thailand.
Nevertheless, depending on your destination and planned activities there might be situations where you would be happy to have a sweatshirt or a warm jacket with you.
I can think of at least two situations like that. First one is traveling to Northern Thailand. In Chiang Mai one the most popular tourist destination is Wat Phra That Doi Suthep. Its elevation is 1050 meters (3445 feet) above the sea level, but it is possible to go even higher. And believe me, if I say that on a rainy day in September it could get really cold up there. Also during the day.
Second is having a speedboat from Phuket to one of its surrounding islands. This article is written by Sandis Mukans from thailandtravelessentials.com. In winter the weather in Thailand is mostly sunny, but you might experience some showers. Because of the combination of wind and rain, it could get really cold on the speedboat.
In my article "Dress code for tourists in Thailand" I write about several topics regarding appropriate clothing for a trip to Thailand.
Note that you won't need your typical winter clothes in Thailand. Leave the winter jackets at home, but pack a sweater or two.
What Is The Coldest Temperature Ever Recorded In Thailand?
On December 21, 2017, the air temperature in Doi Inthanon National Park decreased to -5 degrees Celsius, but apparently, it still has to be authenticated by the responsible institutions.
It means that officially the coldest temperature ever recorded in Thailand is -1.4 °C that was recorded in Sakhon Nakhon on January 2, 1974.
On January 23, 2014, the air temperature in Bangkok decreased to 15.6 °C. It was its coldest record in 30 years. That year the air temperature outside Bangkok dropped even lower. Sadly that year it took away the lives of 63 people.
What's The Coldest It Gets In Thailand?
The average air temperature in Thailand in winter is 27 °C (80.6 °F), but occasionally it might drop below freezing. Those occasions are more likely to happen in Northern-Thailand where the temperature might drop enough to form frost.
By the way, the water temperature in winter is about 27 °C (80.6 °F) as well.
What Is The Coldest Month In Thailand?
The coldest month in Thailand is December. The average air temperature in Bangkok in December is 26 °C (78.8 °F).
Yes, it does feel wrong to me when I type the word cold and think of  26 °C at the same time 🙂
Is Thailand Cold In January?
The minimum average air temperature in Thailand in January is 21 degrees Celsius (69.8 °F). The maximum average temperature is 32 °C (89.6 °F).
Keep in mind that the temperature in Northern Thailand is always lower and you can actually notice it. Especially when visiting Doi Suthep and Doi Inthanon National Parks. Usually, the difference is about 5 degrees Celsius.
I would definitely recommend packing a sweatshirt or a jacket and long pants if you're planning a trip to such cities as Chiang Mai and Chiang Rai and their surrounding areas.
Does Thailand Have Snow?
No, Thailand does not have snow. It is unlikely if not impossible that you will see snow during your trip to Thailand.
There are some reports of snow in Thailand during its winter in late 1955. The same year when the coldest temperature ever was recorded in Thailand.
Related Questions
Is There Skiing In Thailand? No, the skiing is not possible in Thailand. I stumbled upon this question when I did a small research about winter in Thailand, and I found it funny. Skiing, snowboarding, ice skating, and other winter sports are not available in Thailand because there is no snow. There was a snow park in Bangkok, but it was for kids to build the snowman.
What is Snow Mountain in Chonburi? Let's make it clear that there is no snow at Snow Mountain in Chonburi. It is a mountain that is made from small and light grey rocks. It is jet another Instagram worthy location in Thailand. Just Google for Snow Mountain Chonburi to find out more.