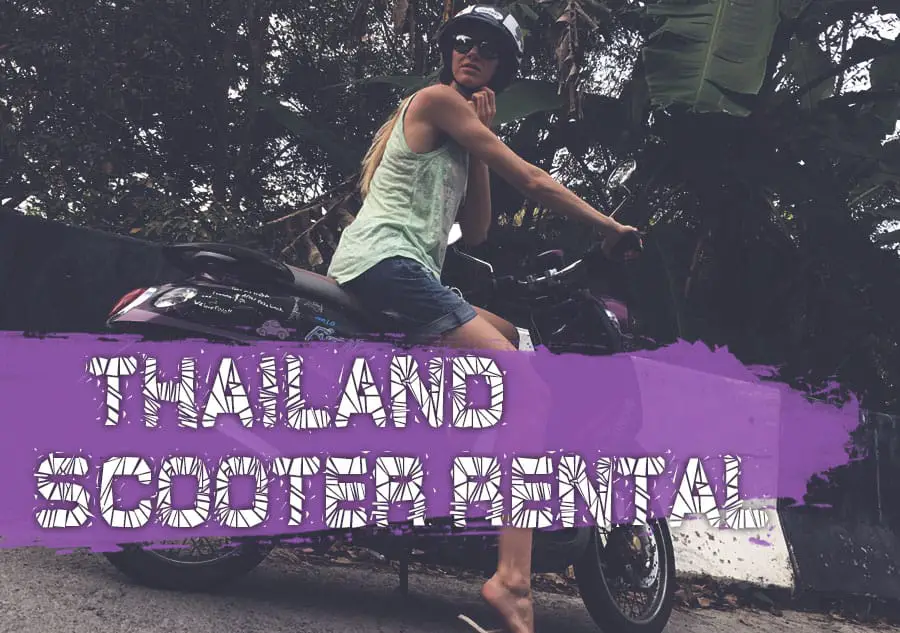 If you feel confident enough to ride a scooter in Thailand, it is a must have experience. Many would say that traffic in Thailand is horrible and you should avoid driving a scooter in Thailand by any means, but I disagree.
Yes, I would never rent a scooter in Bangkok, but in such locations as in Phuket and its beautiful coastline or in Chiang Mai the traffic is much more relaxed compared to Bangkok. Therefore I highly recommend renting a scooter in Phuket to visit all the beautiful beaches and viewpoints on your own.
So, do you need a license to rent a scooter in Thailand? Technically you don't need a license to rent a scooter in Thailand. Renting one without a driver's license is possible. To rent a scooter in Thailand most scooter rental businesses will ask either for a money deposit or will offer you to leave your passport at their office, but rarely will ask for your driver's license. 
Please keep reading the article because I will share some valuable Thailand scooter rental tips that eventually might keep you away from costly misunderstandings when in Thailand and maybe even save your life.
 For long-distance travel in Thailand (bus, train, airplane, ship) I always use 12 Go Asia services. It is a trustworthy website and the most convenient way of booking tickets for public transport in Thailand. Take a look at it here HERE.  
Can You Rent A Scooter In Thailand Without A License?
In most cases yes. Most scooter rentals won't ask for your driver's license nor for any other document that would indicate on your motorbike or scooter driving skills. If you can start a scooter without crashing it, your good to go!
Do You Need A Motorcycle License To Rent A Scooter?
No, it doesn't matter either you have category A driver's license or not. You can rent a scooter in Thailand without a license.
Note that if you will be stopped by Thai road police and you won't have an International Driving Permit, you will have to pay the fine.
During my first trip to Thailand, I went to a scooter rental in Chiang Mai. No one asked neither for my driver's license nor for the International Driving Permit. I paid and drove away.
After a couple of hundred meters, there was a police roadblock. When the policemen found out that I don't have an IDP they informed me that I would have to pay the fine. I tried explaining that I drive a sportbike in my home country, but it didn't help the situation.
What Are Thailand Scooter Rental Requirements?
To rent a scooter in Thailand, you need two things:
In some cases, an additional requirement could be the number of your hotel room if you're renting a scooter from the hotel.
Or sometimes a rental company could ask for the hotel that you are staying in.
You won't like it and you definitely shouldn't, but in most cases, you will have to leave your passport at the scooter rental.
For shady scooter rentals, this creates an opportunity to sabotage their clients when they return their scooters.
Regarding payments, you almost always pay in cash and upfront.
How much does it cost to rent a scooter in Thailand?
The average scooter rental price in Thailand is 200 Baht per day. That is 6.30 USD, 5.60 EUR or 4.70 GBP.
To rent a small 50cc scooter in Thailand, it will cost you about 150 Baht (4.70 USD, 4.20, GBP 3.60).
125cc scooter rental costs more – up to 250 Baht (7.80 USD, 6.90 EUR 5.95 GBP).
Note that scooter rental prices in popular tourist destinations in Thailand are higher compared to less touristy areas. If you plan to rent a scooter in Phuket, I recommend getting a bigger scooter than 50cc. Because if you travel to such beautiful locations as Promthep View Point in Phuket, some roads might appear too steep for two passengers on a 50cc scooter.
I recommend renting a scooter from a scooter rental that looks trustworthy. Renting a scooter from your hotel is a good option although it will cost you more. But as we're talking about a few dollars difference, it is a less risky option than to rent from a business that looks suspicious.
You might get lucky and find an Airbnb host who rents his apartment together with a scooter at no extra cost.
What About Thailand Scooter Rental Insurance?
It might surprise you, but most scooter rental businesses in Thailand do not offer any type of insurance for their scooters. And this is where it usually gets costly.
First of all, if you will crash the scooter, you will be the one paying for the damage. I've read online that depending on how badly the scooter is damaged, tourists end up paying even the full price of the scooter.
If you're wondering how much does a scooter cost in Thailand a used scooter in good condition costs about 30 000 Baht that is about 940 USD, 835 EUR or 710 GBP.
Another thing to be aware of is a scooter rental scam. It means renting a somehow damaged scooter without noticing it. On its return, the rental business might discover the damage that was already there and ask you for some amount of money. It is the reason why you should always take pictures or videos of the scooter before leaving the rental business.
What Is The Penalty For Driving Without A License In Thailand?
The penalty for driving a scooter in Thailand without a license is 1 000 Baht (USD 31.48, 27.48 EUR, 23.77 GBP).
Driving without a helmet is a number one reason why you might be pulled over by the Thai road police. 
THIS ARTICLE on Bangkok Post informs about new penalties in Thailand for driving without a license although as you can see in it comments sections and elsewhere online people do not believe that it could be a real deal in any near future.
Is An International Driver's License Required In Thailand?
First of all, I would like to clarify that the International Driver's License and International Driving Permit or IDP are the same documents.
So, do you need an International Driving Permit for Thailand? Yes. Every tourist in Thailand needs an IDP to drive in Thailand legally.
Note that the US, Canadian, Australian, Indian or any other foreign driver's license is not valid for driving in Thailand unless it is used together with an International Driving Permit.
I have a very detailed article about an IDP and how to apply for it, and what are the fines for driving a scooter without one. Read it HERE.
I always rent a scooter in Thailand, and by now I know that it costs 500 Baht (15 USD, 14 EUR, 12 GBP) to ride one without an IDP. Yes, I had to pay the fine because I wasn't even aware of it during my first trip to Thailand.
To sum up, you don't need a license to rent a scooter in Thailand although for your safety and more relaxed trip to Thailand you should get an IDP.
Probably you've heard or read online about people driving a scooter in Thailand without a license and not worrying about things, but police roadblocks on many Thai roads and especially in touristy areas lately are a very common thing.
Therefore to avoid situations where you have to explain yourself to Thai authorities of not having the necessary documents with you I recommend getting an International Drivers Permit now.
Related Questions
Can foreigners drive in Thailand? Yes, of course! For foreigners to drive in Thailand legally, they must hold a valid driver's license and an International Driving Permit (IDP) that is issued in their home country.
Is US driver license valid in Thailand? Without a valid International Driving Permit, your US driver license is not valid in Thailand. The same rule applies to any other country and foreigner. To drive in Thailand legally, you need to have both a valid driver's license and an IDP.