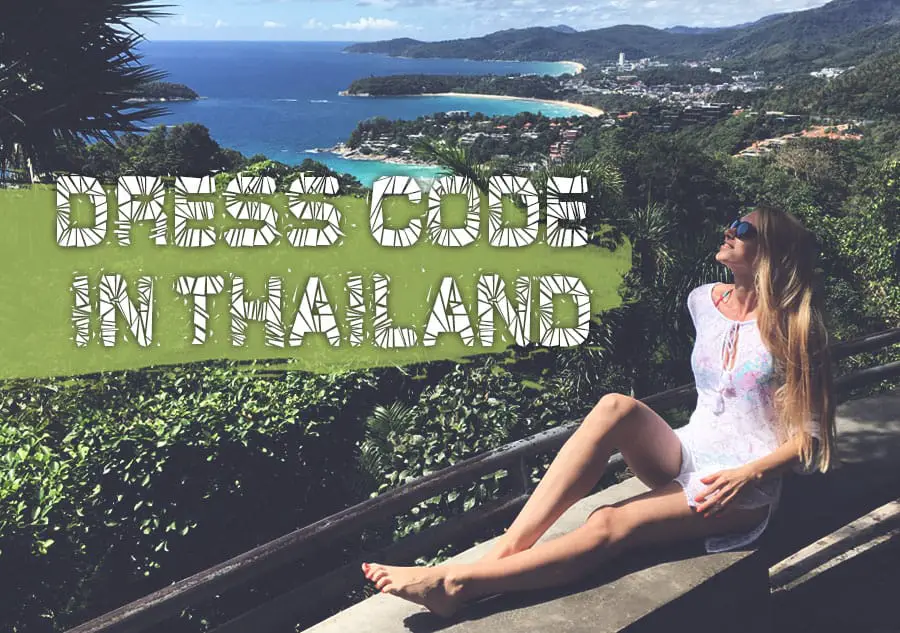 If you wonder what clothes to pack for Thailand, then this article is for you. I have written this article as a complete review of clothing that you should and should not wear in Thailand on every occasion.
So, what is the dress code for tourists in Thailand? In Thailand, there is a specific dress code for tourists and locals when visiting temples – covered shoulders, pants, or dresses that cover ankles and no shoes. Everywhere else there is no dress code, but first appearances mean a lot in Thailand, and by dressing properly you will be treated with respect.
Besides temples there are several other non-spoken dress codes in Thailand:
Dress as smart as you can to get a better table at a restaurant in Bangkok
Wear a sweatshirt to avoid freezing at the Doi Suthep in Chiang Mai
When it is a rainy season get a waterproof raincoat to stay dry on a speedboat in Phuket
To avoid being stopped by the police wear helmet when driving a scooter
Of course, also COVID-19 outbreak has changed the Thailand dress code for tourists. Now, when trying to figure out what to wear in Thailand, don't forget about the face mask.
Note that rules for wearing masks in Thailand are different by province. For example, in Phuket, there is an order by the provincial governor to cover your face while in public. People who will not follow this rule might get a penalty of $638 (20,000.00 Baht).
When they began to run out of surgical masks, several Thai designer brands began to produce fashionable face masks. Some brands offered their masks for $15 (around 490 Baht) while others dit it only for $2 (around 60 Baht). Only a few brands offered face masks for free.
So before going to Thailand, do your research regarding any COVID-19 related rules to find out what is the current dress code in Thailand, Bangkok, and other regions of the country.
Of course, besides wearing the face masks, there are several other written and unwritten rules you should know before your first trip to Thailand. So make yourself a cup of tea and let's dive into it!
Dress Code For Temples In Thailand
The strictest dress code in Thailand is in the compound of the Grand Palace in Bangkok as it is a Royal venue. Many other temples in Thailand have less strict rules. Overall the Thailand temple dress code is similar throughout the country.
Here is the list of prohibited outfits for both men and women in the Grand Palace compound:
Hats
Sleeveless shirts
Vests
Short tops
See-through shirts
Shorts and even shortened pants
Tight pants such as leggings
Torn pants
Miniskirts
Sandals without ankle or heel straps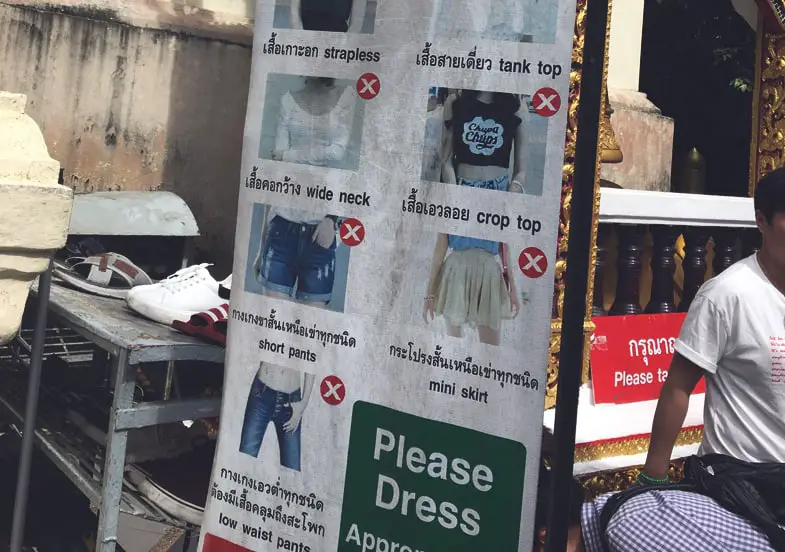 When planning a visit to the compound of the Grand Palace the most important thing is to dress modestly. That way you will be allowed to enter it, and you will avoid offending Thai culture.
If the guards at the entrance forbid you to enter because of your clothing, don't worry. Many small shops across the street sell appropriate clothing. Of course, the same kind of clothes would cost you less elsewhere in the city.
When saying appropriate clothing, I mean Thai sarong wraps. The sarong can be used as a skirt or as a scarf.  They're sold everywhere in Thailand, and they cost about THB 150 (USD 4,80 or EUR 4,18).
When in Thailand and especially near temples you will see tourists wearing these blue and white sarongs very often. By the way, red, blue, and white are Thai national colors.
Here is a picture from the Grand Palace where you can see that everyone has dressed appropriately. The image is a bit dark as it was a rainy day.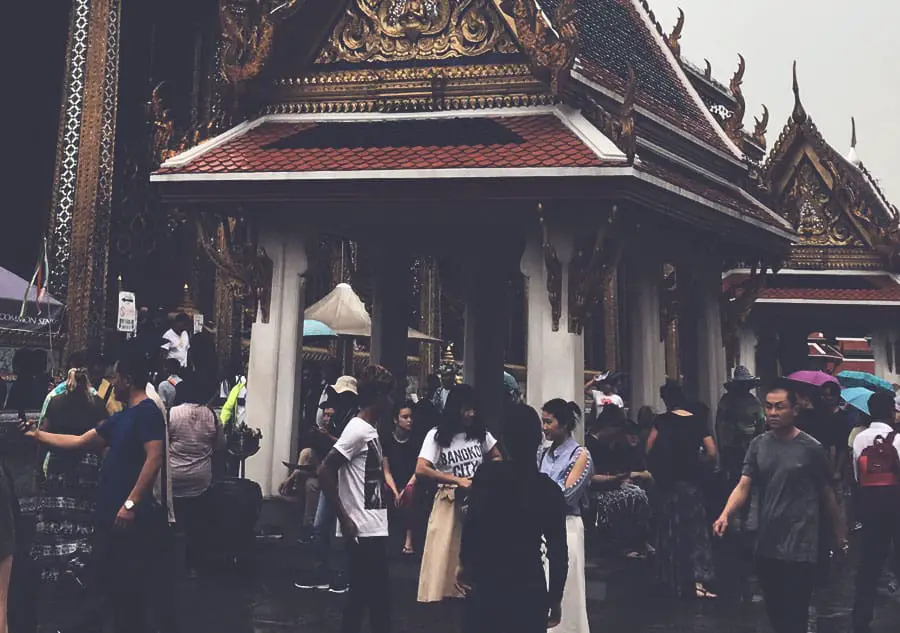 The dress code and rules may be different at each temple. For example, if you would need to cover your shoulders in Wat Phra Singh temple in Chiang Mai, you would have to pay a small amount of money for the sarong which can be returned after your visit to the temple and you would also get your money back.
The Grand Palace temple is one of the most significant temples in Thailand, but there are many other temples in Thailand without guards or cameras. In these temples where sometimes there is no one around you should still respect their culture by taking off your shoes and dressing appropriately.
I mean the Grand Palace compound is impressive, but for me, the hidden Wonderland temple at the Tiger Cave in Krabi was something out of this world. You can read about it HERE.
Thailand Dress Code For Nightclubs
In Bangkok, in high-end establishments, they might not let you in if you will be dressed in flip-flops, worn shorts, and white singlet.
When thinking about how to dress in Bangkok, think about places you would like to visit. There is no specific Bangkok dress code, but if you're planning on visiting nightclubs, wear something nice.
I want to share my nightlife in Bangkok experience with you. For the last evening in Bangkok, we had planned the visit to the Octave Rooftop Lounge & Bar at Marriot Hotel Sukhumvit.
The elevator brought us the 45th floor. We got out of it and went to the terrace bar where we ordered our cocktails. All the tables were taken, so we had to enjoy our drinks and the view at the bar.
Needless to say that the view was breathtaking and we were happy about our choice to visit this place.
To our surprise, a girl came to us and invited us to the rooftop. To be honest, we thought that we're already on the rooftop.
Of course, the real rooftop on the 48th floor was even better, and I managed to get the very best table for us.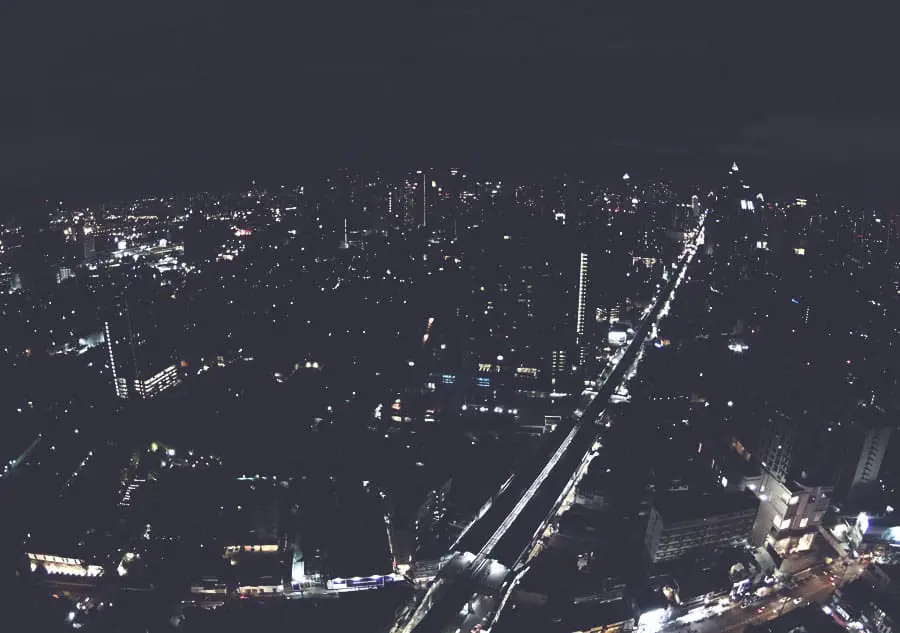 No doubt that we could enjoy this beautiful view because of our outfits.  I was wearing a long sleeve shirt, pants and full shoes and my wife was wearing a beautiful long dress.
This might prove that Thailand is a status-minded country. So dress nicer and enjoy all the privileges that Thailand can offer to you.
What To Wear In Phuket
Regarding the dress code in Phuket, I can think of four occasions when you should pay attention to what you're wearing:
Visiting Phuket in high season
Having an island hopping tour on a speedboat
Driving a bus or a minibus
Driving a scooter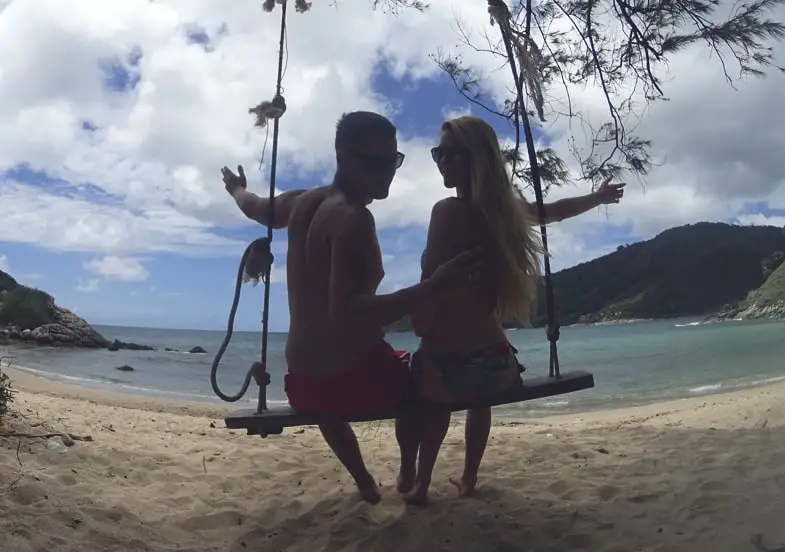 What to wear for Phuket trip in high season (January to March)?
The good news is that casual is acceptable at all times and everywhere. Dress comfy and do not worry about sudden rain showers.
Temperatures in Thailand from January to March are averaging around 32 °C. The humidity is at its lowest, and it feels nice.
Shorts, tank tops, flip-flops, and sunglasses are the best combo for Phuket. For ladies skirts and tops.
The straw hat is a good choice as well.
For me, I like sports (running) clothing the best.
What to wear on a speedboat?
If the sun is shining, relax and enjoy, but be aware that sometimes it might get chilly because of the strong wind. Just grab a sweatshirt with you, and you will be fine.
Warm clothing for long bus rides in Phuket
In Thailand, they have air conditioners everywhere. In supermarkets, 7/11's, trains, taxis, buses, etc. And they are turned on to the max.
For example, the bus ride from Phuket airport to Phuket Town can take up to two hours depending on the bus, route, and traffic. So a hoodie or a jacket will be a good choice.
What to wear when driving a scooter in Thailand?
You should wear a helmet. First of all for your safety, but also to avoid being stopped by the Thai police. Driving a scooter in Thailand without a helmet is the number one reason to be pulled over and checked for documents.
Read my article about an International Driving Permit in Thailand HERE.
What To Wear In Chiang Mai
Pack some warm clothing for your trip to Chiang Mai because the city is located in northern Thailand and the air temperature in it is noticeably lower than in Bangkok or Phuket.
Wat Phra That Doi Suthep is one of the most popular tourist attractions in Chiang Mai. Of course, it is a temple. It is located 1 050 meters (3 445 ft) above the sea level, and you better wear sneakers, long pants, and a hoodie if you plan to get there by driving a scooter.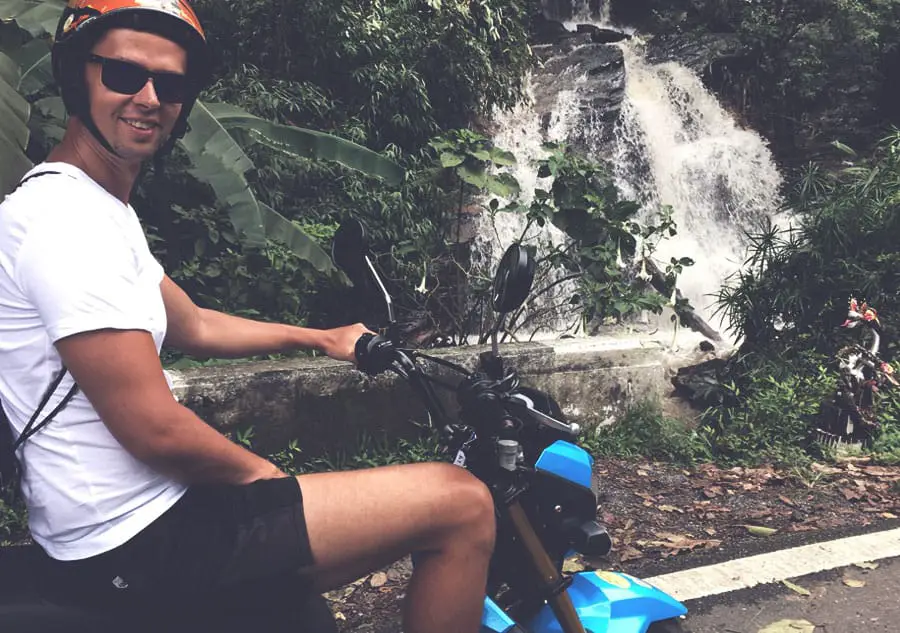 I get goosebumps every time I look at this picture 🙂 That day it was so cold up there! Besides t-shirt, sports shorts and flip flops I had a yellow rain poncho to wear. It was better than nothing.
What To Wear In Thailand  In The Rainy Season
Here is the list of most appropriate clothing for Thailand in the rainy season:
Waterproof and windproof coat
Rain poncho
Clothing that dries quickly – leggings, linen pants or shirt, etc.
Slip-proof shoes
Running shoes
The rainy season in Thailand (September and October) means that it might get colder and windier than you would normally expect.
I've already mentioned northern city Chiang Mai, but the same applies to Phuket.
We took a speedboat from Ao Nang to Phi Phi. That day the weather was very unstable, and at some moments it was windy and cold on the boat.
My wife said that for her the best outfit in the rainy season in Thailand must have been the long sleeve raincoat, leggings, and sports shoes.
As she prefers clothing form the Helly Hansen she recommends THIS RAINCOAT as a perfect fit for a trip to Thailand.
She also said that it is a good idea to pack a pair of thin gloves with you as well.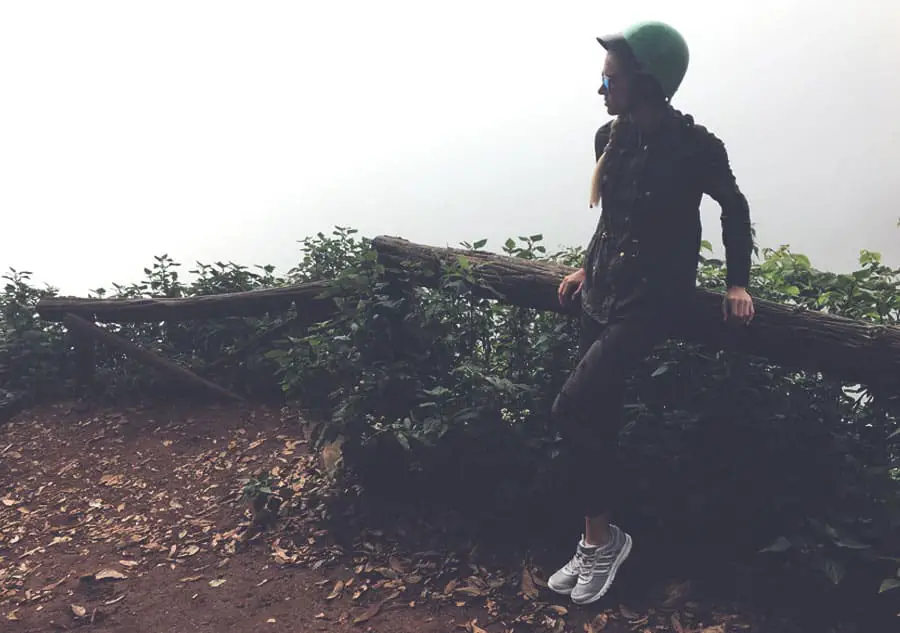 What to wear in Thailand in November and December?
It is suggested to pack a raincoat because these two months is the beginning of the high season in Thailand when the rain starts to clear up.
Most of the time the weather has to be okay, but you might get surprised by sudden heavy rain. As I've noticed in the daytime these thunderstorms don't take too long, but in evenings starting from 6:00 PM it may rain for a couple of hours.
Because of the weather getting better and not that many tourists around like in January and February, I believe November and December are the best months when to visit Thailand.
What Not To Wear In Thailand
You might think of Thailand as a place where everyone is wearing bikinis, shorts, and flip-flops. Yes, a lot of tourists and especially in Phuket dresses like that, and it is totally fine.
But it seems like there is a non-spoken dress code for locals in such public places as shopping malls, cinemas, office buildings, and other locations.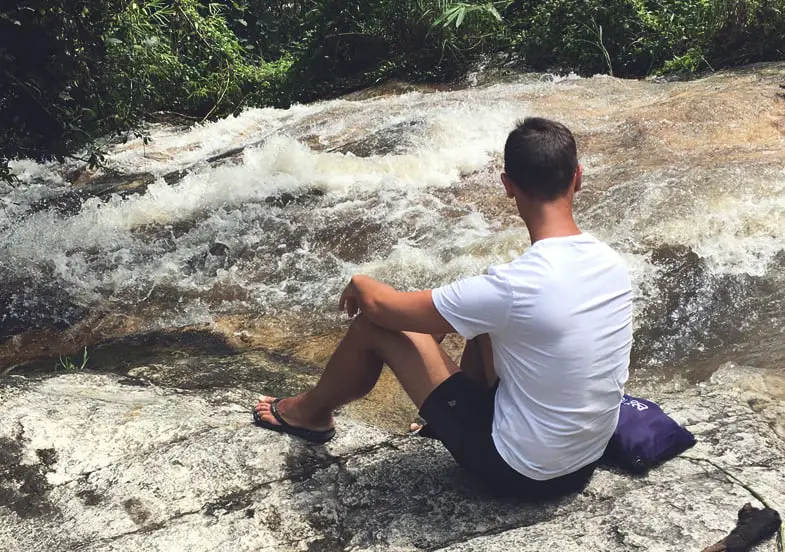 Is it okay to wear shorts in Bangkok?
Most Thai men in public places wear long pants, and only a few will wear shorts.
I have to admit that for me the Bangkok is almost always too hot and humid and I can not do it without my shorts. I can only approve that I have never had a situation where someone asks me to leave the building or to dress properly. I also haven't noticed people pointing weird looks at me because of how I'm dressed.
For ladies, it is okay to wear skirts and shorts that are little above the knee.
Because of the heat and humidity, you should avoid wearing tight clothing. Choose breathable and loose clothing instead.
What colors not to wear in Thailand
You can dress whatever colors you want, and you won't offend anyone.
I've heard of Thai tradition to wear yellow color on Mondays to honor the King of Thailand. To be honest, I am not that sure if that still is a thing.
Best Fabrics To Wear In Thailand
Here are the best fabrics that you can wear in Thailand:
Linen
Wicking fabric
Synthetic
Light-weight cotton
Silk
Loose-fitting clothing is the best because you will sweat a lot.
In really hot days and depending on activities that I did throughout the day sometimes I took a shower even four times a day. For me wearing running sportswear was the best option for surviving the heat in Thailand.
What To Pack For 2 Weeks In Thailand
Packing list for 2 weeks in Thailand:
Shorts for guys and skirts for ladies
A hoodie or a sweatshirt for air-conditioned rooms and transport
Smart outfit for a night out in Bangkok
Swimwear for Phuket
Running or hiking shoes and flip flops
Rain gear (coat, jacket, rain poncho) if it is a rainy season
Note that everything from things I've mentioned above just as everything else that you will need (bug spray, sunscreen, converter, etc.) can be purchased in Thailand easily.
There is no need for packing any swim gear (fins and goggles) as you will be able to rent it.
What I found interesting is that it was possible to rent a GoPro for a day for about THB 600 (USD 19 or EUR 17) if I remember the price correctly.
Related Questions
Where to buy clothes for Thailand? I mean the only thing that you probably don't have at home and that will be very useful in Thailand is the sarong. You can buy one at Amazon.
What to wear on a flight to Thailand? It will be about 13 hours long flight from Europe to Bangkok. On the plane, they will give you a blanket for your warmth, so you have to dress comfortably for such a long flight. Sportswear is a great choice.
What to wear on a train in Thailand? It is suggested to wear something warm because most of the Thai trains have air conditioning. Most people on Thai trains wear sweatshirts or jackets.