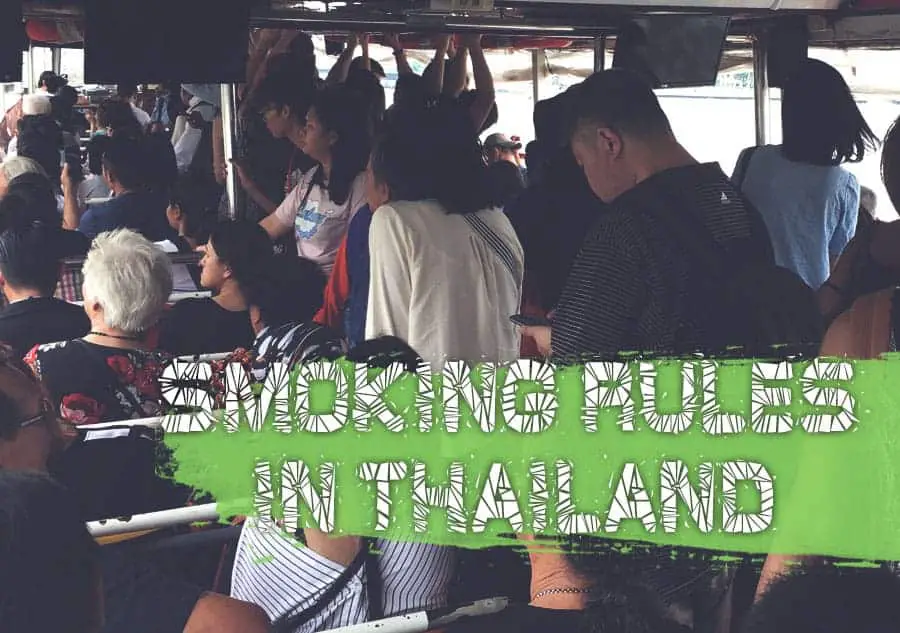 There are written and unwritten rules regarding smoking in Thailand. Those are two different things what tourists and Thais are allowed to do when it comes to tobacco in Bangkok and Thailand.
In this article, I will write down some fundamental rules that you should know to avoid getting a penalty or even a jail sentence for smoking in a public place in Thailand.
So, is smoking allowed in Thailand? Smoking in Thailand is allowed although the Ministry of Public Health in Thailand has consistently issued numerous regulations about smoking in public places and cigarette packaging and labeling. Thailand laws regarding smoking in public areas are very harsh – breaking some of them might get you in jail.
Smoking in Thailand is forbidden in the following public spaces:
Shopping malls
Office buildings
Government buildings
Temples
Schools
Airports
Public parks
Public transport
Markets
Many beaches
Offshore boats
Many hotels
Bars
Nightclubs
Restaurants
Zoos
While smoking in bars and restaurants is prohibited, there might be designated smoking areas in some of them. It is always a good idea to ask the staff for the place where to smoke. An exception is open-air venues where smoking most likely will be allowed at outside tables.
What Is The Fine For Smoking In Thailand?
Are you ready? The maximum fine for smoking in Thai beaches where it is prohibited is 100 000 Baht and/or a jail sentence of up to one year. 
100 000 Baht is 3 200 USD, 2 826 EUR, 2 455 GBP.
With millions of tourists visiting Phuket and its surrounding islands each year the littering was and still is a big problem in Thailand. The Thai government has come up with these harsh rules to solve it.  They have said that about one-third of all rubbish on Thailand's beaches are cigarette butts.
So it is not a good idea to drop your butts or any other rubbish on the pavement because of both Thai Police and Litter Police watching for rule breakers.
Fine for smoking in other prohibited areas such as shopping malls, office buildings, government buildings, and other is 2000 Baht (64 USD, 56 ER, 49 GBP).

How To Avoid The Thai Litter Police Scam?
Don't litter and you won't have any problems.
Thailand Travel Essentials Protip: If you will drop your cigarette butt on the ground be aware that you might be approached by the Litter Police (tessakit or tetsakit). Tessakit is Thai municipal officers, and their job is to check street vendors, remove illegal posters and to penalize those who litter. The scam happens when those guys ask for some amount of money by saying that they will arrest you if you refuse to pay, but actually, they don't have such rights. If you're in the middle of such a situation, it is a good idea to call the Tourist Police. Their phone number is 1155.
Smoking On The Beach In Thailand?
As of February 1st, 2018, there is such a thing as a Thailand smoking ban. It means that smoking is banned from 24 beaches in Thailand and more beaches will be added to the list in upcoming years.
Of course, most of the well know Thai beaches have made a list:
Ban Cheun Beach
Bang Kaen Beach
Bo Phut Beach
Cha-am Beach
Chalatat Beach
Chalok Ban Kao Beach
Don Tan Beach
Hat Said Res Beach
Hat Samran Beach
Hua Hin Beach
Khao Lak Beach
Khao Takiab Beach
Khok Wang Beach
Khlong Dao Beach
Ko Kai Nai Beach
Ko Kai Nok Beach
Laem Sade Beach
Patong Beach
Phra Ae Beach
Plai Sai Beach
Saeng Chan Beach
Sai Kaeo Beach
Tham Pang Beach
Wasukree Beach
Thai authorities say that there will be designated smoking areas in all beaches mentioned above. Usually, those are areas about 50 meters away from the beach, and they are marked with signs that allow smoking.
Raids by Thai police officers and soldiers is a common thing in Phuket and its surrounding islands. Therefore it is good to know the Thai rules and to respect their culture.
By the way, it is also illegal to fly drones in most of the touristy beaches in Thailand. My article about drone registration rules in Thailand is a must read for every drone enthusiast willing to go to Thailand. Read the article HERE.
Smoking Areas In Suvarnabhumi International Airport (BKK)
Until 3rd February in 2019, there was at least a couple of tiny smoking rooms inside the Bangkok airport. Now the Bangkok Suvarnabhumi International Airport is a smoke-free zone. Smoking is permitted only outside the terminals.
To have a cigarette you will have to walk outside the airport and look or ask for a designated smoking area near you.
The same rule of no smoking inside airports applies throughout Thailand.
How Many Cigarettes Can I Bring To Thailand?
Without paying customs duty, you are allowed to bring into Thailand 200 cigarettes.
Don't risk bringing in more than it is allowed because once again there are hefty fines for breaking the law in Thailand. If you're traveling together with someone else, it means that you can bring in 400 cigarettes if you divide them on two.
It is not recommended to have more than 200 cigarettes with you also when you're already in Thailand. During my research for this article, I saw a comment on TripAdvisor where this guy told a story about a Japanese man who bought 800 cigarettes from a duty-free shop in Hatyai and was arrested half a kilometer away from the shop. The fine was about ten times the price of cigarettes.
If you prefer smoking tobacco, it is allowed to bring in up to 500 grams per person.
How Old Do You Have To Be To Smoke In Thailand?
The current smoking age in Thailand is 20 years old. It was raised from 18 years old to 20 years old on July 4, 2017. It means that the legal age to buy cigarettes in Thailand is 20.
Thailand Cigarette Price In 2019
The most expensive cigarette brand in Thailand is Parlament. It costs about 200 Baht (USD 6.39, EUR 5.63, GBP 4.89) per pack. Such brand cigarettes as Kent, Marlboro, and Lucky costs about 150 Baht (USD 4.79, EUR 4.22, GBP 3.67).
A cheaper alternative is L&M cigarettes. Their price in 7-Eleven is 89 Baht (USD 2.75, EUR 2.42, GBP 2.10).
Cigarettes in Thailand are sold in most of the 7-Eleven's and Family Mart's, but there might be some supermarkets where they don't sell them at all.
If you will stay somewhere in Thailand where it will be difficult to find where to buy cigarettes try buying them at your hotel.
What is the cigarette price in the duty-free zone in Thailand?
Cigarettes in Bangkok's Suvarnabhumi Airport duty-free zone costs more than in any 7-Eleven or Family Mart in Thailand.
Price for 200 cigarettes in the duty-free zone is about 700 Baht (USD 22.36, EUR 19.71, GBP 17.12).
The maximum amount of cigarettes that you're allowed to bring out of the country is 200 cigarettes.
What is the price of rolling tobacco in Thailand?
Rolling tobacco in Thailand costs about 400 Baht (USD 12.78,  EUR 11.26, GBP 9.78) for 50 grams. The price of 500 grams of rolling tobacco in the Bangkok Suvarnabhumi International Airport is about 1800 Baht (USD 57.46, EUR 50.66, GBP 43.99).
Many people online refer to The Session at Silom Complex as the best tobacco shop in Bangkok. I haven't been there so you might want to do your own research.
Related Questions
How many cigarettes is it allowed to bring back from Thailand to the UK?
If you're traveling to the UK from Thailand, you can bring in 200 cigarettes. Regarding tobacco, it is allowed to bring in one item from the following:
200 cigarettes
100 cigarillos
50 cigars
250 grams of tobacco
As it is possible to split this allowance, you could bring in 25 cigars and 125  grams of tobacco (both half or your allowance).
How many cigarettes is it allowed to bring back from Thailand to Australia?
If you're traveling from Thailand to Australia, you can bring in only one unopen packet of up to 25 cigarettes and one open packet of cigarettes into Australia. Technically without declaring it, you can bring in 50 cigarettes per person.
Is Vaping Legal In Thailand?
Vapers watch out! Vaping in Thailand is illegal since October 2014. Smoking a Vape or even transporting one into Thailand is illegal. The fine for either of these actions is brutal – up to 10 years of jail sentence.