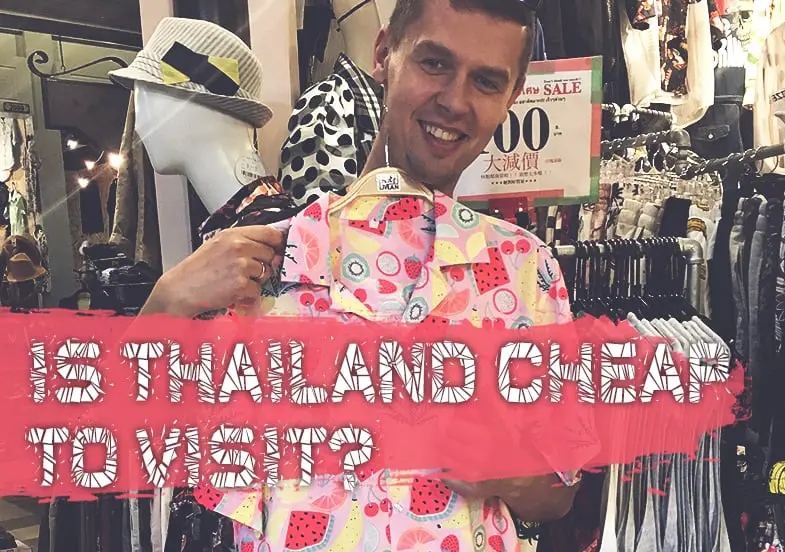 Use this article as a guide of how cheap things are in Thailand and which items or services will cost you the most. Of course, your perception of how cheap or expensive Thailand is might be different from travelers from elsewhere around the world.
It is why I will share the actual costs of various items and services which are often bought by tourists in Thailand.
So, is Thailand cheap to visit? Thailand is a relatively inexpensive country to visit. Thailand has the lowest food and drink prices compared to other countries in Asia. It is an excellent place to do shopping for clothes and electronics as well. Flight tickets often are the most expensive part of a visit to Thailand. Cheapest months to travel to Thailand are from May to October.
Depending on what type of traveler are you, the price difference between the possible costs of a trip to Thailand can be huge.
Backpacker lifestyle travelers could spend two weeks in Thailand with only 150 USD (4 500 Thai Baht) in their pockets. It could be done even with less money than that.
Or you could stay at luxurious hotels, travel with private speedboats, eat at high-end restaurants, and so on. For example, a regular cocktail at the Sky Bar (where the movie Hangover 2 was filmed) will cost you around 15 USD, which is an extremely high price for a cocktail in Thailand.
Is Thailand Cheap For Food And Drink?
The short answer is yes, but let's take a look at different drinks and what are their costs at different regions in Thailand.
First of all, Bangkok is the most expensive place where to buy anything. For example, a small bottle of fresh pomegranate juice in Bangkok will cost around 80 Baht (2.65 USD, 2.40 EUR, 2.05 GBP). In Northern Thailand, for example, somewhere outside Chiang Mai, the same type of juice will cost only 15 Baht (0.50 USD, 0.45 EUR, 0.39 GBP).
The same goes for souvenirs and other stuff. The price for various items in Bangkok or other touristy areas such as Pattaya, Patong, or Phi Phi will be noticeably higher.
So the cheapest meals will always be outside Bangkok and when bought from the street vendors. It is possible to have a decent meal for only a 30 Baht (1 USD, 0.90 EUR, 0.77 GBP).
Another alternative is to order food online. Two of the most popular food delivery Apps in Thailand are Foodpanda and GrabFood. They both offer a wide variety of restaurants, reasonable prices (low prices by the standards of most travelers), and delivery to the place of your stay.
You could also buy food at many of the convenience stores around – 7-Eleven, FamilyMart, and others. There won't be many things to choose from, but for quick snacks and such basic things like cheese, eggs, milk, etc. it will be okay.
For the beer lovers, I have a separate article about the beer prices in Thailand. Read it by clicking here.
How much is a beer in Thailand?
To give you a brief insight into the costs of beer in Thai convenience stores, those are approximately 45 Baht (1.49 USD, 1.35 EUR, 1.16 GBP) for one bottle of beer.
How much is a Big Mac in Thailand?
Big Mac in Thailand costs 123 Baht (4.07 USD, 3.69 EUR, 3.16 GBP)
How much is a Coke in Thailand?
Coke costs 46 Baht (1.52 USD, 1.38 EUR, 1.18 GBP
How Much Are Clothes In Thailand?
Have you ever heard the phrase "same, same, but different"? If you haven't, then you will soon understand it. It is often used by sellers at markets when negotiating the price for the sneakers, handbags, and many more items.
The price will often depend on your negotiation skills. By politely bargaining with sellers, you should be able to bring down the price by at least 30%.
Bargaining isn't for me, but I understand how it could be a fun activity for someone to shop in and around Thai markets.
Here are some examples of what prices to expect for various clothing items in Thai markets:
A sarong will cost about 200 Baht (6.62 USD, 6 EUR, 5.15 GBP)
A regular t-shirt will cost about 300 Baht (9.90 USD, 9 EUR, 7.70 GBP)
NBA jersey will cost about 500 Baht (16.55 USD, 15 EUR, 12.83 GBP)
Muay Thai gloves will cost about 800 Baht ( USD,  EUR,  GBP)
Regular sneakers will cost about 2000 Baht ( USD,  EUR,  GBP)
Nike Air Max shoes will cost about 5000 Baht ( USD,  EUR,  GBP)
So the best place where to buy cheap clothes in Thailand is in many of the markets. You should do your research which markets to visit, but I recommend visiting:
The Maeklong Railway Market
Train Night Market (Ratchadaphisek Road)
The Night Market in Chiang Mai
Surely there are more markets worth visiting, but here is why I recommend these three.
Even if you don't plan on buying anything, you should visit this pretty unique place. Seeing shopkeepers folding their sunshades to allow the train to drive straight through the market is something you won't be able to experience elsewhere.
The prices in the Maeklong market are the same as in other markets in Bangkok.
My second recommendation is to visit Train Night Market. There is no train driving through it, nor is it a cheaper market than others, but it is a great place where to party together with both tourists and locals.
To buy cheap souvenirs, head to Chiang Mai Night Market. The starting price for many items will be three times lower compared to other markets back in Bangkok. If you have many relatives and friends and you want to bring something for them, then look no further and do your shopping spree in Chiang Mai.
Is Thailand Cheap For Electronics?
The final price for any electronic item will vary depending on several factors:
will you buy the item at the market or from an official distributor
is it going to be an original or fake item (the price often will reveal it to you)
is it going to be a worldwide famous brand or not
and of course how good you're at negotiating the price
Just like in any other country, the big brands will keep the price for their products high.
In Thailand, many items from famous manufacturers will be at the same cost as elsewhere in the world.
If you wonder what electronic items are cheap in Thailand, then I can assure you that almost every electronic item can be bought at a low cost. You also should understand that most likely, these will be fake tablets, gaming consoles, wireless earbuds, unlocked phones, etc.
If the price for an electronic item feels unrealistically low, then it has to be a fake product.
If you will stay in Thailand long term and you don't necessarily need to own original electronic items, then you probably will find all the electronic items in Thailand cheap.
Also, cheap electronic devices can be bought almost everywhere:
in markets
in shopping malls
on the streets
Pantip Plaza Shopping in Pratunam, Bangkok (Phetchaburi Road) is the biggest and probably the best place where to buy various cheap electronics in Thailand.
Note that just like with clothing, you can bargain about the electronics as well, also in the shopping malls.
What Cheap Things To Buy In Thailand?
By now, you should have caught the feeling that everything is cheap in Thailand.
Let's take a look at what cheap but still unique and beautiful souvenirs you could buy for your beloved ones.
Sarongs
Silk scarfs
Wooden elephant decors
Carved soaps
Dried fruits
There are plenty of things you could buy in Thailand as souvenirs, but these five come to my mind first.
I recommend getting a sarong for yourself as well and doing it already on the first day in Thailand. When visiting religious sites, you will always be asked to cover your shoulders and ankles. By having your sarong, you won't need to rent one, and it will be a practical memory from your trip to Thailand.
I also recommend reading my article Dress Code For Tourists In Thailand.
An elephant is Thailand's national symbol. So various elephant themed decorations and souvenirs will be available everywhere you will go.
Hand-carved soap flowers are something I've seen only in Thailand. It is a cheap and beautiful souvenir with a pleasant scent.
What Is The Cheapest Month To Fly To Thailand?
The cheapest time to go to Thailand is in the low season – from May to October.
But because of the monsoon season – sudden showers, fog, and unbearably hot air temperatures, it isn't the best time when to visit Thailand. 
Of course, some people choose to travel to Thailand in the low season. The flight tickets have noticeably lower prices, some hotels and Airbnb's are even two times cheaper than in the high season, and there are fewer tourists around as well. This article is written by thailandtravelessentials.com.
The prices for accommodation, various services, and activities begin to rise around the end of October. December to March are the most expensive months when travel to Thailand.
For busses, trains, ferries, and transfers in Thailand, it is recommended to using this website.
For cheap domestic flights, check the websites of these airlines:
AirAsia (my favorite)
Thai Smile
Nok Air
Thai Lion Air
The most convenient and often the most affordable way of traveling from Bangkok to Phuket, Bangkok to Krabi, Bangkok to Chiang Mai, and other long-distance destinations is by plane.
If you plan a trip to Northern Thailand (Chiang Mai, Chiang Rai) as well, I recommend getting there by plane and returning by night train or the other way around. The train tickets will cost about the same as the plane tickets, but it will definitely turn into one of the highlights of your trip. Book either the 1st or 2nd class seats – both options are excellent although more expensive than the 3rd class seats.
Is It Cheaper To Exchange Money In Thailand?
This one is crucial, and you should read my article How To Withdraw Money In Thailand (ATM's, Costs and Safety)
It is possible to withdraw money in Thailand, and there are plenty of ATM's available. Still, the cheapest option is to bring some cash (assuming it is a popular currency – USD, EUR, GBP, INR, AUD) into Thailand and to exchange it there.
You can not ask why is everything in Thailand so cheap because it simply isn't. I come from a small country in Eastern Europe, and for me, Thailand isn't cheap nor expensive.
I also doubt that anyone from a first-world country would be willing to live in Thailand and to earn 14 000 Baht (473 USD, 429 EUR, 368 EUR), which is the average monthly wage there.
But for the digital nomads, Thailand is an attractive location where to work and relax. By the way, Chiang Mai is the first choice in Thailand for most digitals nomads.
I hope all of this helps a lot and have a safe trip to Thailand!