The Tiger Cave Temple is one the best experiences I've had in Thailand. I am so excited to write this article about my trip to the Tiger Cave Temple and its secret spot that I discovered by accident. Keep reading, and you will find out.
So, where is the Tiger Cave Temple? The Tiger Cave Temple (Wat Tham Sua) is in Krabi Noi, Mueang Krabi District, Krabi 81000, Thailand. It is 21 kilometers (13 miles) away from Ao Nang Beach and only 5 kilometers (3,1 miles) away from Krabi Town Bus Terminal.
With this article, I will try to convince you to visit this place during your Thailand trip. Climbing these super steep stairs to get to the top of the mountain where the Tiger Cave Temple is located might be the hardest thing you will do in a while, but it will be such a rewarding feeling to get there finally.
I will share several tips that will make your trip to the Tiger Cave Temple epic! Yes, epic is the most suitable word for it 🙂
What To Do At The Tiger Cave Temple?
Most people go to the Tiger Cave Temple and climb the stairs to reach the temple that is located on the mountain. If they make it to the top, they rest and enjoy the beautiful view together with Buddha.
But not everyone manages to do that and therefore let's take a look at other things that can be done while waiting for those who got to the top:
Visit the Tiger Cave inside the Tiger Cave Temple ground level;
Visit the Wonderland;
Wander around and see other temples;
Do some shopping.
The Tiger Cave
There is an actual tiger in the cave. Of course, it is not real. Inside the cave, you can read a legend about a tiger who lived in this cave many years ago and how men overtook his place.
This cave is inside the temple so you will have to leave your shoes outside and dress appropriately.
Wonderland.
It is only about 100 meters (328 feet) away from the stairs to the temple. There is a sign that says Wonderland, and behind it, there are stairs that are old and covered in moss.
I am 100% sure that almost no one who has returned from the temple in the mountain is willing to conquer another set of stairs. But we did it, and it was so worth it.
Below in this article, I have written a more detailed description of the Wonderland.
Other temples inside the Tiger Cave complex
There are several other temples and old buildings in this area. Some are opened, and you can go inside to take pictures.
This area is kind of an exception regarding taking photos and videos. It is allowed everywhere. Also inside the Tiger Cave Temple ground level where monks are.
Shopping 
There are a couple of shops nearby that sell snacks, drinks, souvenirs, etc.
I've heard people saying that is illegal to bring Buddha statue outside Thailand. I haven't done that, but if you plan to do so, you might want to do a little research on this topic.
What Is The Tiger Cave Temple Opening Hours?
The Tiger Cave Temple is open 24/7.
At least I think so. We started our climb to the temple at 4:30 AM. There was no sign or a fence that wouldn't allow us to do so.
It was still dark outside when we arrived, and we saw only one monk heading to the Tiger Cave Temple ground level. I even asked him for direction not knowing either am I allowed talking to him or not. He smiled back and pointed in the right direction with his hand.
What is the Tiger Cave Temple entrance fee? There is no entrance fee although you might need to share your sandwich with the very persistent monkeys at the stairs leading to the temple. By the way, it is possible to buy some food for the monkeys.
What Is The Tiger Cave Temple Dress Code?
Dress code in the temple ground floor is just like in any other temple in Thailand:
You have to take your shoes off;
You have to cover your shoulders;
Miniskirts, tank tops or gym pants are not allowed;
It is also suggested to cover your ankles.
In many temples, in Thailand, dress code rules differ by gender. I remember this one time at The Big Buddha in Phuket when my wife was asked to wear a long skirt (sarong) meanwhile I was good to go with super short sports shorts.
Now that I've written about the dress code for the temple ground floor I realize that there is one another dress code for the climb to The Tiger Cave Temple peak. Here are my recommendations:
Wear sports shoes;
Wear sports pants or shorts and a top;
Wear sports gloves;
Wear a hat.
The climb will be hard – dress as light and comfortable as you can.
I suggest that you take sports gloves with you because you will have to hold on to the stair handles quite a lot, and you will need a good grip.
How Long Does It Take To Climb The Tiger Cave Temple?
For most people, it takes from half an hour to one hour.
For us, it took 42 minutes. I challenge you to beat that 🙂
As I mentioned, we started at 4:30 AM. It was the best decision that we could have ever made to start that early and here is why:
There was no one else on the stairs. We could do it in our rhythm;
It was not that hot as when we climbed down;
The night noise of the jungle was something new;
I guess all the monkeys were still asleep and didn't bother us at all;
And finally the beautiful sunrise just for two of us.
When we climbed down, I noticed that at some points the count of the steps was written on the stair handles. When we climbed up in the dark, we didn't see how far we have gotten. I don't know either it helped or not to reach the top.
How many steps in the Tiger Cave Temple? There are 1260 steps to the Tiger Cave Temple, and vertically it is a 600 meters (1968 foot) long path.
Correct! You will climb a 600 meters long path for almost an hour nonstop.
How high is the Tiger Cave Temple? It is 309 meters (1013 feet) high.
Magical Sunrise At The Tiger Cave Temple
The sunrise was breathtaking. We were above the morning mist that looked like clouds. It was quiet and calm. We sat there, and it was magic.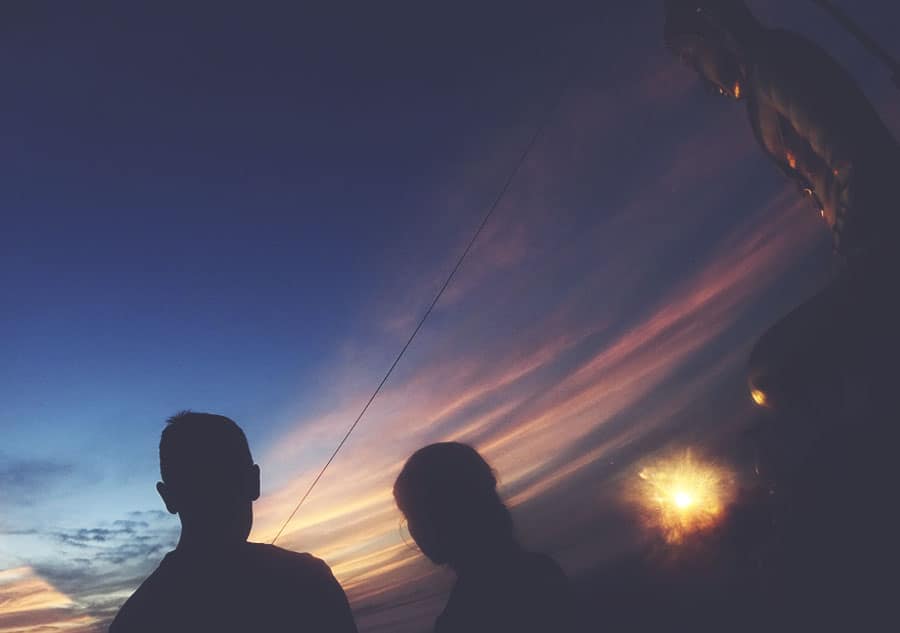 For 20 minutes we were only people up there. Then a man showed up. His wife showed up after another 20 minutes.
At 7 AM there were around 25 people up there. They took selfies, listened to music and the magic was gone. When we climbed down, we saw groups of tourists climbing up the stairs. I cannot imagine how much more different experience it must have been for them to be at the Tiger Cave Temple.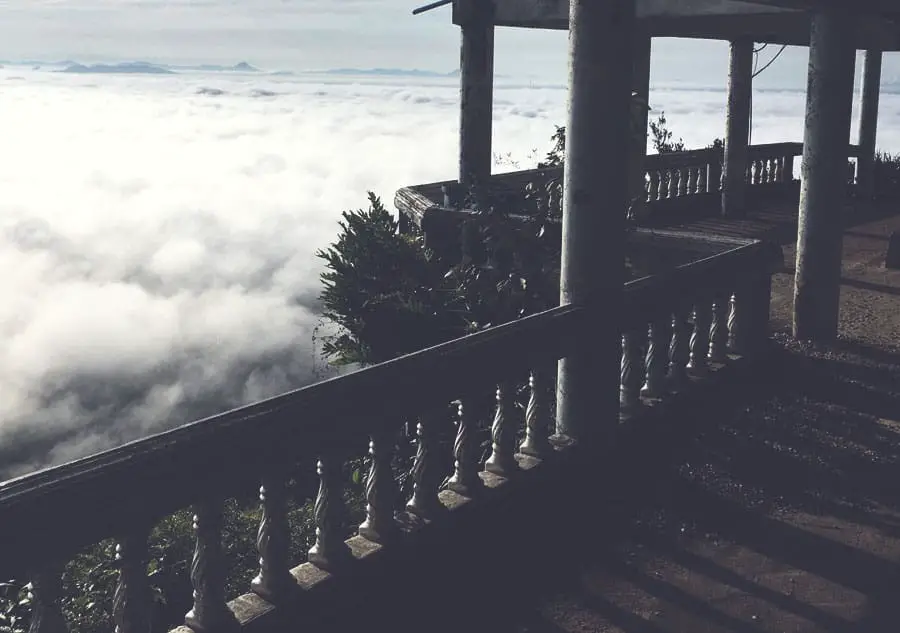 Wonderland At The Tiger Cave Temple – Secret And Untouched
Of course, I read about the Tiger Cave Temple when I prepared my trip to Thailand, but I never heard about this place until I discover it by myself.
We got down from the temple, and my legs were like jelly. We bought more water and sat down for a while. Before leaving, we decided to have a short walk in the area, and we noticed a sign that says Wonderland.
I said to my wife: This is not going to be us if we won't climb there. And we did! And soon we realized that we were in the middle of the real jungle. We followed the path, and it led us to this place.
It seems like monks live and do their meditation there. During our walk in the Wonderland, we met only one man. He was dressed like an average person and was carrying a big bag on his shoulder. He smiled at us and said nothing. I assume he was helping monks with food delivery or something like that.
Behind the modest monk houses, the path led us more in-depth in the jungle. At one point we thought that we should turn around, but luckily we saw a sign that said EXIT. I think it still would be closer to the real exit if we would turn around and walk back.
It is a circle shaped path, and I would say that the EXIT sign is in the middle of the trail.
If your bucket list includes a walk through the real jungle, you should visit the Wonderland. You will see liana vines, rocket-shaped trees, extremely long palm trees, and several caves.
And again all of this experience was only for two of us.
How To Get To Tiger Cave Temple From Ao Nang?
If you want to get from Ao Nang to the Tiger Cave Temple before the sunset, then you will have to drive a scooter. I see no better options.
The Tiger Cave Temple is 21 kilometers (13 miles) away from Ao Nang, and it will take you about half an hour to get there on a scooter.
Although maybe a Taxi is an option. Only then you must book in advance. Taxi from Ao Nang to the Tiger Cave Temple will cost you about THB 500 (USD 15,75 or EUR 13,85).
Songthaew from Ao Nang to Krabi.
A songthaew is a pickup truck with a roof. Songthaews driving from Ao Nang to Krabi and back usually are in white or blue color. They have stickers on them that say Ao Nang and Krabi Bus Station.
To get one look for a bus stop. Or should I say Songthaew stop? I am not sure.
Songthaews drive both directions through Ao Nang and before getting into one you better check the map and see where you are. Because if you're at the city border and get into the songthaew that is only on its way to the Ao Nang Beach, it will be a long ride as they drive slowly.
Ride with a songthaew will cost you THB 60 (USD 1,90 or EUR 1,65).
Note that you will arrive in Krabi Town bus station.
How to get to the Tiger Cave Temple from Krabi? Take a bus from Krabi Town bus station. It will cost you THB 40 (USD 1,25 or EUR 1,10)
Guided Tour To The Tiger Cave Temple.
It might also be an option. What is helpful about guided tours is that they pick you up at hour hotel and bring you back at the end of the day.
About available tours, you will have to Google yourself, but I only want to remind you that this will be a tough climb to the Tiger Cave Temple peak. When we were done with the temple AND the Wonderland, we went back to our hotel room to have a nap.
Related Questions
What is included in the Tiger Cave Temple tour package? I did research, and most of the Tiger Cave packages include trips to Emerald Pool and Krabi hot springs. I wrote about having a nap after the hard climb, but maybe a hot spring is even better.
Are monkeys at the Tiger Cave dangerous? Yes. Our doctor said that we should avoid monkey bites or scratches. She said if this happens we should immediately go to the hospital because we could have rabies.