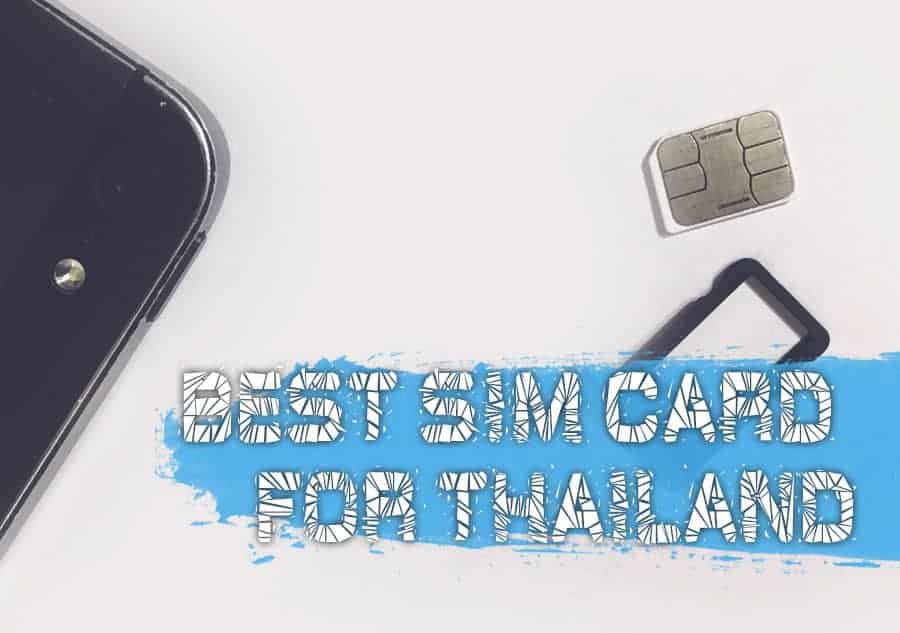 The good news is that buying a SIM card in Thailand is easy and relatively inexpensive. It is possible to visit Thailand without a SIM card, but if you plan to travel throughout the country on your own, then it might be a good idea to get one.
What is the best SIM card in Thailand for tourists? The best tourist SIM card in Thailand is AIS TRAVELLER SIM card. It costs 599 Baht, and it has unlimited internet for 15 days. Additionally, it offers 100 Baht free call bonus. AIS mobile network operator provides decent 4G availability everywhere in Thailand. 
AIS is the biggest mobile network operator in Thailand, and it has the best mobile network coverage. But of course, there are alternatives to it.
 Purchase SIM card for Thailand with pick up upon your arrival at Bangkok on klook.com. 
Best Mobile Networks In Thailand
There are three mobile networks that operate in Thailand:
All of them has a very similar SIM card offers to tourists. The only noticeable difference is the 4G coverage – AIS and True Move are better compared to DTAC.
Other mobile network brands that are run either by AIS, True Move or a DTAC are Penguin SIM, Tune Talk, My and others.
How Much Does A SIM Card Cost In Thailand
Here are price and performance comparison for AIS, True Move and DTAC 15 day prepaid SIM cards.
15 DAYS Unlimited Internet

6GB Max Speed

100 BAHT Free Call Credit
15 DAYS Unlimited Internet

8GB Max Speed

50 BAHT Free Call Credit
15 DAYS Unlimited Internet

6GB Max Speed

100 BAHT Free Call Credit
19.16 USD is 599 Baht, 16.96 EUR, 14.86 GBP.
Here is what Thai mobile networks have to offer for 7-day visitors to Thailand.
8 DAYS Unlimited Internet

3GB Max Speed

100 BAHT Free Call Credit
8 DAYS Unlimited Internet

3GB Max Speed

100 BAHT Free Call Credit
8 DAYS Unlimited Internet

3GB Max Speed

100 BAHT Free Call Credit
19.16 USD is 299 Baht, 8.46 EUR, 7.41 GBP.
Basically, all plans are the same.
There is one alternative to consider, and it is a 199 Baht 7-day unlimited interned (500MB max speed) SIM card from DTAC.
Where To Buy SIM Card In Thailand
Everywhere 🙂 If you're in a hurry just grab one at the airport and you're good to go, but if you're willing to save a few bucks here are some options where to buy SIM card elsewhere:
Official provider store (AIS, TrueMove, DTAC)
7-Eleven and FamilyMart
Various street vendors
Buying the SIM card at the airport is easy. You have to look for the companies selling the SIM cards. In both Bangkok International Airport and Don Mueang International Airport (also in Bangkok) the booths of companies that sell SIM cards are next to each other. You have to choose the shortest queue. When it is your turn, you will be asked for your ID.
Note that buying the SIM card somewhere elsewhere than in the airport will cost you less. So if you're not in a hurry to start browsing it might be a good idea to get the card at any shopping mall or convenience store in Bangkok or elsewhere in Thailand.
It is a good idea to stick around SIM card selling booths to make sure your balance comes through. Once it's there, you're good to go.
Buying the SIM card in a retail store is the best option. First of all the variety of packages will be better compared to the tourist SIM card offers at the airport. Various SIM card prepaid packages are available at every 7-Eleven store in Thailand. And 7-Eleven's are everywhere.
Note that most prepaid packages in 7-Eleven's will be for the short term visitors.
The only downside to buying a SIM card in 7-Eleven is that there might be no one to help you with the activation of the SIM card.
What Documents Do You Need To Buy a Thai SIM card
You will need your passport if you buy the SIM card from the official resellers.
Street vendors do not pay attention to that, and you will be able to buy the SIM card from them without having a passport with you.
Thailand Travel Essentials Protip #1: When planning a trip to Thailand I recommend to prepare several copies of your passport. In Thailand, you will face situations where you will be asked to leave your passport at a hotel, scooter rental, etc. If you're staying at a nice hotel most likely, everything will be fine. But it can be a different story with the small scooter, jet ski, bicycle, etc. One of the most common tourist scams in Thailand is to rent a damaged transport and to ask for extra cash on its return. Leaving a passport copy at transport rental will be safer in case someone will try to scam you.
Where To Buy SIM Card In Thailand Online
Technically it is possible to buy a SIM card online although there is no advantage in paying for it in advance.
An exception could be long lines waiting for the SIM cards at Klook booth in the airport. Pre-purchase fast tracks you through the line.
To buy a SIM card for Thailand online, you can do it in Klook's online store. Klook is a trustworthy website, and most of its provided services and activities are confined mostly to Asia.
Google for Klook reviews online if you want to and then get your tourist SIM card HERE.
Here is what people have to say about it:
Great SIM card. Buying in advance saves the stress of finding a sim upon arriving in Thailand.
The 4G SIM card is extremely convenient to pick-up and use! The counter is easy to locate, and Klook staff is helpful with inserting the SIM card so we can use this immediately.
Very fast service provided by local dtac staff. Easy and simple. Stable 4G connection and free 100 baht call credit. Will come back again if the deal still available in future.
Will my phone work in Thailand?
Before going to Thailand, you should check with your mobile network operator either your phone is locked to it or not. If your phone is locked to a specific operator, you won't be able to use it with a Thai SIM card.
If your phone appears to be locked you have two options on how to use the mobile phone in Thailand:
Ask your operator for services while traveling outside your country
Buy a cheap phone when in Thailand
Every large mobile operator has to have a specific plan for travelers. Most likely these offers will cost a lot.
If you believe that you can travel without worrying that people won't be able to reach you to your current phone number the most convenient way how to use a mobile phone is Thailand is to have an unlocked phone and a Thai SIM card.
If you have no other options than to travel to Thailand with a locked phone then maybe it is worth buying a cheap phone and a Thai SIM card when in Thailand.
Should You Get A SIM Card
When I traveled to Thailand for the first time, I did it without a local SIM card. Of course, I had situations when I wished I would have a SIM card, but I managed to get around by downloading maps while in the hotel or at a bar or restaurant. I think it was okay not to have a SIM card with me because that way I used my cellphone lesser than I usually would.
I would recommend getting a Thai SIM card if you're planning to get around by scooter or a car, because if you will get lost it will be easier to find a way back. As locals and especially in more remote areas don't speak English, it will be easier to use a navigation app.
All hotels and Airbnb's in Thailand has good Wi-Fi and if your destination in Thailand is Phuket and the islands around it I would say you don't need a tourist SIM card at all.
Related Questions
Does Thailand have 4G? Yes, all the Thai mobile network operators provide 4G. Its availability throughout the country is good, but the speed could be better. I did a quick research, and apparently, its average speed is 9,60Mbps while the average 4G speed in the world is 16,9Mbps. By looking at numbers, the difference is enormous although in real life it feels okay and I've never felt annoyed by its speed.
Does AT&T work in Thailand? There is no AT&T in Thailand, but you can use its International Day Pass service. It will cost you $10 per day, but if you want to be reachable on your US number, it is the only option.
You can read more about on AT&T's website HERE.
Will my Verizon phone work in Thailand? First, you have to find out either your phone is locked or not by calling to Verizon. If your phone is locked to Verizon, you won't be able to use your phone with a Thai SIM card. Verizon has similar service to AT&T, and it is called TravelPass. It also costs $10 per day.
You can read more about it HERE.