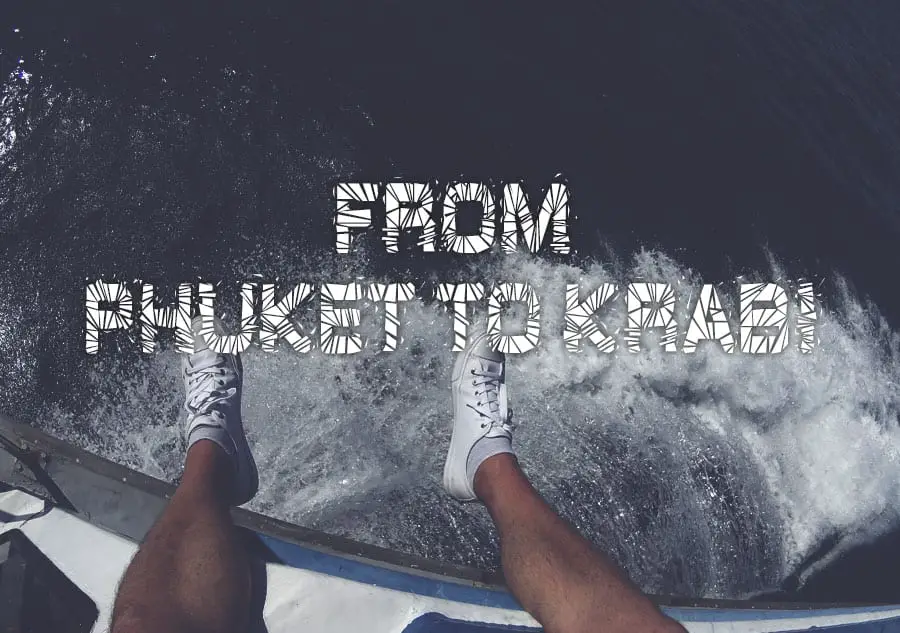 When I have to pick the transport for the planned route, I look at two things. Will I see new places and meet new people and what will be the cost of it. So let's take a look at what options do we have if we want to travel from Phuket to Krabi and back.
What are the 6 best ways how to get from Phuket to Krabi?
By ferry from Rassada pier in Phuket to Klong Jilad Pier in Krabi
By bus from Phuket Bus Terminal 2 to Krabi Bus Terminal
By minibus from your hotel
By private speedboat
By taxi
By rental car
Of course, there are other options like cycling or hitchhiking but I will exclude both of these because cycling in Thailand will be too dangerous and locals are not familiar with the idea of hitchhiking.
Now as we're aware of the traveling options from Phuket to Krabi lets take a closer look and compare each of them.
Get From Phuket To Krabi By Ferry
When planning your trip from Phuket to Krabi by ferry, you should know that ferry on its way to Krabi makes a stop at Ao Nang Beach.
I would recommend staying in Ao Nang over the Krabi. I will write a separate article and explain why.
As I have already mentioned it ferry from Phuket leaves at Rassada Pier. In high season it is recommended to be there early to avoid long lines and to get the best seats.
We had the ferry from Phuket to Krabi in September which is low season. It was almost empty, and it was easy to walk around. We took pictures outside for as long as we wanted. Then we went downstairs to get the coffee and then back to ferry front deck where we enjoyed it.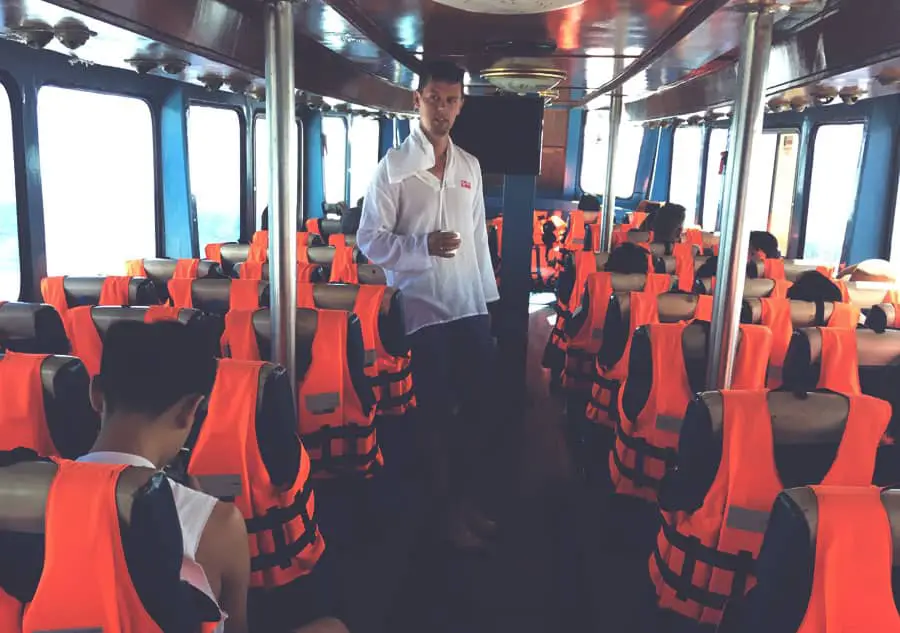 How much does the ferry cost from Phuket to Krabi?
The price for the ferry from Phuket to Krabi for adults is THB 690 (USD 21,68 or EUR 19,10) per person. For kids, it is THB 490 (USD 15,40 or EUR 13,57).
The price also includes minibus transfer from your hotel to Rassada Pier and from Klong Jilad Pier in Krabi to your new hotel.
Note that these transfers are okay from touristy places in Phuket like Patong Beach or Kata Beach, but more distant areas like Rawai Beach might be a problem. You have to make sure that transfer will be able to pick you up in the morning.
In my case, I bought the ferry ticket in Kata Beach, but as I was staying in Rawai Beach, I had to book the taxi in advance with the help of my hotel. That cost me extra THB 600 (USD 18,86 or EUR 16,61) to get from Rawai Beach to Rassada Pier in Phuket.
One more thing. There is only one ferry per der from Phuket to Krabi, and it leaves at 8:30 AM so you will have to wake up early.
How long is the ferry ride from Phuket to Krabi?
The ferry ride from Phuket to Krabi is 2 hours and 45 minutes long.
If the weather is nice, I believe it is the best way how to get from Phuket to Krabi.
Once you get closer to Ao Nang and Krabi, you will see many small and beautiful islands all around you. Have a camera with good zoom and stabilizer, and you will be able to make some awesome pictures.
Note that the ferry ride probably will be the smoothest ride among other options as speedboat might be quite bumpy, and the Thai roads aren't the best as well.
Where to buy ferry tickets from Phuket to Krabi?
There are several options but I would like to highlight only one, and that is buying the ferry ticket at any travel agency in Phuket. So anywhere in Phuket Town, Patong Beach, Karon Beach, etc.
I suggest this because then you will also get the transfer from your place of staying to the Rassada Pier in Phuket. As ferry is leaving only at 8:30 AM it makes it a perfect option.
But you can also buy the ferry ticket online or at the Rassada Pier in Phuket.
Speedboat From Phuket To Krabi
I suggest choosing speedboats for island hopping tours only. This way you will spend less time on the boat, and you will have more time to spend on beautiful islands in Phuket.
So, how to get from Phuket to Krabi by speedboat?
First of all, there are private tours only.
The idea is simple. With more travelers, the speedboat gets cheaper.
The total one-way price for the speedboat that has space for six passengers will be about THB 14 000 (USD 440,27 or EUR 387,65).
So if you are six travelers, you will have to pay THB 2 333 (USD 73,39 or EUR 64,58) each to get from Phuket to Krabi by speedboat.
It is almost five times more expensive than the ferry, but there is an even cheaper alternative.
If you would be a group of 15 travelers you could hire the speedboat with space for 15 passengers. In this case, the ride from Phuket to Krabi would cost only THB 1400 (USD 44,03 or EUR 38,75) per person.
And if you are a good negotiator, the price could get even more attractive.
If you choose the speedboat over other options, I believe it will be possible to negotiate to stop at random islands on the way to Krabi.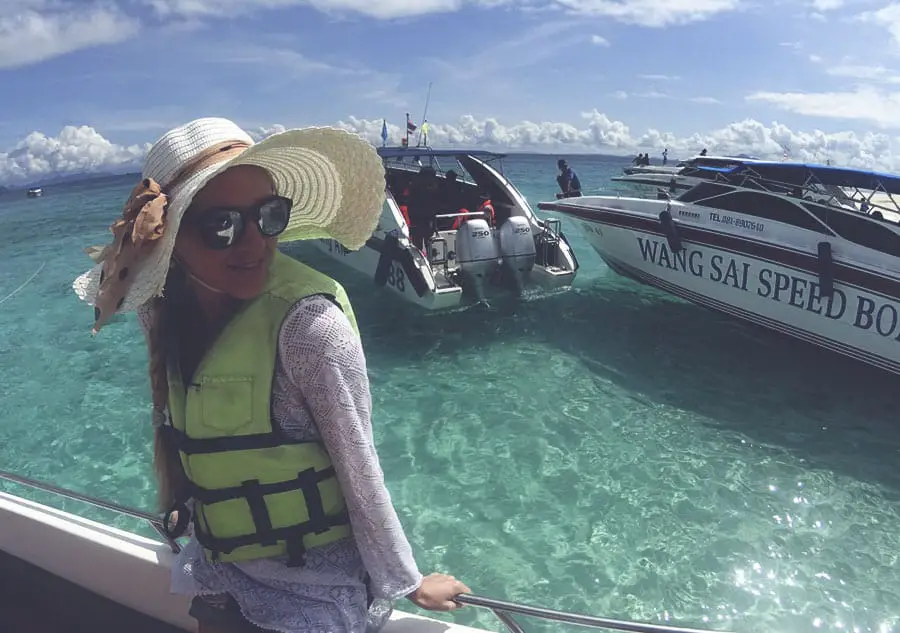 From Phuket To Krabi By Bus
It probably will be the second or maybe even the first choice for most of the travelers because you can not get seasick on the bus 🙂
Where to buy the bus ticket from Phuket to Krabi?
The only place where to get bus ticket is in the Phuket Bus Terminal 2 or in the bus itself.
The ticket will cost you THB 117 (USD 3,68 or EUR 3,24) for a regular government licensed bus.
The bus ride from Phuket Town to Krabi Town will take about 3 hours, and in Krabi, you will finish your trip in Krabi Bus Terminal.
In early morning buses from Phuket to Krabi leave every 30 minutes.
Bus from Phuket to Krabi is going past the Phuket airport. So you might want to check the map for options getting onto the bus at some place close to you.
From Phuket To Krabi By Minibus
The best thing about minibus is that it will pick you up from your hotel.
Minibus with nine seats in it will cost you starting from THB 3 200 (USD 100 or EUR 88,60).
To book one ask at your hotel reception or you could book online.
I've driven minibusses in Thailand quite a lot, and I've noticed that Thai drivers like loud music so be prepared for two hours long party 🙂
Taxi from Phuket To Krabi
Taxi is similar to the minibus. Only, in this case, it is cheaper. It will cost you starting from THB 2 500 (USD 78,65 or EUR 69,19) to get to Krabi.
Booking a taxi at your hotel almost always will be more expensive than catching a taxi on the street. It is because most hotels have their flat rates for taxi rides to the most popular tourist destinations. And of course, these rates include a commission for the hotel.
I already mentioned booking a taxi with the help of my hotel from Rawai Beach to Rassada Pier in Phuket. That ride cost me THB 600 (USD 18,89 or EUR 16,61) which I find quite expensive, but I had no other options.
I am not sure that taxi drivers from the street will agree to drive you to Krabi. I doubt it because drivers booked through the hotel are more like private drivers. Their cars have no stickers or signs that would indicate that this is a taxi.
From Phuket To Krabi By Rental Car
The last one is the option to rent a car at Phuket airport and drive it to the Krabi airport.
I have to admit that I haven't driven a car in Thailand and therefore I can not say anything specific about this option but it sounds good enough and you might want to consider it.
I checked a couple of car rental websites and seemed like it will cost you about THB 1 400 (USD 44 or EUR 38,70) to rent a car in Phuket for one day.
Related Questions
Can you buy ferry tickets at Rassada Pier? Yes, you can, but you should be aware that purchasing ferry tickets at Rassada Pier might be more expensive than buying tickets elsewhere. It is because taxi drivers and other services get a commission from getting you to the pier.
What is the distance from Phuket to Krabi? The distance between Phuket and Krabi by land is 158,9 kilometers (98,7 miles) long. Distance from Phuket to Krabi by water is 60 kilometers (37,2 miles) long.