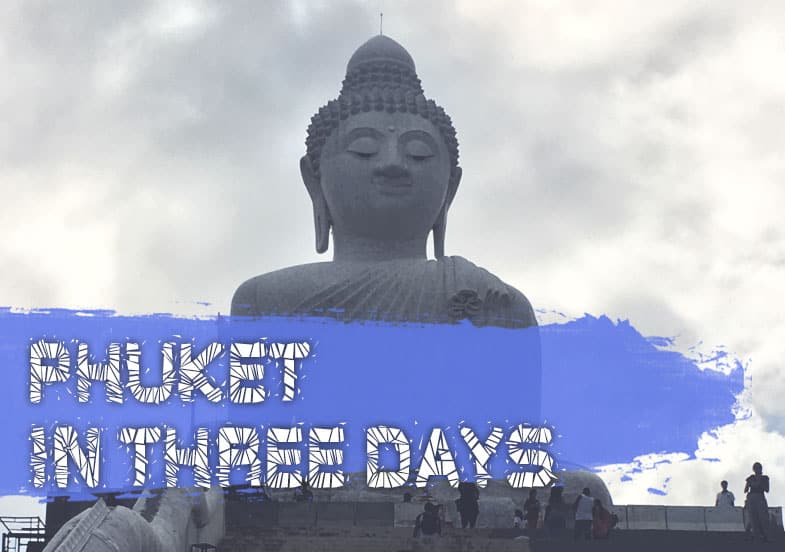 Phuket is one of the main tourist destinations in Thailand. There is so much to do in Phuket, but I can also imagine how one could spend the whole day laying next to the pool in one of many beach resorts around Phuket.
In this article, I will do a short review of three must-see locations in and around Phuket. All of these activities will suit a different kind of tourists – solo travelers, travelers with kids, senior travelers – but there are few things to know before heading to each of those locations.
So, what to do in Phuket in 3 days:
Day 1, All Day – Patong Beach
Day 2, All Day – Big Buddha
Day 3, Half A Day – Phi Phi Islands
Of course, there are more, but if you plan to spend only three days in Phuket, I recommend visiting exactly these three places. And it doesn't matter in which order to visit each of those places.
For your first day in Phuket, I recommend visiting Patong Beach. The beach itself and the Bangla Road (walking street) leading to it is the most vibrant place in Phuket.
For the second day in Phuket, I recommend getting a scooter and exploring such locations as Karon Viewpoint, Windmill Viewpoint, Promthep Cape and finishing with a visit to a Big Buddha statue.
If three days is all, you have for Phuket for your last day I recommend visiting Phi Phi Islands. It is the ultimate tourist destination in Thailand. I guess many can not imagine returning to their home countries without having at least a couple of selfies in their cameras. By the way, Phi Phi Viewpoint is the best place for selfies and romantic vacation pictures on the Ko Phi Phi Don island.
In this article, I will do a short review of what is the most appropriate clothing for visiting each of the locations I've mentioned, how to get there and what are the costs to get there.
Day 1, All Day – Patong Beach
Patong Beach is for party lovers. It is always busy, but especially in high season (November to March) and in the evenings. On the main street that leads to the beach (Bangla Road) and around it, there are plenty of bars, nightclubs, food courts, restaurants, game & entertainment centers, and other establishments where to get lost for an exciting night out.
During the daytime on the beach jet-skiing, paragliding, snorkeling, scuba diving, and other activities are possible.
A Patong boxing stadium is a must-visit place where to experience real Muay Thai fight night although if you are spending only one day in Patong, I recommend spending your time and money elsewhere.
What to wear
Nowhere else in Thailand you will see that many people wearing bikinis, short skirts, tank tops, and flip flops. In many places around Thailand, dressing like this would be inappropriate, but Patong Beach is an exception.
I truly recommend reading my article Dress Code For Tourists In Thailand. It is a complete review of clothing you should and should not to wear in Thailand on every occasion. It includes a separate paragraph about clothing specifically to Phuket.
Location
Patong Beach is only 35 kilometers away from the Phuket International Airport. Getting to it is easy, and there are several options available:
Taxi
Airport Shuttle Bus
Regular Bus
Minibus
Car rental
Depending on how many people will travel together with you, the best choice of how to get from the airport to Patong Beach is either by taxi or a shared minibus.
A taxi will take you directly to the hotel, and it will cost you about 1000 Baht (33 USD).
A minibus is a cheaper option, but when I did the research online, I read comments saying that it can take up to three hours to get there. Often the reason for the long ride is that the driver would stop by the tourist information office and they would try to sell you various tourism activities. Some say that sometimes minibus drivers do not bring passengers to their hotels, but leave them on the main road instead.
If you want to save 26.50 USD, choose minibus. It will cost you only 200 Baht (6.50 USD).
Duration
Some travelers might like this place so much that they could decide to skip on the rest of the activities. I mean Patong Beach and Bangla Road is one of the best places in Thailand where to have crazy parties.
Pattaya Beach is a similar place to Patong Beach. There are even bigger parties, but as it is a different region in Thailand, I will not review it in this article.
For travelers with kids spending a day in Patong Beach might be enough. It is noisy and crowded, but I still recommend visiting it. It is a good idea to book a hotel in Karon Beach where the atmosphere is much more relaxed and to take a tuk-tuk for a visit to Patong Beach and back.
Tuk-tuk from Karon Beach to Patong beach costs about 400 Baht (13 USD). Note that you should always agree on the price before the ride.
Costs
In Patong Beach, everything will cost more than elsewhere in Thailand.
The food is noticeably more expensive. For example, a small bottle of pomegranate juice on Patong Beach will cost about 80 Baht (2.50 USD), but in more rural areas of Thailand, the same kind of drink will cost about 20 Baht (0.65 USD).
Regarding hotels and Airbnb's, they get more expensive in high season (November to March). The price difference for the same listing in the low season and the high season could be up to two times high. For example, a private villa near Patong Beach with a sea view on the 30th of September could cost about 2 700 Baht (90 USD) per night, but on the 1st of October, its price could already be up to 5 500 Baht (180 USD).
Nevertheless traveling on a budget is still possible throughout the year, but instead of considering to rent a private villa, you would have to look at many hostels available.
Day 2, Half A Day – Big Buddha
For your second day in Phuket, I recommend visiting Big Buddha and its surrounding beaches and beach towns. Big Buddha is one of the most popular tourist attractions in Phuket, but unlike with the Patong Beach and Phi Phi islands, it is not the destination where you will return after you've visited it once.
What to wear
In all temples and other sacred sites around Thailand, there is a specific dress code for both locals and tourists as well. No one is allowed to visit a temple with uncovered shoulders and ankles. The shoes must have been taken off as well.
At the entrance, the staff will check either the visitors have dressed appropriately or not. If not, they will give sarongs at no extra cost. Of course, you will have to return them after your visit to the Big Buddha.
The Big Buddha mountain is not that high, and you won't feel a difference in the air temperature. Therefore you shouldn't worry about taking sweaters or other warm clothing with you.
My only recommendation will be taking a raincoat with you if it is a rainy season.
Location
Big Buddha is located 25 kilometers away from Patong Beach. It could take up to one hour to get there depending on what king of transportation you will choose.
For confident drivers, I recommend renting a scooter. I find it the best way how to explore Thailand on your own, but everyone driving to the Big Buddha by themselves should be extra cautious. As the road leading to it can be best described as a sometimes steep and curved highway, it feels dangerous.
For most travelers, the most convenient option of how to get to the Big Buddha will be the taxi.
Duration
If you're staying in Patong the whole trip to the Big Budhha statue and back could take approximately 4 hours. Getting to the Big Buddha and back, could take up to one hour and the sightseeing around it could take up to two hours.
Note that you can walk inside the Big Buddha statue, but there is nothing much to see – monks are chanting prayers, and that's about it.
Although I haven't done it the mountain of the Big Buddha could be an excellent place where to watch the sunset. You will see a couple of viewpoints on your way up, and each of them could be used as a perfect spot for a picturesque sunset.
Costs
There is no entrance fee at the Big Buddha site although it is possible to make donations to monks it isn't obligatory.
Little below the Big Buddha statue, there is a large souvenirs shop with plenty of different souvenirs available.
So the only costs are getting there. Renting a scooter for a day in Thailand will cost you about 250 Baht (8 USD), but a taxi ride from Patong and back will cost you about 900 Baht (30 USD).
Day 3, All Day – Phi Phi Islands
One thing that comes in my mind is that it is always quite busy, but especially in winter months. Phi Phi Islands is such a beautiful destination, although huge crowds can make it less attractive. But I still recommend visiting it during your first trip to Thailand.
What to wear
It depends on when you travel. In low season (July to October) raveling to Phi Phi Islands with a sweater or a rain jacket is a must. Low season means that the rain is more frequent than in the winter months. When traveling by speedboat when it rains, it might get quite cold as well.
When traveling in high season (November to March) it is dry, and the sun is out for most of the days. In high season the t-shirt, shorts, and flip-flops have to be the best choice for a visit to Phi Phi Island.
Location
Phi Phi Islands are about 50 kilometers away from Patong Beach. You can travel from Phuket Town as well, and it would make the travel distance even shorter. Speedboat tours from Krabi Town to Phi Phi Islands are possible as well.
Note that technically there are six islands in the group of Phi Phi Islands, but the ones for tourists to visit are Ko Phi Phi Don and Ko Phi Phi Lee.
Ko Phi Phi Don is the island with many bars, restaurants, and hotels. Phi Phi Viewpoint is the bucket list destination for many travelers to the island.
Ko Phi Phi Lee is the world-famous island from the movie "The Beach." Many tourists visit this island to see the beach from the movie. Another tourist attraction on this island is Pileh Lagoon.
Duration
In this article, it is all about spending a day at each of the locations mentioned. Nevertheless, Ko Phi Phi Don island is a place where you could easily spend a week.
Ko Phi Phi Don is a small island and staying there for one week it would be too boring for adventurous travelers who seek to explore jungle trails, hidden beaches, and mountains every day.
Note that you will have only one hour for sightseeing in Ko Phi Phi Don island if it will be
Visiting Ko Phi Phi Don is possible also during island hopping tour. Note that in such case you will have only one hour for sightseeing on the island. With only one hour on the Ko Phi Phi Don island, it is not possible to have lunch and to visit Phi Phi Viewpoint. 
Costs
The cheapest way how to get to Ko Phi Phi Don is by ferry either from Phuket Town or Krabi Town. The ticket costs around 900 Baht (30 USD), and it takes 3 hours to get there.
Another option is to get there by speedboat. I guess private speedboat won't be an option for most travelers because of how expensive it would be. But if you're a group of several people hiring a private speedboat is a great option. Private speedboat with 12 seats from Phuket Town to Ko Phi Phi Don costs around 20 000 Baht (660 USD). If you're a group of 10 travelers, then it is only 66 USD each.
So, it is how I recommend spending three days in Phuket. If it is your first trip to Thailand and you are willing and planning to visit all the main tourist attractions in Phuket, give these three a try.
Have a pleasant and safe trip to Thailand!