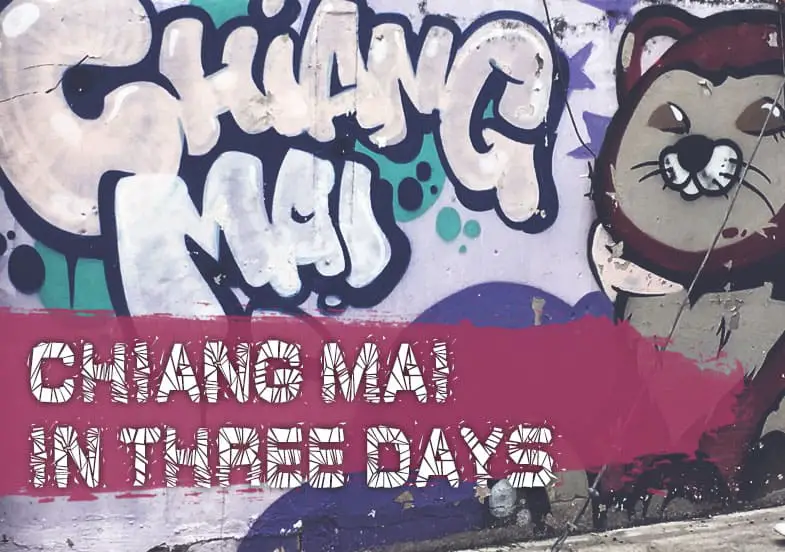 In this article, I will review three things to do when you have only three days to spend in Chiang Mai. Most of the activities reviewed in this article will be suitable for families with kids, seniors, and adventurous travelers as well.
Here is the list of best things to do in Chiang Mai in 3 days:
Day 1, All Day – Chiang Mai Doi Suthep
Day 2, All Day – Chiang Mai Elephant Sanctuary
Day 3, Half A Day – Zipline Through Rainforest
For day 1 in Chiang Mai, I suggest exploring Doi Suthep mountain. It has several viewpoints over Chiang Mai, and it hides plenty of other interesting places as well. Discovering things Doi Suthep has to offer will be a relaxing experience suitable for different kind of travelers.
Many elephant sanctuaries around Chiang Mai often is the number 1 reason why many tourists choose to go there. Note that children under the age of 7 or 8 will usually be restricted to participate because of safety reasons.
For your last day in Chiang Mai, I recommend ending it with a flight through the jungle. It is a safe and fun experience, although I can imagine how it is not for everyone.
So, it is my recommendation of how to spend 3 days in Chiang Mai, and I genuinely hope that you will follow my advice although if you're not too excited about activities I've mentioned, I will briefly take a look at some alternatives as well.
Before I dive into more detail, I would like to add that if you consider getting from Bangkok to Chiang Mai by train, you should do it. It can cost more than a flight ticket, but the scenery you will see outside the window during a 13 hours long train ride will amaze you how beautiful it is. I recommend reading my super detailed article about the train from Bangkok to Chiang Mai.
Day 1, All Day – Chiang Mai Doi Suthep
Doi Suthep is the name of the mountain next to Chiang Mai. Besides Chiang Mai Old City it has to be among the most popular places to visit in Chiang Mai. Specifically, the Wat Phra That Doi Suthep – a Buddhist temple near the top of the mountain.
Many call it a must-see place in Chiang Mai and I could agree. The best time when to visit it is in the low season when there are fewer tourists around.
As you can see, I've put it as an activity for the whole day. If you would go for the Wat Phra That Doi Suthep temple only, you could do it in two to three hours, but my recommendation would be to get a scooter and to explore the mountain on your own.
Discovering many small temples, waterfalls, walking tracks, villages, and even coffee plantations will make it a perfect day 1 in Chiang Mai.
What to wear
You could explore the Doi Suthep mountain without entering the Wat Phra That Doi Suthep temple. In this case, no specific dress code would be needed. My only recommendation would be to wear something warm because the mountain is 5498 feet high (1676 meters) and it is really cold up there.
I didn't know that it is going to be that high and that cold I was wearing only running shoes, shorts, and a t-shirt. I still remember how cold it was. The only thing how I tried to keep some warmth was my raincoat.
If you will choose to visit the Wat Phra That Doi Suthep temple as well, note that there is a specific dress code when visiting temples in Thailand. Dress Code For Tourists In Thailand is an article of mine which can be used as a guide for appropriate clothing in Thailand.
Location
Wat Phra That Doi Suthep address is Mueang Chiang Mai District, Doi Suthep 50200, Thailand. That's the address for the temple, but as I've already mentioned it is the whole mountain worth exploring not just the temple.
To get to the peak of the Doi Suthep mountain, I recommend getting a scooter. Yes, it is a curved road, and some might find it dangerous and frightening, but for those who like driving motorbikes and cars, it will be an exciting experience.
If you rent a scooter, I recommend going even higher than Wat Phra That Doi Suthep temple. Most cars, songtaews, and busses bring tourists only to the Wat Phra That Doi Suthep temple. Therefore the road up the hill after the temple is almost with no cars at all.
Bhubing Palace is the next destination to reach if driving higher up the mountain.
I also recommend searching online and going to Doi Suthep Coffee Plantation. Specifically to a place called Small Cafe. Road surface that leads to this place is extremely bad. Especially in wet conditions, but I still recommend it 100%.
For the rest, there are taxis and songthaews available. Songthaews are covered pickup trucks in red color where the passengers sit at the back. In other regions around Thailand, the songthaews could be in different colors as well.
Duration
As for a visit to the Wat Phra That Doi Suthep temple 2 to 3 hours will be enough, but to explore the rest of the mountain, you can easily spend a whole day there.
Costs
It really depends on how much could you spend during your day trip to Doi Suthep.
The entrance fee at the Wat Phra That Doi Suthep is 30 Baht (1 USD). Oddly enough, the entrance fee has to be paid by the foreigners only.
Taxi from Chiang Mai to Wat Phra That Doi Suthep will cost you about 400 Baht (13 USD) for one way.
Songthaew from below the hill where the ZOO is to Wat Phra That Doi Suthep will cost you 40 Baht (1.30 USD) for one way. Note that songthaews usually wait until there are enough people for the ride. Often, those have to be ten people.
The third option is to rent a scooter which will cost you around 250 Baht (8.20) per day. I recommend getting a 250 cc scooter instead of getting a small 50 cc scooter. It is a mountain you have to conquer, so this extra bit of power will come handy.
The rest depends on how many fruit smoothies and grilled pork skewers you will buy along your way.
Before I move to the second day choice for Chiang Mai see what other people have to say about visiting Wat Phra That Doi Suthep:
This place is absolutely stunning! The striking gold structure is quintessentially Thai. Every visitor to this temple will feel a sense of inner calm and peace. This place is definitely a must-visit in Chiang Mai, and we will come back for sure!
An excellent 1/2 day trip. Got up there early. Glad I did. Swarms of buses arrived as I left about 11 am.
With many small temples inside the complex and many statues, Doi Suthep was delightful. You can walk around, enter the side temple, get the blessing from a priest there, tie a white thread on your wrist, feel blessed.
Day 2, All Day – Chiang Mai Elephant Sanctuary
You should really do your own research before deciding which elephant sanctuary to visit in Thailand. Many places claim to be ethic elephant sanctuaries, but they actually aren't, and elephants are often mistreated.
Elephant Nature Park in Chiang Mai is an exception. It is a real rescue and rehabilitation center for elephants and other animals as well.
Visiting elephant sanctuary is an incredible experience, and it should be on everyone's bucket list for sure.
For more info and booking check this website – elephantnaturepark.org.
What to wear
Bring an extra pair of clothes because there is a great chance that you will get wet. As for footwear, sandals like these will be the best options. You could wear flip flops as well, but there is a great chance of losing them when playing in the water with elephants.
Location
Elephant Nature Park office address is 1 Ratchamanka Rd, Tambon Phra Sing, Amphoe Mueang Chiang Mai, Chang Wat Chiang Mai 50100, Thailand.
Elephant Nature Park office address in Thai – 1 ถนน ราชมรรคา ตำบล พระสิงห์ อำเภอเมืองเชียงใหม่ เชียงใหม่ 50100.
The Elephant Nature Park itself is about 60 kilometers away from Chiang Mai.
Duration
Your trip to Elephant Nature Park will start in Chiang Mai and either at the place of your stay or from the Elephant Nature Park office address.
If you would like to start your trip from the Elephant Nature Park office, it is wise to print their address in the Thai language because many Thai taxi drivers might not understand the address in the English language.
Tour to Elephant Nature Park from the Elephant Nature Park office starts at 07:40. Then it is approximately one hour long ride to the park. Return time is around 17:00.
The half-day tour is possible as well.
Costs
All-day tour costs 2 500 Baht (82 USD) for adults and 1 250 Baht (41 USD) for children of up to 11 years old.
Costs include transfer from Chiang Mai to Elephant Nature Park and back, a meal and a tour and activities at Elephant Nature Park.
See what other people have to say about it:
I can't say enough good things about this place! It is THE REAL DEAL for folks who want an authentic experience in an ETHICAL elephant environment.
We had a wonderful day here, a small group of 10, we fed the elephants ( including a baby). After lunch, we walked them down to their bud hole, where we were encouraged to join them. The mud is red and will stain your clothes. Fantastic day and lovely people, the elephants were able to wander freely and seemed content and happy.
After learning more about the abusive practices and troubling ethical practices in the Thai elephant industry, we did not plan to have anything to do with it while in Thailand. However, when we heard about the work and bona fides of Elephant Nature Park, we changed our minds. I am glad we did.
Day 3, Half a Day – Zipline Through Rainforest
For your third day in Chiang Mai, I recommend 2 to 3 hours of ziplining through the ancient Thai rainforest. If you haven't done it before this is the place where to start
What to wear
I recommend wearing sportswear. Leggings for ladies and sports shorts for guys. Hiking shoes or running shoes will be the footwear.
Although you will be strapped in a tight zipline harness, I assume wearing loose clothing won't be the best option.
Location
Similar to Nature Elephant Park, it is one hour long ride away from Chiang Mai.
Duration
Total-experience including transfer from Chiang Mai and back lasts approximately 7 hours. If you start early, you will still have a half a day left for your last day in Chiang Mai. Earliest possible pick up time is 06:30.
Costs
Price for ziplining on the Flight Of The Gibbon website is 4199 Baht (138 USD) per person.
As for other services as well you can find a better price for the Flight Of The Gibbon ziplining experience on klook.com. It is a trustworthy website where to book various travel activities in Asia.
Here is their listing for the Flight Of The Gibbon ziplining for 118.19 USD.
You can also read reviews there from people who have bought and tried this activity.
See what other people have to say about it:
The team was excellent and very safety-oriented, and we had a wonderful time. I was nervous about safety all the way through and was eagle-eyed about making sure there were no shortcuts taken. And there were none taken. The team was competent, charming, professional and caring all the way through.
A few things to note – apply lots of bug spray. We missed a few spots on the kids, and they got some big bites. Also – there are only 3 gibbons in the forest. We saw one. It's more about the trees and ziplining experience than about seeing animals.
The most important advice is that if you feel that the full course is too much for you ask about the short course. They do not advertise it, but it is half price, and you do seven zip lines, including the long one.
What Else There Is To Do In Chiang Mai?
Apart from the actives I have already described, Chiang Mai has more to offer. I mean visiting Doi Suthep and elephant sanctuary could suit most of the travelers, but zipline is not for the faint-hearted. Therefore your day 3 activity in Chiang Mai could be changed to any of these activities listed below:
Sightseeing at the Chiang Mai Old City
Trip to Doi Inthanon National Park
Trip Chiang Mai's Grand Canyon
Having a Thai cooking class
Attending Songkran festival if you're traveling in April
Attending Flower festival if you're traveling in February
Attending Lantern festival if you're traveling in November
No matter what activities you will choose for your 3 days in Chiang Mai, you should visit its night market. As it opens only after 18:00, which is the time when it starts to get dark, it is an excellent option for the evening activity. Chiang Mai night market offers everything starting from shopping, eating, live music, and even cabaret show.
Many souvenirs and other things in Chiang Mai night market are noticeably cheaper compared to markets in such tourist destinations as Bangkok and Phuket. You can read my article about the Chiang Mai night market HERE.
Are 3 Days In Chiang Mai Enough?
Of course, it isn't enough with only three days in Chiang Mai as it has so much to offer. Many tourists travel to Thailand for 14 days and for those who are willing to visit as many tourist destinations as possible visiting Chiang Mai for 3 days is the optimal choice.
During the daytime, I suggest leaving the city and going to explore the nature around it – Doi Suthep mountain, Inthanon National Park, rice terrace fields, waterfalls, etc.
At evenings visit the night market. After 20:00, it is such a vibrant place that you can not really tell where it starts and where it ends. It is a mix of street vendors selling food next to Hard Rock Cafe and McDonald's. Traditional Thai dancing performances are held next to ladyboy cabaret shows and so on.
Even if you're not a fan of Thai cuisine, you will be able to find food from all over the world in many of the food courts. I recommend trying Thai lychee wine.
One thing I don't get is how Chiang Mai has become the home for so many digital nomads from around the world. Why Chiang Mai?
So I hope you found this article worth a read and that you will have an amazing trip to an amazing country of Thailand.