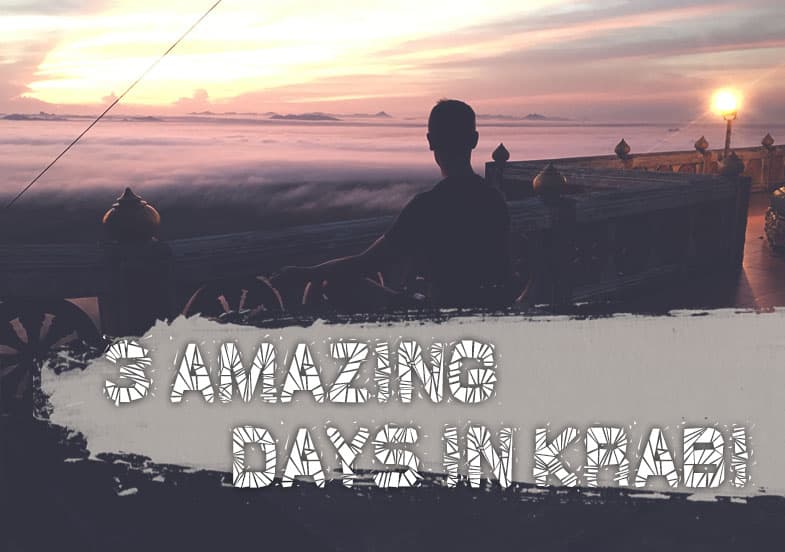 If you're trying to understand how many days do you need in Krabi, it depends on the length of your stay in Thailand. Many travelers choose to travel to Thailand for 14 days, and in this case, 3 days in Krabi will be enough.
For this article, I have chosen three activities to do in Krabi. All activities except for the first one – a visit to the Tiger Cave Temple – will suit all types of travelers – families with kids, seniors, and others.
I hope that you will follow my advice and visit each of the places I've listed below. If I had to pick one, I would choose the Tiger Cave Temple. It is by far the most unforgettable experience that I have had in Thailand, and this place should be on everyone's bucket list. But I can also imagine how a visit to the Tiger Cave Temple could go wrong, and I will explain that in this article.
Here is the list of best things to do in Krabi in 3 days:
Day 1 – Visit Tiger Cave Temple (Half A Day)
Day 2 – Visit Railay Beach (All Day)
Day 3 – Visit Ao Nang (All Day)
For your first day in Krabi, I recommend visiting the Tiger Cave Temple. As climbing the Tiger Cave Temple mountain will be an exhausting but rewarding experience, day 2 in Krabi will include a relaxing trip to the Railay Beach. For your last day in Krabi, I recommend spending a day at Ao Nang beach.
Visiting Ao Nang beach will be appropriate to travelers of all ages. During the daytime, it has a peaceful beach town, but at night it turns to the noisiest party place in Krabi.
Railay Beach is worth a visit because of its relaxed atmosphere. There are no cars on the peninsula and getting to it is possible by the water transport only.
Technically those are two beaches on the Railay peninsula – Railay West and Railay East. For senior travelers arriving at Railay West, it might be challenging to get to the coast because there is no pier and passengers have to climb into the water and then walk to the beach.
Climb to the top of the Tiger Cave Temple mountain is demanding, and it is not an easy destination to reach. I recommend trying to reach the top of the mountain to everyone, but I understand that not everybody will be able to do it. Reaching the top of the mountain will depend on each person's physical and psychological health.
Day 1 – Tiger Cave Temple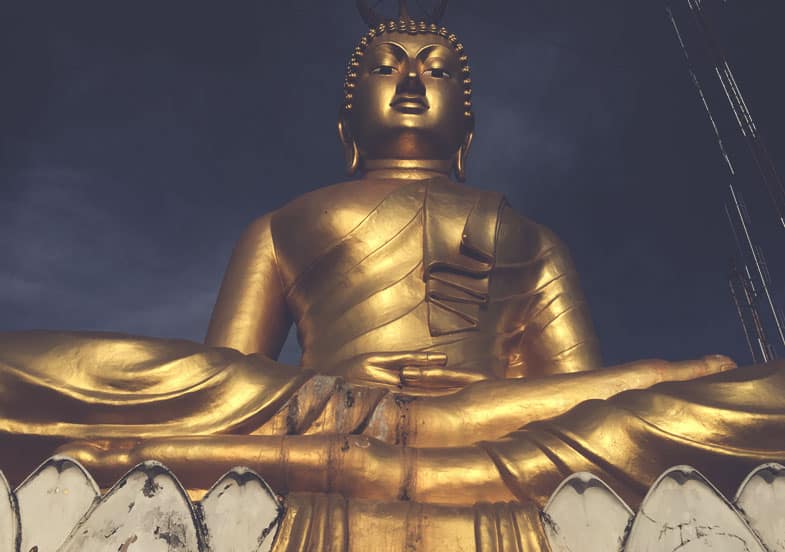 Visiting the Tiger Cave Temple is by far the most memorable experience I have had in Thailand. The Tiger Cave Temple is a Buddhist temple, but it is nowhere near to the type of temples you will see elsewhere in Thailand.
I can not stress enough how important it is to go there as early as possible. First of all because of the air temperatures. In the early morning, the air temperature will be noticeably lower than during the daytime. We started our climb up the mountain at 04:30 when it was still dark outside. I won't deny that it was a bit scary because of all the noises coming from the jungle, but at least all the monkeys were still asleep, and they didn't bother us at all.
If you go early, you will also avoid climbing up the mountain together with another 100 people around you. This way, no one will disturb you as well as you will not disturb others. The stairs are steep and narrow, and you really have to be careful when climbing them.
But the best thing about climbing early in the morning is the fantastic view from the top of the mountain will belong only to you. Experiencing sunrise from the top of the Tiger Cave Temple mountain is something out of this world. It simply can not be compared to being there at, let's say 10:00 when there are so many people around you.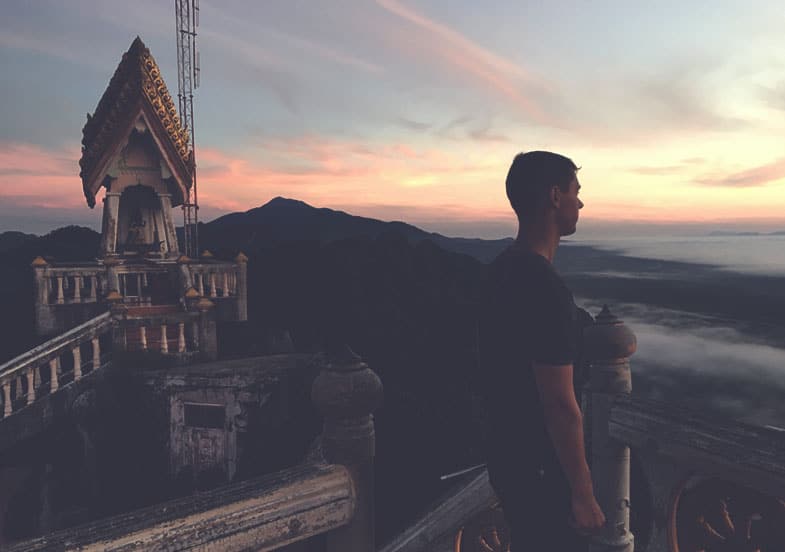 What to wear
The Tiger Cave Temple is a sacred place, and you should dress respectfully.
At the Tiger Cave Temple, you will visit two locations:
A temple inside the cave on the ground level of the mountain
A Buddha statue on the top of the Tiger Cave Temple mountain
Inside the temple, you are not allowed to wear the shoes as well your shoulders and ankles should be covered. The same rule applies to the other temples and sacred places around Thailand as well.
Tight clothing (for example, leggings) is not appropriate as well.
For the climbing part, I recommend wearing hiking or running shoes. Wearing flip flops wouldn't be too wisely because the stairs are very steep. Take extra precautions in wet conditions.
This article of mine is worth a read for every first-time traveler to Thailand – Dress Code For Tourists In Thailand.
Location
The Tiger Cave Temple Address is Krabi Noi, Mueang Krabi District, Krabi 8100, Thailand.
For other destinations, I would suggest to write down or to print out the address of your destination because many taxi drivers in Thailand do not understand the English language. It is not the case because of every Taxi driver knowing where the Tiger Cave Temple is.
Although if you choose to get there with the scooter, then writing down the address might come in handy.
Duration
The total length of your visit to the Tiger Cave Temple could be between 4 to 6 hours long. It is including getting there and back.
The Tiger Cave Temple is only about 8 kilometers away from Krabi Town and getting there by taxi shouldn't take longer than 15 minutes.
Where the most time will go will be to conquer the Tiger Cave Temple mountain. The Tiger Temple is 309 meters high, and it takes 1260 steps climbing very steep stairs to get to the top.
I did some research, and it appears that the fastest climb up the mountain is 10 minutes and 21 seconds. Our time was 42 minutes, but for some people, it could take even longer than one hour. I also understand how some people might give up without reaching the top because it is a really tough exercise to accomplish, but the award for getting to the top is amazing.
When up the mountain I believe one to two hours is enough to enjoy the beautiful scenery and to rest from the climb up. By the way, climbing down is not that easy as well.
Costs
There is no entrance fee at the temple nor the top of the Tiger Cave Temple mountain.
The only costs to visit this place is for the Taxi, songthaew, bus or a scooter.
Taxi from Krabi Town to the Tiger Cave Temple costs 300 baht (9.90 USD).
Songthaew from Krabi Town to the Tiger Cave Temple costs  80 Baht (2.60 USD).
Bus from Krabi Town bus terminal number 2 costs 40 Baht (1.32 USD).
To rent a scooter for a day in Thailand, it will cost you around 250 Baht (8.20 USD). The price will usually depend on where do you rent a scooter, is it new or old and how man cc's does it have.
To get around Krabi, a 50 cc scooter will be powerful enough because the area is relatively flat.
As for the additional costs, you should also bring some water for the big climb. Especially if you're climbing after 11:00 when it starts to get hot. To survive the Tiger Cave Temple experience without doing any harm to yourself staying hydrated is extremely important.
Day 2 – Railay Beach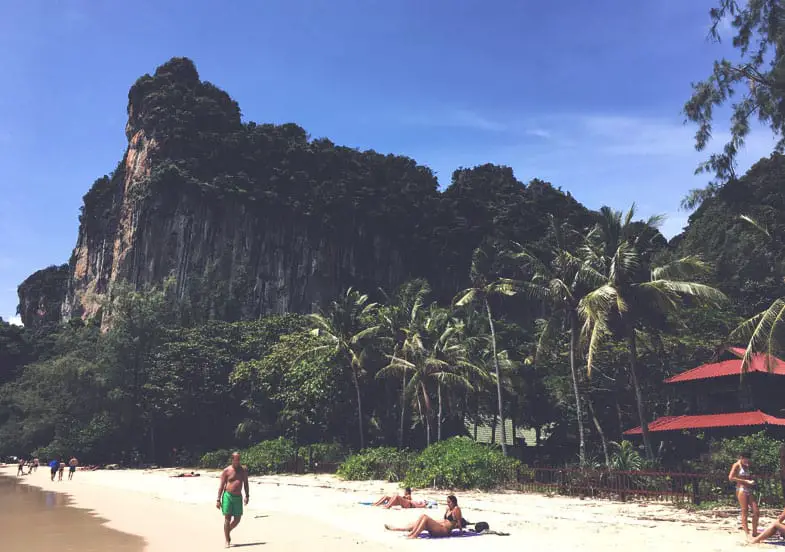 Railay Beach is among my favorite beaches in Thailand. Having no road traffic on the Railay peninsula makes it a very relaxing place to visit.
In high season (November to March) it can get overcrowded.
Both beaches – Railay West and Railay East are 10 minutes walk from one to another, and the street that connects both of the beaches are packed with small cafes and restaurants.
What to wear
No specific dress code is required for a visit to Railay Beach unless you would like to visit its fanciest restaurant, The Grotto.
I have good news for all the adventurous and fearless travelers. Many call Railay Beach a rock climber's paradise. So appropriate sportswear is a must if you would like to participate in this kind of activity.
Jungle trekking is possible as well, and I recommend visiting the Princess Lagoon. It definitely isn't for the faint-hearted, and you need to be fit to climb the steep limestone walls, but it is doable. Wearing covered shoes is a must.
Location
There are two options on how to get to the Railay peninsula. Either by a longtail boat from Ao Nang beach or by a longtail boat from Krabi.
Longtail boat from Ao Nang beach costs 100 Baht (3.30 USD) per person. The ride takes about 20 minutes.
As many tourists prefer staying at Ao Nang over the Krabi Town, more boats are leaving from the Ao Nang to Railay Beach compared to longtail boats from Krabi Town to Railay Beach.
Longtail boat from Krabi Town Chao Fah Pier costs 150 Baht (4.90 USD) per person.
Duration
You can easily spend a day at Railay Beach. For frequent travelers to Thailand who have seen everything, Railay beach could be a place where to spend a whole week. For those who are trying to squeeze as much as possible in their 14 days long trip to Thailand 1 full day at Railay beach is enough.
Costs
I've already partly mentioned the costs when visiting the Railay Beach – getting there either from Ao Nang or Krabi Town will cost you about 100 to 150 Baht.
The rest will depend on the places where you will have your lunch and dinner. There are plenty of places on Railay beach were to have some food.
Day 3 – Ao Nang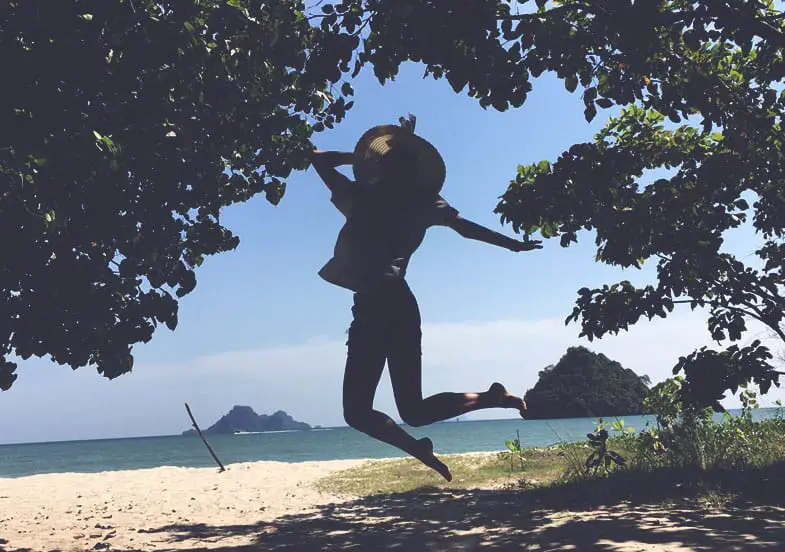 Ao Nang is a calm beach town during the daytime, but in the evening many bars open their doors to visitors. After a spectacular sunset, head to Ao Nang night market. It is a big food court with the stage for various shows in the middle of it.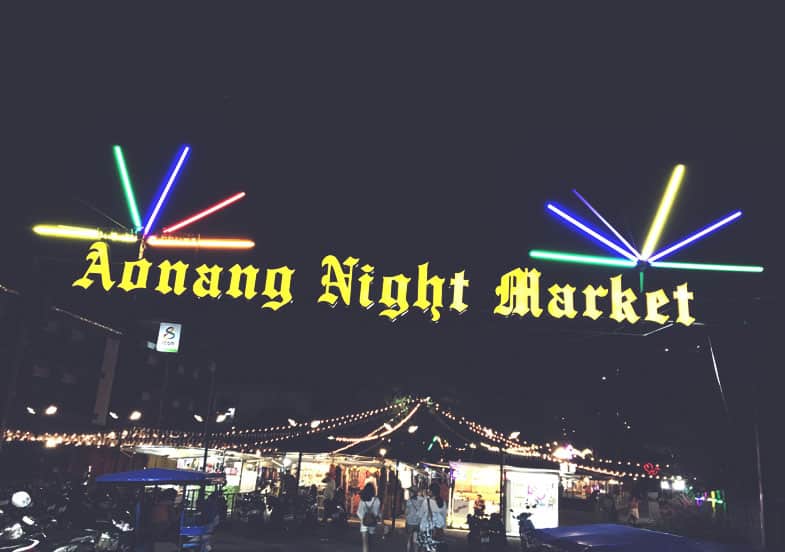 Ao Nang is the beach which reminds me of the beaches around Europe the most. Of course, it is still Thailand, but there is something to it which I can not explain why it makes me feel like this.
Ao Nang beach offers jet ski rides, paddle boarding, canoeing, and other activities on the water.
I haven't heard about cush things happening in Ao Nang beach, but in Patong beach one of the most popular tourist scams is a Jet Ski scam. What happens is that they rent you a Jet Ski, which looks fine. When you return the Jet Ski to the rental company, there is suddenly a part of a Jet Ski that is missing, or the paint has come off. It is all a part of the scam. Either the missing part was poorly attached to the Jet Ski or some parts of it were painted with a color that comes off in the water.
If you suddenly find yourself in such a situation, I recommend calling the Tourist Police. Their phone number in Thailand is 1155.
What to wear
No specific dress code is required for a visit to Ao Nang. The only exception would be a visit to the Chinese Temple in Ao Nang. You won't find the Chinese Temple on many tourist brochures. I don't know the story behind it, but it is worth a visit if you're exploring the area on a scooter.
Location
Ao Nang is only 27 kilometers away from the Krabi International Airport, and the ride from the airport to Ao Nang is approximately 45 minutes long. Taxi costs 600 Baht (19.80 USD).
As I've already mentioned, many tourists choose to stay in Ao Nang over Krabi Town. The reason for that is the beach and the sea views which are more accessible than in Krabi Town.
Duration
It again depends on the total length of your stay in Thailand. For those who are traveling to Thailand only for 14 days, I recommend staying in Ao Nang for 2 to 3 days.
Ao Nang is a great place from where to book various island hopping tours. Speedboats to such destinations as Phi Phi Islands and other leave daily.
I recommend using klook.com to search for various services and activities across Thailand. It is a trustworthy website which often offers significant discounts to popular tourist attractions across Thailand.
Costs
Ao Nang is not the most expensive place where to have a meal or to rent a room compared to such touristy destinations as Bangkok, Pattaya Beach, and Patong Beach.
As for the island, hopping tours remember to negotiate the price. You can always bring it down by at least 200 Baht (6.50 USD) or so.
Is Krabi Worth Visiting?
Krabi is worth visiting. Especially the Tiger Cave Temple and the Buddha statue at the top of the mountain.
Traveling to Krabi in low season is the best time when to do it if you don't want to see too many tourists around.
Of course, with more than 40 million tourists traveling to Thailand each year, they are going to be everywhere, but the difference between the number of tourists in Thailand lets say in January and October is noticeable.
I wouldn't say that Krabi Town itself is very interesting or beautiful. Spend there one day max.
I hope you found this article worth a read.
Have an exciting and safe trip to Thailand.