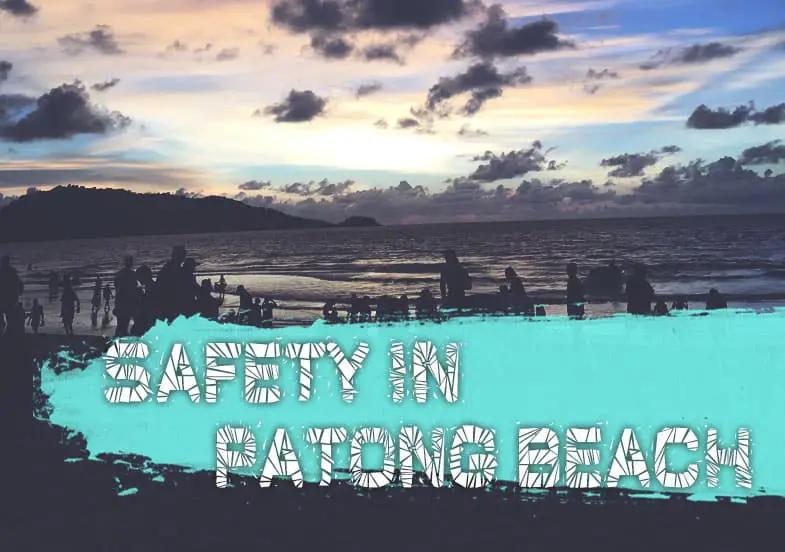 Patong Beach and Pattaya Beach are the most vibrant places in Phuket. Of course, various incidents do happen. To stay safe tourists have to use common sense and act prudently when different challenging situations are thrown at them.
In this article, I will share some tips on how to make a trip to Patong Beach a positive experience.
So, is Patong Beach safe? Either you are a solo traveler, a couple, or a family, Patong Beach is a relatively safe place where to spend your vacation. There are reports about pickpocketing, scams, and incidents among locals and tourists, but it is something that happens in any big city. Violent crimes are not common in Patong.
First thing first you need to write down the number of Tourist Police in Patong.
Tourist Police phone number is 1155. Call to speak with Tourist Police Thai or English speaking officer.
Tourist Police address in Patong is 150 Thawewong Rd, Tambon Patong, Amphoe Kathu, Chang Wat Phuket 83150, Thailand.
Tourist Police in Thailand is a mix of locals and foreigners who are doing their best keeping tourists in Thailand safe.
So, what not to do in Patong Beach:
Don't get too drunk
Don't start or take part in any conflict
Do not leave your belongings unattended
Do not leave your drink unattended (incidents of drink spiking)
Do not fall for many of the scams (I will explain in more detail)
Do not ignore the warning signs and flags on the beach
Do not ignore signs that forbid smoking, alcohol, etc.
Do not walk alone at night (especially at narrow alleys)
The list could probably be even longer, but you get the idea. Why act less responsible when in a foreign country?
What are the best-known scams in Patong Beach?
Scams in Thailand is a topic worth researching. Head to YouTube and type in something like popular Thailand scams.
I haven't driven a jet ski, but I have heard about the jet ski scam as one of the top scams in Patong Beach.
It happens like this. The rental company gives you a jet ski. It looks good, and before the ride, you're allowed to take pictures of it. The trick is that some parts of the jet ski will be painted with a color that washes off in the water. It means that when you return the jet ski, it will look like you have damaged it. Then they will ask for an inadequately large sum of money although they shouldn't because the jet skis have to be insured.
It is the same in all of Thailand. What you should do before getting into the taxi is to insist driving only with the meter turned on. If not most likely, you will end up paying much more than you should. Some drivers will try to explain why it isn't possible, but you should ignore that. If the driver doesn't agree to drive with the meter turned on, look for another taxi.
It happens in many of the clubbing hotspots around the world. The best way to stay safe and with the money in your wallet is not to leave your drink unattended. Surely there have to be lots of different techniques on how to slip something in the glass even if you think you're watching it.
Another tip is to be cautious when local tries to start a conversation with you. Often this is how many scams begin. Be present and try to evaluate the situation.
Why shouldn't you ignore signs forbidding smoking, alcohol, etc.?
It is the same about other laws in Thailand as well. Disobeying them might result in a very costly vacation. Some things you should not do to stay safe are:
Driving under the influence of alcohol
Talking bad about Thailand's king
Smoking in areas where it is restricted (temples, beaches, public parks, shopping malls, etc.)
Taking corals with you as a souvenirs
It is always a safe option to look at what locals do. Although regarding driving without helmet, many locals do that so, in this case, it wouldn't be a good example. And you don't have to guess twice who will be stopped by the police – you or the local guy without a helmet.
Keep in mind that many beaches around Phuket are no-drone zones. Penalty for flying a drone in Thailand without the registration can be up to 100 000 Baht (3 150 USD) or even a one-year jail sentence. To read more about safe drone flying in Patong Beach and Thailand read my article How To Register A Drone In Thailand.
Is Patong Beach Safe To Swim?
Patong Beach feels and is safe to swim. There are at least ten lifeguard stations on the beach, and there is always someone at them.
In high season the beach is packed with tourists from all over the world. It only means that you have to watch your belongings. Leaving them unattended might be the reason behind an unpleasant surprise when returning from swimming.
Some rules to follow on the beach:
Don't swim in the red flag area (stay safe from the rip currents)
Check for the signs warning about the box jellyfish
Wear water shoes

like these

(avoid cutting feet on sharp underwater rocks)
Red flags are placed on the beach when lifeguard has spotted a rip current. Swimming in the red flag area means risking your life. So red means hazard, but there are other colors as well:
A red and yellow colored flag indicates that there are lifeguards around – it should make you feel safer
Black and white checkered flag indicates that it is a zone for surfers
A green color flag means that all is good and it is safe to swim there
I haven't seen signs on Patong Beach that would warn people about box jellyfish, but it is something to pay attention to in Phuket and its surrounding islands. A sting by box jellyfish can cause serious injuries or even death.
I remember feeling super tiny jellyfish stings when I was swimming at Yanui Beach at around 10:00. I remember noticing the stings, but it took a while for a thought to arise that those could be small jellyfish.
Always Wear A Helmet – Unwritten Road Safety Rules In Patong
Driving a scooter without a helmet is the number one reason why tourists are stopped at the roadblocks. Police roadblocks are a common thing to see in Phuket (Patong Beach, Karon Beach, etc.) First, you will be fined for not wearing a helmet. Next, the policemen will ask for your IDP (International Driving Permit). To find out what is it, why do you need it and how to get it, I recommend reading my article Do You Need An International Driving Permit In Thailand.
First of all, wear a helmet for your safety and then to avoid being stopped at the police roadblock.
Is Patong Beach Safe For Families?
Overall the Patong Beach is a safe place. Patong beach is a popular destination among families, solo female travelers, seniors, and couples on honeymoon.
For families with kids, I would rather suggest staying either at Karon Beach or Kata Beach. Karon Beach is only 6 kilometers away from Patong Beach. Kata Beach is a little bit further away – 10 kilometers.
It is a good idea to stay at either of these beaches and to visit Patong Beach only for a day or two. Getting a taxi from Karon Beach to Patong Beach will cost you about 400 Baht (13 USD). The overall vibe on both of these beaches is much more relaxed and more suitable for a vacation together with children.
So I hope this article was worth a read. Have a safe trip to Patong!