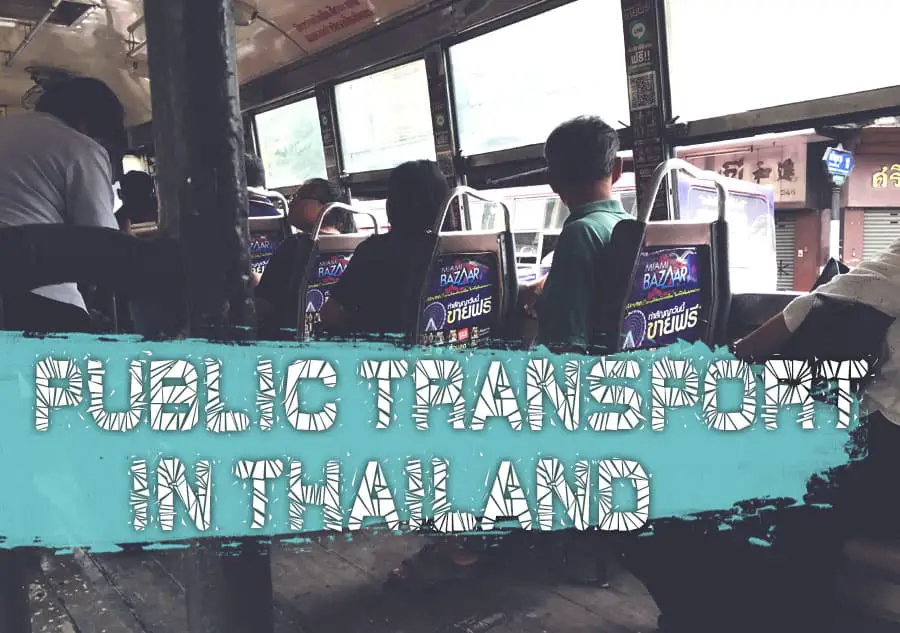 There are many ways of traveling in Thailand, and there are quite a few things to know about public transport in Thailand to have a safe and comfortable experience.
For most of the tourists, their main destination in Thailand has to be Phuket. For them, the most convenient way of getting there is by plane.
For tourists heading up north to Chiang Mai the best way to travel the distance might be by the 1st class sleeper train. A plane is also a good option.
And once tourists have reached their final destinations, there are scooters, speedboats, songthaews, etc.
In this article, I've gathered 27 tips for an easy and safe traveling by public transport in Thailand.
Air Travel (domestic flights)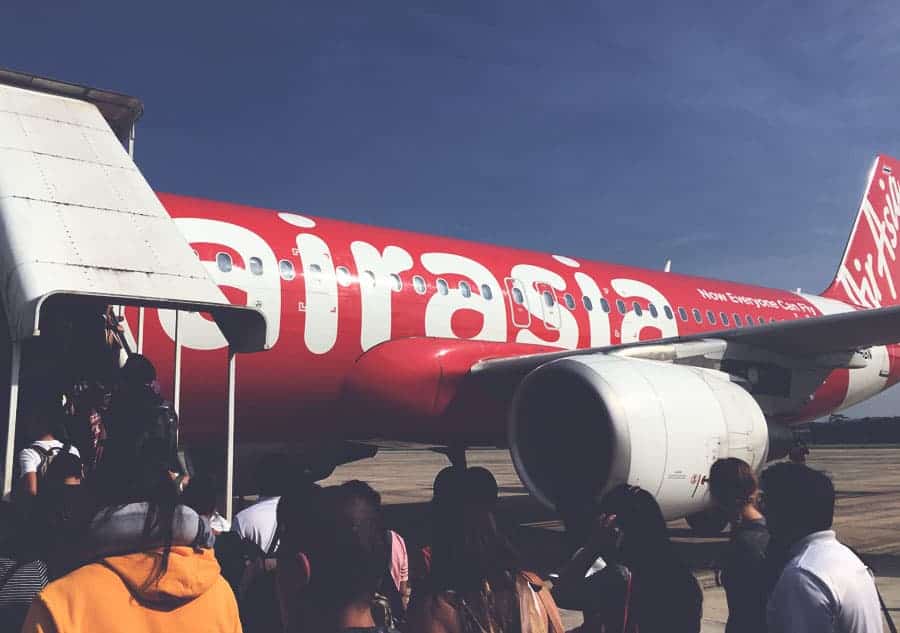 1. Inner Flights In Thailand
Several local airlines operate in Thailand – Nok Air, Air Asia, Thai Smile, etc. All of them are budget airlines except Air Asia feels more premium.
Inner flights in Thailand can take up to two hours. For example a flight from Krabi to Chiang Mai.
Usually, the previously mentioned airlines won't offer you a proper meal on the board. Therefore I suggest you buy something to eat while still at the airport.
In most cases, you will be offered a tiny bottle of water and some snack.
Bus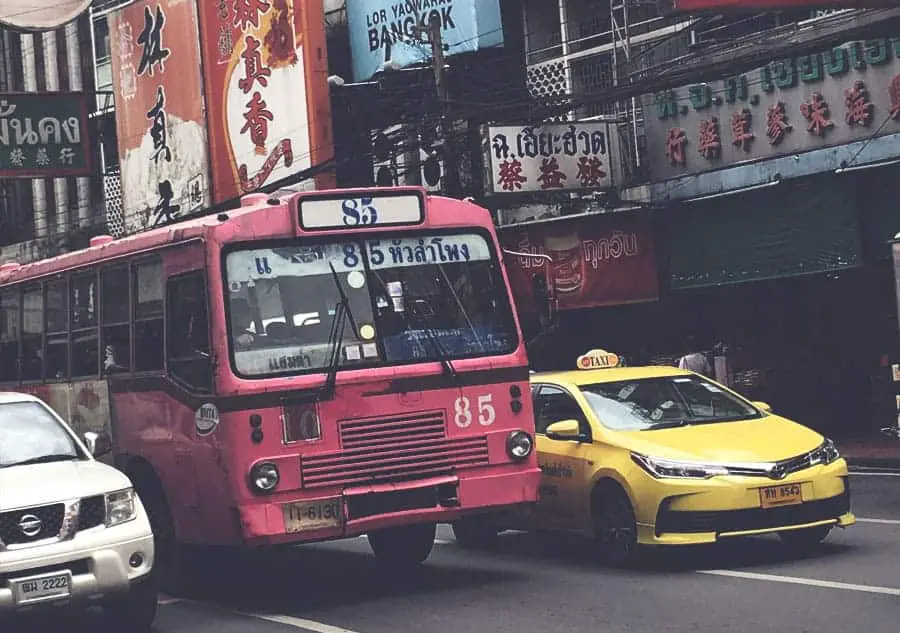 2. To Stop A Bus In Bangkok, You Have To Wave In A Specific Manner
Busses don't stop at the bus stops unless there's someone who waves at them.
But there's more. To stop a bus in Thai style, you will have to practice to wave your hand with your palm down as it is the correct way of doing it.
As a tourist, I've gotten away with just waving my hand randomly.
Tickets for the city bus in Bangkok you have to buy inside the bus. Find a free seat, and a lady will come to you to sell you the ticket.
3. Free Bus Rides In Bangkok
You might have heard that in Bangkok there are free bus rides available. It was true up until late 2018, but now it is no longer an option as Thai authorities canceled it.
4. Dress Warm For Airport Busses
In Thailand, most airport busses are new, comfortable and equipped with air conditioner.
Sounds good except that AC is almost always turned on to the max. For example, if you plan a bus ride from Phuket International Airport to Phuket Town, you better prepare a sweatshirt or a jacket for it as the bus ride will take about two hours and it might get quite cold at some point.
It doesn't apply to city buses in Bangkok because they have no windows nor the air conditioning. Bangkok's city buses with their wooden floors are yet another adventure to experience when in Thailand.
5.  What Is A Songthaew
A songthaew is a pickup truck with passengers sitting at the back. It has two rows of seats and that is it. There are no seatbelts, and in most cases, you have to hold to each other when driving. Some Songthaews might have a roof while some don't.
It doesn't sound too comfortable, but it is one of the most popular transportation among locals.
Songthaews are everywhere, and most likely you will drive one either in Phuket or Chiang Mai because there are not that many city buses in these areas.
Boat and Ferry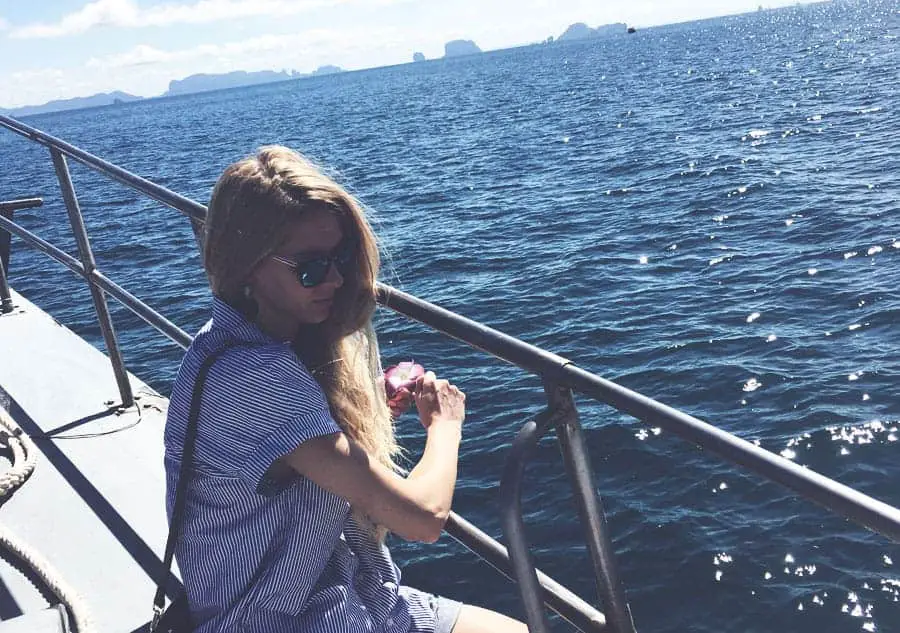 6. Using Chao Phraya River Taxi In Bangkok Is Easy
River Taxi In Bangkok is a popular choice among locals. It costs 15 baht (USD 0.48, EUR 0.42, GBP 0.37). It's a hop on and hop off type of transport.
There are orange, yellow, green and yellow/green boats (river taxis). The one that stops at every pier is the orange one.
Note that sometimes these boats will be overcrowded and you won't be able to pay for the ride. Normally you pay on the boat when approached by the lady with a coin jar. The same way as in busses in Bangkok.
7. Taking Beautiful Ferry Front Deck Pictures
If the weather is good in most cases, it is allowed to visit the ferry front deck to chill, take pictures and enjoy the beautiful views.
The only thing you should note is that on the front deck you have to sit down. On smaller ferries, standing is not allowed because of the safety reasons as waves might swing the ferry too much.
If you do not behave the captain will blow the horn with a big smile on his face.
Long-tail boat
8. Waterproof Your Valuables
There are ferries, speedboats, and long-tail boats in Thailand. You have to try all of them, but for the ride with the long-tail boat, you should know that departure and arrival of the boat might not always happen at the pier.
For example, at Railay Beach West there is no pier, and you have to get off of the boat by climbing the ladder into the water. If you travel with a small backpack, then this is no problem but carrying a suitcase form boat to the coast is difficult.
This way of getting in and out of the boat quite often is a tough challenge for seniors.
Metro (MRT) & Skytrain (BTS)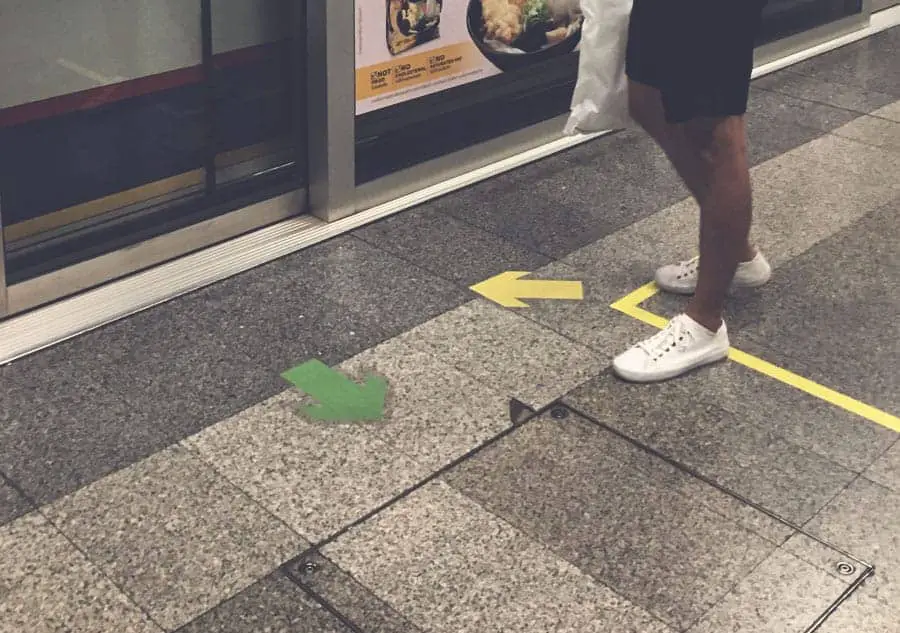 9. The Unwritten Metro Laws In Bangkok
I've seen this only in Bangkok. The process of getting in and out of the metro is crazily organized.
These yellow markers in front of the metro doors are for passengers to form lines before entering the metro. When passengers who have to leave have done it both of these yellow lines enter the metro flawlessly.
A similar approach can be seen at the escalators where people form two lines before going up. There is no pushing or squeezing.
Same couldn't be said about the city buses in Bangkok where instead of well-organized lines you get a crowd trying to squeeze into the bus.
10. Priority Seats In Bankok's Metro
Most of us have used to see priority seats in the public transportation for elderly and disabled passengers as well as for pregnant woman and baby-holding parents.
In Thailand priority seats in public transportation are also given to Buddhist monks.
11. What Time Does Bangkok Skytrain Close?
The Skytrain in Bangkok is closing at 12 PM. The last train leaves about at 11:40 PM. After the last train has left the elevated train platforms are closed for public. An exception is New Year's Eve when Skytrain is operating until 2 AM.
12. Use Skytrain Station As A Crosswalk
To cross a busy street in Bangkok, you must have nerves of steel and especially if you're doing it after 6 PM when it is already dark outside.
It will be much safer to cross the street using Skytrain station as an elevated crosswalk.
Metro stations can be used for the same purpose.
I've written an article about safe street crossing in Bangkok. You can read it HERE.
13. Watch Your Head
I am 6,2 feet (1,92 m) tall, and I had this situation where I had to run into the Skytrain before it's doors closed and I bumped my head on something that was attached to the ceiling.
It wasn't a very pleasant experience, and I hope that this will help taller people to avoid similar situations. The ceiling in the metro in Bangkok isn't very high either.
Motorbike Taxi
14. Motorbike Taxi In Bangkok
This might be one of the scariest things to do in Bangkok, but it is possible to use a motorbike as a taxi service.
Motorbike taxis can be found on every street corner in Bangkok, and they can be recognized by drivers wearing orange vests.
This mean of transportation is good for short trips, and the ride shouldn't cost you more than 150 baht (USD 4.79, EUR 4,18, GBP 3.67). Ride prices start at 30 baht.
15. Motorbike Taxi Safety
You might start to think that driving a motorbike taxi in Bangkok is safe only after you've used to it.
When driving a motorbike taxi, you should always wear a helmet for your safety.
Also driving a motorbike or a scooter in Bangkok without a helmet is number one reason for Thai police to stop you.
In Bangkok, police officers check for motorists without helmets at the intersections when the red light is on.
Speedboat
16. Low Season Dress Code For The Speedboat
If you plan to have an island hopping tour by a speedboat in the low season be prepared for short rain showers during the day.
If the rain starts during the ride, it will get really cold because of the strong winds.
Guys on the boat will have only life vests for your safety, and there will be no blankets or towels available. Therefore pack your bag wisely for that kind of trip.
If you do island hopping tour in a high season, consider purchasing a straw hat. It will protect you from the sun.
17. Is It Possible To Rent A Private Speedboat In Thailand
If you're a group of six travelers, this might be the best way how to get from one island to another.
To rent a six-passenger speedboat for a day, it costs about 15 000 baht (USD 479.54, EUR 418.30, GBP 366.44). It is about USD 80 per person.
Taxi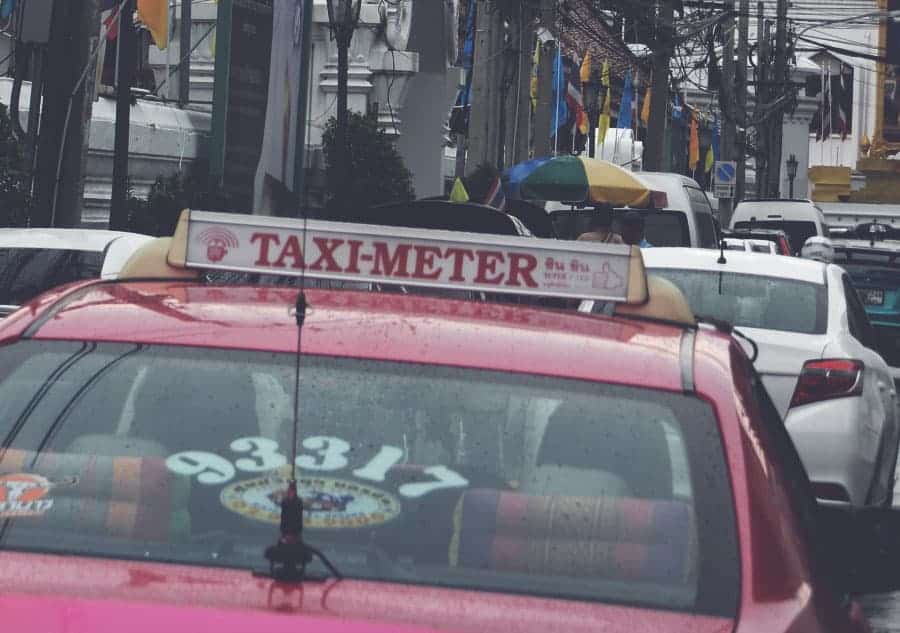 18. Best App For Taxi In Bangkok Is Grab
Grab (Grab Taxi) is the most popular App in Bangkok and Thailand that allows booking Taxi.
Other Apps you can try are All Thai Taxi, Easy Taxi.
Note that Uber in Thailand is not operating since April 8, 2018. I've written an article about its best alternatives and ridesharing tips in Thailand. 
19. Get In A Taxi Only If Driver Has Agreed To Turn On The Meter
This one is about the tourist scams in Thailand. If you will get into the taxi without meter turned on you might end up paying for the ride twice as much as you would have to do it normally.
Sometimes taxi drivers will persist on driving without the meter turned on. They will have many excuses why to do so, but you shouldn't agree no matter what. Just look for another taxi.
20. No Eating In Taxi
In Thailand, it is inappropriate to have a meal while in the taxi.
I don't know the backstory of this rule, but to avoid offending locals don't eat your Pad Thai or whatever you have with you while in Taxi.
The same rule applies to the metro stations in Bangkok. In metro stations, there are trash cans with signs next tot hem that forbid to bring the food to the metro. You won't see people sipping their cold lattes or fruit smoothies in the metro.
21. Don't Take Taxi In Bangkok During Hours Of 5 PM To 9 PM
You don't want to spend hours in the taxi because of the traffic. During hours of 5 PM to 9 PM, it is better to choose a metro or a Skytrain. This way you will get to your destination noticeably faster and cheaper.
Metro is the cheapest option, and its price starts at 15 baht (USD 0.48, EUR 0.42, GBP 0.37) for the first station. 2nd to the 11th station will cost you only 2-3 baht more.
For the taxi, the fare always starts at 40 baht.
Trains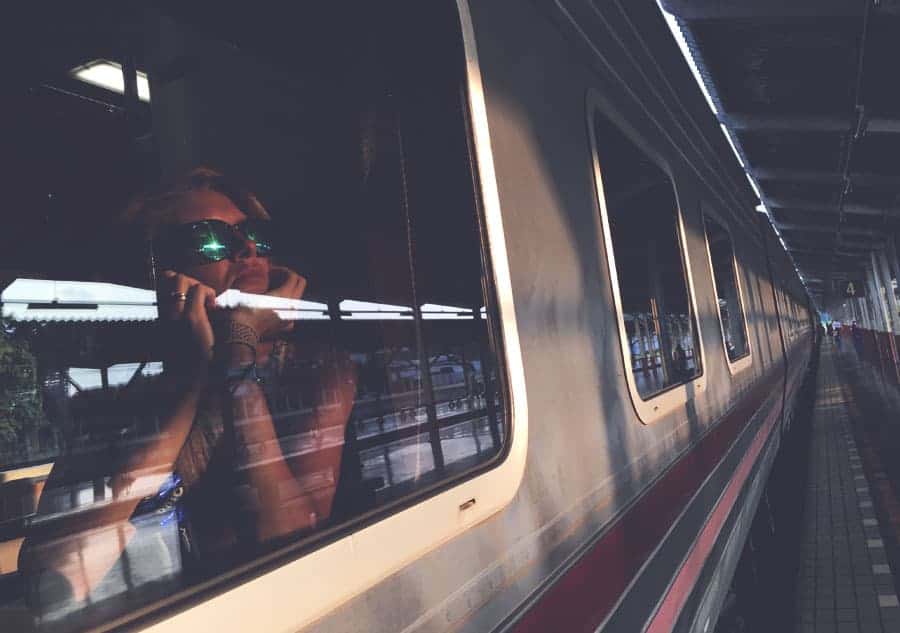 22. Night Train From Bangkok To Chiang Mai
1st or 2nd class sleeper train is an excellent option for traveling the distance from Bangkok to Chiang Mai and vice versa.
Several trains travel between both cities, but train number 9 is the newest, and lots of travelers highly recommend it.
You can read my review about train number nine from Bangkok to Chiang Mai HERE.
23. Air Conditioned Trains
Most of the trains in Thailand have air conditioners and that is great, but it is also good to have a sweatshirt or a jacket and long pants with you if you don't want to freeze.
Sleeper train rides in Thailand can take up to 14 hours, and in those trains, they will give you the blanket for your warmth.
Another option to stay warm on the train is to visit its restaurant to have a warm drink.
Tuk-tuk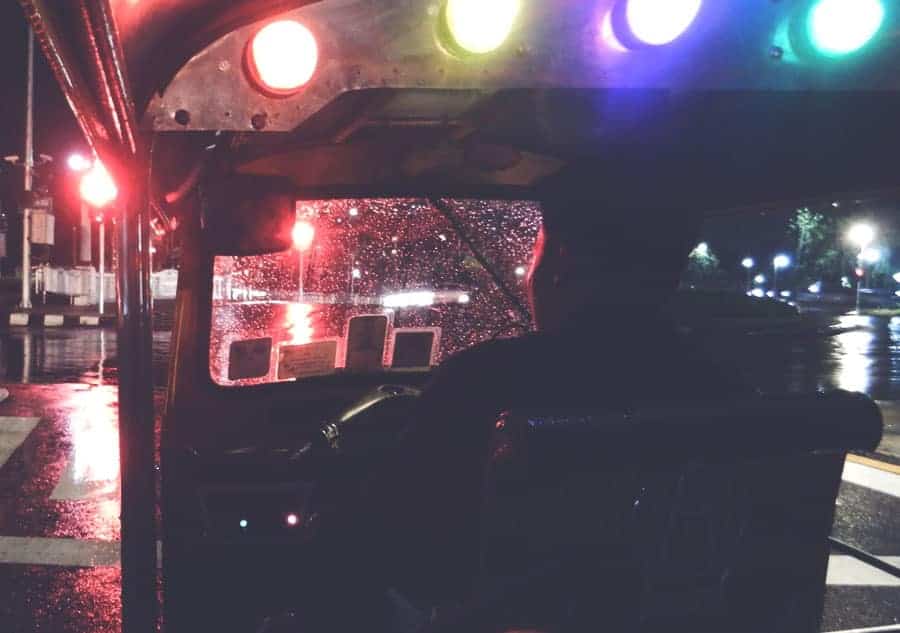 24. Be aware of tuk-tuk scams in Bangkok
Depending on your destination one tuk-tuk ride in Bangkok will cost you about 400 baht (USD 12.79, EUR 11.15, GBP 9.78) on average.
One of the most popular tourist scams in Thailand is a tuk-tuk scam.
Some tuk-tuk drivers will offer to take you around the city temples for only 10 to 20 baht. That is about 0.50 USD. Now that you know their average price per ride it seems suspicious, right?
If you agree to their offer, they will inform you that during your sightseeing tour you will have to visit a couple of "export shops." It won't matter either you will buy anything or not, the tuk-tuk drivers will get their commission (petrol voucher) for the fact that you've visited the store.
If you're okay spending up to half an hour in those shops and dealing with pushy sellers, it might be a cheap alternative to other sightseeing tours in Bangkok.
25. Have The Address Of Your Destination In the Thai language
Tuk-tuk and taxi drivers can't know every street and small alley in the Bangkok city. Therefore it is good to prepare the address of your destination in the Thai language.
Don't take it personally if you are refused the ride. The reasons for that might be the driver not knowing the route or huge traffic jams ahead.
Another good option is to call your destination and have the Thai speaking person talk to your tuk-tuk or taxi driver.
I had this awkward situation in Bangkok when I showed the print screen of my Airbnb address to the taxi driver. Instead of typing into the navigation the street name he slowly started to type the following letters A… D… D… R… E… S… S…
I soon understood that it would be safer for me to look for another taxi driver.
Private Chauffeur
26. Booking A Taxi In The Hotel Lobby
Let's say that you have to book a taxi for the next morning to get to the airport.
It is possible to book a taxi in the hotel lobby. What you'll get will be a private chauffeur, and unlike in taxi, you won't be able to ask for the meter to be turned on because there will be no meter.
The hotel will offer you a fixed price for the ride to the airport. Of course, this price will be higher compared to the regular taxi with a meter because the hotel will earn a commission that way.
Most hotels will have fixed prices for all of the most popular tourist attractions and destinations nearby.
In my case, the 45 minutes long private taxi ride from Rawai beach to Rassada pier in Phuket cost me exactly 700 baht (USD 22.36, EUR 19.52, GBP 17.10) which I find quite expensive compared to the regular taxi ride for the same distance.
27. No Durians On The Public Transportation
Durian is a fruit, and because of its smell, it is forbidden on many types of public transport in Thailand.
For example, in metro stations, there will be no smoking, no eating and drinking, no flammable goods and no durians signs.
Taxis will have stickers that forbid durian as well.
So, no durians in public transport in Thailand as well as in many public places in Thailand.
And That is it!
Hopefully, this piece of information will make your trip to Thailand more safe and comfortable.