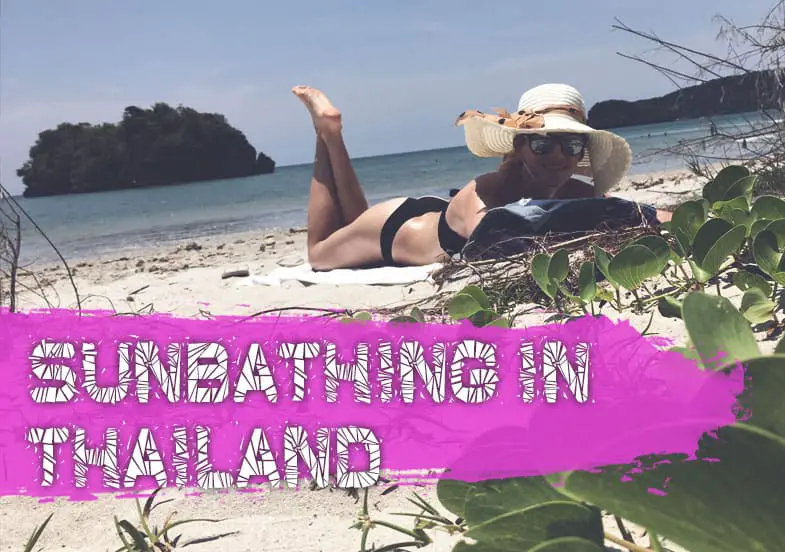 Did you know that many Thais find whiter skin more beautiful?
While you are planning your trip to Thailand to relax and to get a nice tan most Thais choose to wear long sleeve shirts and hats when outside. For tourists, their desire to have a whiter skin might be a problem because many of sunscreens sold in Thailand are whitening creams.
So, which sunscreen is best for Thailand? The best sunscreen for Thailand is the one that doesn't contain whitening agents. If you are traveling with the suitcase, the best option is to buy the sunscreen in your home country. This way, you will buy a safe and reliable product as well as it might cost less than in Thailand.
Note that not all companies who sell skin lightening products in Thailand provide accurate information about their product ingredients. It leads to the possibility of buying unreliable products.
Therefore if you travel with more than hand luggage only, I recommend getting a sunscreen before your trip to Thailand.
Here is the list of recommended sunscreens for Thailand:
Unlike for other things and services in Thailand, sunscreen and other supplies cost the same if not more than in Europe and the United States. So this might be another reason why to buy it before you travel to Thailand.
So let's try to figure out what sunscreen to use in Thailand.
What SPF sunscreen for Thailand?
For most tourists, the best choice will be a sunscreen with SPF 30. As UVB ray blocking difference between SPF 30 and SPF 50 is only 1%, sunscreen with SPF 50 is a good option as well.
Most likely, when in Thailand, you will swim or take a shower several times a day. You will also sweat quite a lot, and the sunscreen will come off.
As most of the sunscreens are active only for 2 to 3 hours, it is recommended to reapply them every two hours or so if you are staying in the sun for that long. 
If you will spend your day swimming at one of the many beautiful beaches in Thailand, it is recommended to reapply sunscreen each time after you have swum. You could also use a waterproof sunscreen like this.
By the way, you might find my article about the best beaches in Thailand for couples worth a read.
Where To Buy Sunscreen In Thailand?
If you choose to buy sunscreen and other toiletries in Thailand, they are widely available.
Here is the list of some of the most popular stores in Thailand that you will come across and where you will be able to buy sunscreen:
Watsons
7-Eleven
Boots
FamilyMart
There are several stores in Bangkok Suvarnabhumi Airport (BKK) that sell sunscreen and other toiletries as well so you will be able to start preparing for that sunny Pattaya or Phuket trip right after your landing in Thailand.
Of course, buying sunscreen in the airport will be more expensive than doing it elsewhere. This article is written by thailandtravelessentials.com.
Where to buy sunscreen in Bangkok?
Of course, there are plenty of options where to buy sunscreen in such touristy areas in Thailand as in Pattaya, Patong, Phi Phi islands and other, but in Bangkok, I would look for previously mentioned Watsons or Boots.
Another option is to buy in markets, although I wouldn't trust buying from there.
Also, most products will be whitening creams, not sunscreens.
Note that if you decide to buy sunscreen in Thailand, you will risk:
buying a whitening product without knowing it
purchasing a fake product with no effect at all
purchasing a potentially unsafe product
paying more than you would have paid at home
What Is Sunscreen Price In Thailand?
I feel like sunscreen in Thailand is more expensive than in Europe.
For example, a 100ml, SPF 30 Watsons sunscreen body lotion costs 290 Baht (USD 9.27, EUR 8.18, GBP 7.28).
100ml, SPF 50 Watsons sunscreen body lotion costs 320 Baht (USD 10.23, EUR 9.03, GBP 8.04).
Another well-recognized sunscreen brand in Thailand is Banana Boat. They have products for both adults and babies.
For example, water-resistant 90ml, SPF 50 Banana Boat kids sunscreen lotion costs 550 Baht (USD 17.95, EUR 15.52, GBP 13.82).
Of course, you could find discounts offered by the previously mentioned sellers, but the overall feeling is that sunscreen in Thailand is more expensive than elsewhere.
As for sunscreen costs in popular tourist destinations in Thailand, of course, they are more expensive compared to more rural areas where it might not be possible to purchase sunscreen at all.
Can You Get A Tan In Thailand?
Of course, getting tanned in Thailand is easy. It doesn't matter either it is a rainy season or not – you will get tan in Thailand unless you're staying all day indoors. Be careful because getting a sunburn in Thailand is easy as well.
Note that UVB rays can pass through clouds, which means that you can a get a tan also in cloudy weather.
Will I get a tan in Thailand in December?
As in December, the sun is out for most of the time, it is easy to get tanned.
November, December, January, and February is the best time to sunbathe in Thailand.
December is a high tourist season in Thailand, and many would say that it is the best time when to visit Thailand.
In this article of mine, I share information about the air temperatures in Thailand in December as well as what to wear for winter months in Thailand.
Will I get tan in Thailand in July?
July to August is a low season in Thailand. Heavy rainfall is a common thing, but getting a tan is still possible.
With fewer tourists and many hotels and services being noticeably cheaper compared to high season months in Thailand, maybe it is the ideal time for you to visit Thailand.
How to avoid tan in Thailand?
If you've had enough sun and you want to avoid it here are some options on how to do it:
Wear a long sleeve shirt and pants
Wear a hat (many locals prefer umbrellas)
Avoid ultraviolet rays by staying in the shadow
Now that you have learned about Thais willing to look a few shades whiter and about Thai specific sunscreens it is up to you to decide either to bring your sunscreen or to get one in Thailand.
I hope this article will make your trip to Thailand more safe and comfortable.