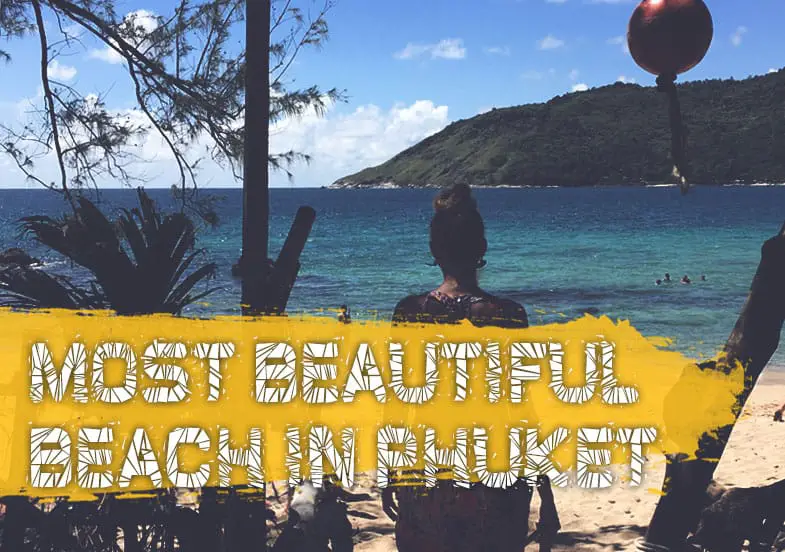 In this article, I will review five of the best and most beautiful beaches around Phuket. Either you're a solo traveler, a couple, or a family traveling to Thailand with this article I will help you to find the best beach in Phuket for your vacation.
Here is the list of 5 most beautiful beaches in Phuket:
Yanui Beach
Freedom Beach
Karon Beach
Kata Beach
Patong Beach
Keep reading to find out how each of these beaches differs one from another, what else is there to do besides swimming and other valuable information for the first time travelers to Thailand.
When planning a trip to Phuket, I recommend seeing what activities are available on klook.com. It is a trustworthy website I always use to book island hopping tours and other events.
So let's dive into it and see what is the most beautiful beach in Phuket and why. I will also try to explain which from the beaches mentioned above are suitable for what type of travelers.
1. Yanui Beach
    Yanui Beach is the best beach in Phuket for couples.    
Yanui Beach is one of the most beautiful beaches in Phuket. Getting there from Patong beach is an experience worth on its own because it is one of the most scenic roads in Thailand.
For me, it is the best beach in Phuket.
Cleanliness:

9/10
Yanui Beach is very clean. There must be someone cleaning the beach. I've seen piles of trash on other beaches in Thailand, but not on Yanui Beach.
By the way, it is also a safe beach because there are lifeguards at the beach during the daytime.
Surrounded by nature:

9/10
It is what I like about Yanui Beach the most. You're surrounded only by nature.
Away from the crowds:

8/10
Yanui Beach is relatively close to Patong, Phuket Town, Big Buddha and other tourist destinations in Phuket, but when in Yanui Beach it feels hidden from the rest of the world. Especially if you're visiting it in low season.
In October in the early morning, you could have the whole beach to yourself.
Accommodation options:

2/10
There are no hotels nor Airbnb's next to the beach. The closest hotel to Yanui Beach is about 200 meters away from it.
The closest place to Yanui Beach where there are plenty of hotels and Airbnb's to choose from is Rawai Beach. It is only a couple of kilometers away from Yanui Beach.
Easy to Reach:

7/10
The beach is located 20 km away from Patong Beach.
The best option of how to get there is by scooter. The road has many curves, and in some places, it is quite steep. But you should fear not because there are not too many cars on the way from Patong Beach to Yanui beach. Drive at speeds you are comfortable in.
The road from Patong Beach to Yanui beach goes past Karon Viewpoint and Windmill Viewpoint. Both viewpoints are worth a visit.
Getting a taxi from Patong to Yanui beach will cost you about 700 Baht (20 USD).
Food & drinks:

7/10
There is only one restaurant on the Yanui beach right across the road, but the food and drink variety in it is good enough. And the prices on the menu are lower compared to cafes, beach bars, and restaurants at other beaches mentioned in this article.
2. Freedom Beach
    Freedom Beach in Phuket is for people looking for hidden beaches around Thailand.     
I've heard mixed reviews about this beach. Friends of mine had said that the beach was dirty when they were there. They were also not impressed by how challenging it was to access it.
Cleanliness:

9/10
When I was at the beach, it was clean. I saw some trash near and inside the jungle, but it wasn't that bad.
Surrounded by nature:

8/10
The jungle is impressive, and there are no restaurants or hotels around. It feels secret and hidden from the rest.
Away from the crowds:

8/10
It is unlikely for Freedom Beach to be listed in various reviews about beaches in Phuket because of how difficult it is to get to it. So many haven't even heard about this beach, and it is the main reason why adventurous travelers can enjoy this beach to themselves.
Accommodation options:

0/10
A sleeping bag doesn't count. It might even be dangerous because of all of the reptiles. Otherwise, there are no hotels nor the Airbnb's around.
Easy to Reach:

4/10
The beach is located 4 km away from Patong Beach, and getting to it is not easy. There are two options:
Taxi and then approximately 20 minutes long hike through the jungle
Longtail boat
The first option will cost you about 200 Baht (6.50 USD) to get there by taxi. After the taxi ride, you will have to walk a jungle trail to get to the beach. I wouldn't recommend this beach to seniors because the path is demanding.
The second option is more comfortable but more costly. Taking a speedboat from Patong to Freedom beach will cost you about 1500 Baht (50 USD). For seniors, it isn't a good option how to get there as well because there is no pier at the beach. It means climbing out of the longtail boat into the water.
Food & drinks:

7/10
Bring your food and beverages. Especially the water. With no cafes and restaurants around it is a must.
3. Karon Beach
    Great beach in Phuket for families and seniors.    
A beautiful beach with lots of bars, restaurants, beach resorts, travel agencies and tourist attractions around. An excellent beach for those looking to stay at one place during their vacation in Thailand.
Although I mention that it the best beach for families and seniors, young couples will find it attractive as well.
Karon Beach is the beach that reminds me of beaches around Europe the most.
Cleanliness:

9/10
For many tourists, Karon Beach is their main destination in Phuket. It is why the beach is being looked after. It is a clean beach with clean water, but sometimes you spot some marine trash on the beach or in the water.
Surrounded by nature:

6/10
Unlike for the first two beaches, Karon beach isn't surrounded by jungle or the mountains. Besides clean water and almost white sand, there are some palm trees, but nothing more.
Away from the crowds:

7/10
It is less crowded than Patong Beach, but in high season there surely will be people who will find this beach too crowded.
Accommodation options:

9/10
Lots of standard and luxury hotels available. Plenty of Airbnb's to choose from in Karon Beach. The price range for most of Airbnb's varies between 30 to 70 USD per night.
Easy to Reach:

9/10
If you've just arrived at the Phuket International Airport you have plenty of options on how to get to Karon Beach:
Taxi
Private driver
Shared van
Phuket airport shuttle bus
Car rental
Food & drinks:

9/10
The food variety in Karon Beach is excellent.
It is more towards Patong Beach, but if you're staying at Karon Beach, you should visit Sizzle Rooftop Restaurant. It has one of the best views of the bay, and the food is delicious. Just take a look at those TripAdvisor reviews.
4. Kata Beach
    Another great beach for families.    
Kata Beach is similar to Karon Beach. They are both next to each other. Patong beach where all the madness happens is only 8 kilometers away from it. For those seeking a relaxed atmosphere, it is a good idea to book a hotel at Kata Beach and to visit Patong beach for a couple of nights to have some parties. A taxi ride from Kata Beach to Patong Beach will cost about 500 Baht (16 USD).
Kata Beach is very quiet in low season. Traveling to Kata Beach in October or November could be the best time when to have the beach to yourself. Especially in early mornings.
On many beaches around Thailand, people gather together to look at the beautiful sunsets. While many say that the best place where to see the sunset in Thailand is Promthep Cape viewpoint you will be able to see beautiful sunsets in Kata Beach as well.
I would say that Kata Beach is the best beach in Phuket for families.
Cleanliness:

9/10
The beach is clean and looked after. It has to be the best beach in Phuket for a vacation with kids. Kata Beach is the most appropriate beach among beaches mentioned in this article to practice surfing skills. The water usually is calm, but the waves are big enough for the surfing beginners.
Surrounded by nature:

6/10
It is the same as for Karon Beach. You don't feel surrounded by nature that much as in Yanui Beach or Freedom Beach. It is a typical Thai beach which can be seen on many travel brochures. Great place for beautiful vacation selfies.
Away from the crowds:

7/10
Compared to other beaches mentioned in this article, Kata Beach feels less crowded. In the high season, some people could find it overcrowded. It depends on when you go there.
Accommodation options:

9/10
There are plenty of hostels, hotels, beach resorts, and Airbnb's to choose from. Many listings will have rooms with sea view available.
Easy to Reach:

9/10
Kata Beach is walking distance away from the most hotels and beach resorts.
The driving distance from Phuket International Airport is 45 kilometers. Get a taxi, and for approximately 800 Baht (26 USD) you will be Kata Beach in half an hour.
Food & drinks:

9/10
Food options in Kata Beach are great.
One of my favorite places is En Vogue restaurant. It is a restaurant at Novotel Phuket Kata Avista Resort & Spa.
I also recommend visiting The Boathouse Phuket and their cooking classes. It is also one of the best places in Phuket where to have a romantic dinner during sunset.
5. Patong Beach
    Best beach in Phuket for party lovers.    
For the beach to be the most beautiful to me, it has to feel hidden and private. It has to be surrounded by nature, and I do not care if there are restaurants or hotels nearby. But I also understand how Patong Beach, which is the opposite to what I just wrote, could be the most beautiful beach in Phuket for someone.
It never sleeps, and it has plenty to offer:
Jet skis
Paragliding
Countless bars and restaurants
Massage places
Go-go bars
Nightclubs
Oh, and the swimming is possible as well 🙂
They try to keep the beach as clean as possible, and it feels safe as well. Nevertheless, on such a crowded beach you should always look after your belongings.
Cleanliness:

9/10
The beach is well maintained. Surely you could see some trash, but the service staff would soon take care of that.
Surrounded by nature:

4/10
Surrounded by people 🙂
Away from the crowds:

2/10
It doesn't matter if it is a high season or low season. There are always many people in Patong Beach.
It is similar to Pattaya if you've heard about it. There is always a debate around about which place is better for parties. In Patong Beach, the nightlife is built around the walking street (Bangla Road) while in Pattaya the whole city is one big party zone.
If you're looking for such kind of parties as in movie Hangover 2, you should visit both Patong Beach and Pattaya.
Accommodation options:

9/10
There are plenty of accommodation options in Phuket. With so many hostels and shared rooms available in Patong Beach, it could be the best option where to stay for budget travelers.
Easy to Reach:

7/10
I mean it is close to Phuket Airport, and it is easy to get there either by taxi or a bus, but getting there in a car that you've rented could be a challenge for less confident drivers. There are so many people, and the streets are narrow. When driving a scooter, you should be extra cautious.
Food & drinks:

8/10
Plenty of street vendors, cafes, and restaurants to choose from. Especially around Bangla Road. The prices are higher compared to other tourist destinations in Phuket. For example, a small bottle of fresh pomegranate juice on Bangla Road could cost 80 Baht (2.50 USD) while somewhere away from the cities in Phuket it could cost only 20 Baht (0.65 USD).
So I've tried to give you my honest opinion about each of the places. I hope it was worth a read.
Have a safe travel to Phuket.