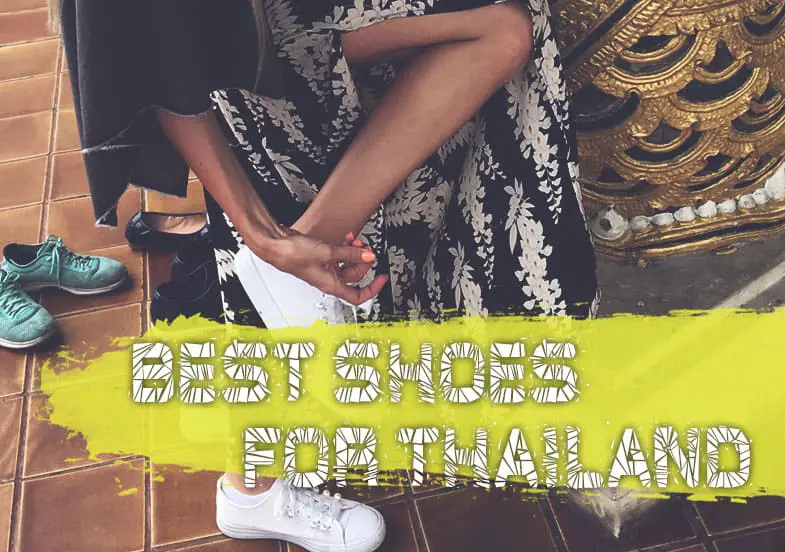 I would say that flip flops and running shoes are the two must-have shoes for Thailand.
Depending or your planned activities in Thailand, you might consider packing other types of shoes as well.
Have a quick read about the most appropriate footwear for Thailand when visiting its beaches, temples, luxury nightclubs, nature parks, and other locations.
So, what Shoes To Wear In Thailand? Here is the list of best shoes to wear in Thailand:
Flip Flops
Sandals
Water Shoes
Running shoes
Hiking shoes
Slip-on sneakers
High heels
Men's dress shoes
Crocs slip-on shoes
I have listed almost all types of shoes here, but the ones you will pack for your trip to Thailand will depend on your destination and planned activities.
For example, in Northern Thailand, it is noticeably colder than in Southern Thailand. Especially if you're exploring such locations around Chiang Mai as Wat Phra That Doi Suthep – beautiful temple on a mountain.
Now back to a quick review and suggestions about what type of shoes will be the most appropriate for every occasion in Thailand.
1. Flip Flops For Thai Beaches
During your trip to Thailand, you're going to visit some of the most beautiful tropical beaches in the world.
If you're planning to stay in one beach resort during your entire trip to Thailand, I guess flip flops will be your number one choice when it comes to deciding what shoes to wear in Thailand.
Flip flops will be the perfect fit for a short distance walks throughout the cities and on the beaches.
Can you wear flip flops in Thailand?
There are no restrictions to wear flip flops in Thailand except in temples and other religious sites in Thailand. Flip flops are the best footwear for leisurely walks on the Thai beaches and beach towns.
One of my most read blog articles is Dress Code For Tourists In Thailand. As it covers information about Thailand specific laws and unwritten rules for dressing appropriately, it is a must read before your first trip to Thailand.
2. Sandals
I don't like sandals, but I can see why they're a good option for Thailand. Especially if they're slip-on sandals because you will have to take them off every time you're visiting a spiritual place in Thailand.
If you would read my Dress Code For Tourists In Thailand article, you would find out that you are restricted from entering all temples in Thailand with any type of shoes. All shoes have to be left outside the temples.
If you plan a temple day, I recommend taking a pair of socks with you. You will be able to enter temples with naked feet, but it feels better to have socks on.
3. Water Shoes
I mean water shoes are an excellent choice for both doing the island hopping tours and traveling to Thailand in the rainy season.
Getting in and out of the speed boats or longtail boats with wearing flip flops can be quite dangerous, or you could lose the flips flops as well.
For example, in Railay beach, if you're arriving with a longtail boat from Ao Nang, you need to climb out of the longtail boat and get into the water to get to the coast.
As for the rainy season, it rains quite a lot, and your shoes will get wet fast.
So the best shoes for Thailand rainy season might be water shoes like these.
4. Running Shoes For All Occasions
When in Thailand I prefer wearing running shoes over all other types of shoes that I have listed here.
As instead of visiting temples and other holy sites in Thailand, I rather choose to explore nature I find the running shoes the best footwear for me in Thailand.
Running shoes are light, and they dry quickly if wet. They're also safe enough for a scooter rides and the most of the hiking trails.
And as those are the ways how I prefer to discover Thailand running shoes are the best shoes to wear in Thailand for me.
Oh, and I can use them for my early morning runs as well — no need to pack an extra pair of shoes.
5. Hiking Boots For Northern Thailand
Northern Thailand is the place to be for adventurous hiking and trekking tours, but unless you're going for deep jungle trekking, I suggest leaving your hiking boots at home.
Also, a problem with hiking boots in Thailand could be that those are enclosed shoes, and it might lead to overheating.
In my opinion, getting trail running shoes like these is a much better alternative to hiking boots.
If you're reading this, you should check Klook's website and their hiking offerings. It is also train tickets, cooking classes, Thai massage and other stuff you can buy there, but this Khao Yai Nature & Wildlife tour is something spectacular.
6. Slip-on Sneakers
In my opinion, this is another excellent option for Thailand.
Easy to take off when visiting temples, safe when riding a scooter or to climb a ladder and comfortable for long walks.
By the way, if you're planning to purchase any shoes when in Thailand, be aware that it will be challenging to find shoes if you have big feet. Especially in markets.
7. High Heels For Luxury Thai Nightclubs
If you want to enjoy some unexpected privileges dress nicely for your visit to Thai nightclubs. And by nightclubs I mean fancy rooftop bars overlooking Bangkok.
While it is possible to get into a nightclub with jeans and sneakers, you could miss out on a special attitude from the service staff as well as on other perks.
So if you're planning to visit one of many rooftop bars in Bangkok, wear a dress and high heels.
8. Men's Shoes For Thailand
Same rules apply as for the ladies wearing high heels. Wearing men's dress shoes, trousers, and a long sleeve shirt might get you a better seat at the rooftop bar.
Thais like to dress nicely, and nicely dressed people are treated with more respect.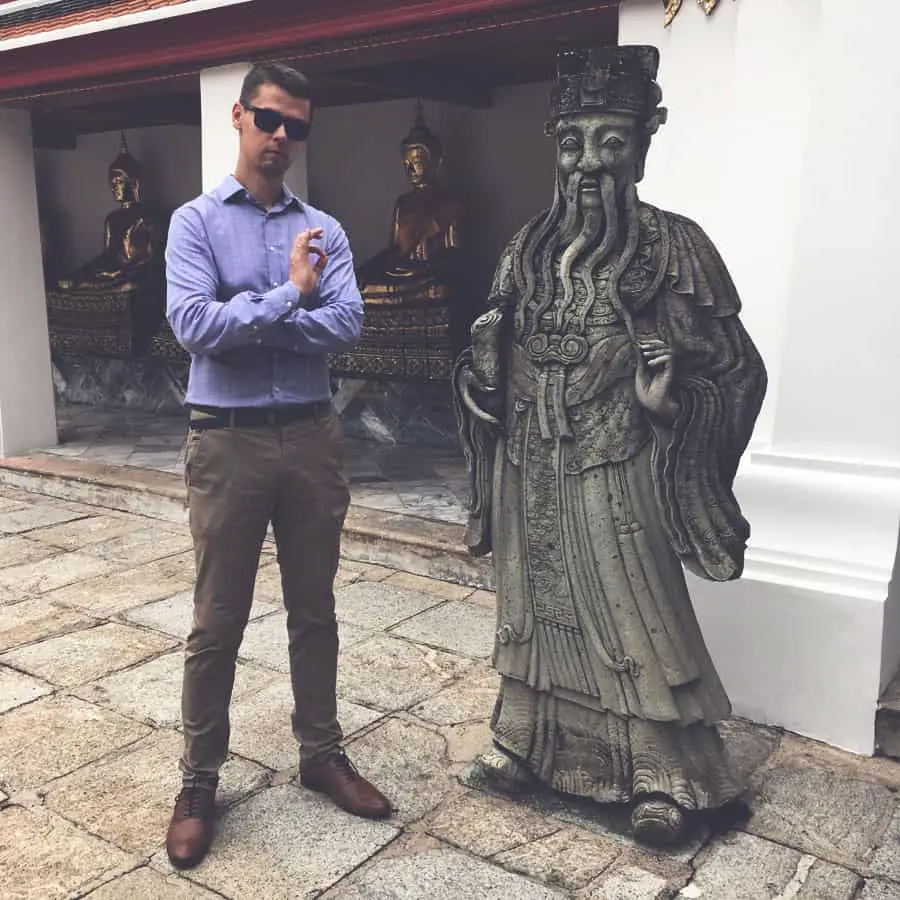 9. Crocs Slip-On Shoes For Thailand
These Crocs Slip-on shoes might be the best fit for all of your planned activities in Thailand.
If you have space in your backpack for only one pair of shoes, pack these!
Easy on/off will make your life easier when you will visit more than 20 temples in a day, and you won't have to worry about getting them wet during island hopping tours in Phuket.
You might even sneak into the high-class establishments with these Crocs.
What Shoes Should I Bring To Thailand?
Now that I have reviewed all types of shoes and on what occasions you might need each of them, it is up to you to decide what shoes to pack for Thailand.
From what I've seen and done myself, the most popular tourist attractions in Thailand are:
Island hopping tours in Phuket
Hiking and visiting elephant sanctuaries in Chiang Mai
Island hopping tours means a lot of sand and water. Therefore comfortable flip flops or water shoes will be the best option.
Note that sometimes when swimming sharp underwater rocks or corals might cut your feet. If you're staying near the beach that has underwater rocks, I recommend swimming with water shoes.
As for the hiking, the best trails are around Chiang Mai, and the air temperatures there are lower compared to Phuket or Bangkok.
So closed shoes are the best option but don't go with the pro hiking boots unless you're planning to get lost in the jungle. Wear regular running shoes or trail running shoes, and you will be okay.
If you're traveling with the suitcase I suggest packing these type of shoes:
Flip flops for a leisurely vacation on the beach
Running shoes for the scooter rides and long walks (Bangkok city sightseeing, hiking trails, etc.)
High heels or men's dress shoes for those fancy nights out
Any comfortable slip-on shoes for visiting temples
What shoes to pack for Thailand if you're traveling with one backpack?
That's me, and I pack flip flops and running shoes only.
I hope this article was helpful to you to decide what shoes to pack for Thailand, and hopefully, you learned some Thailand specific facts as well.
Have a comfortable and safe journey!