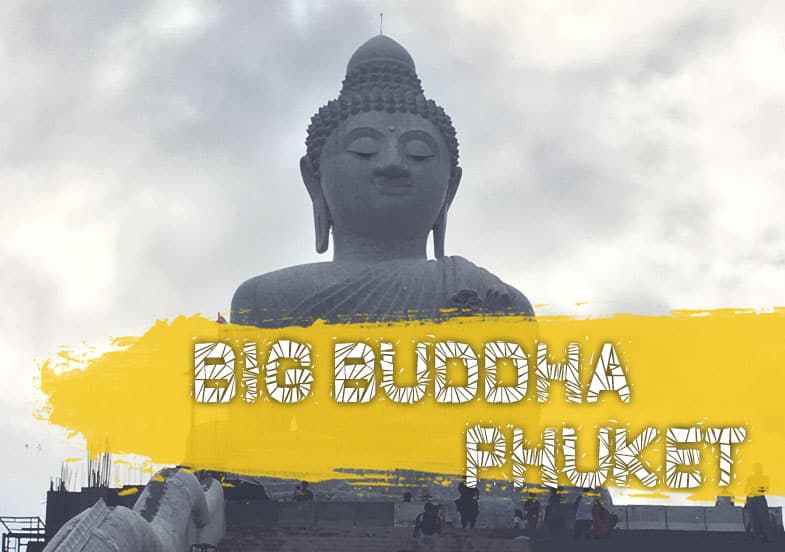 On a sunny day in Phuket, the Big Buddha is a place worth visiting. If you're staying either at Karon Beach or Phuket Town, you will be able to see the Big Buddha statue from there as well as from other places around Phuket, but I still recommend driving up the hill and exploring the Big Buddha site.
I will write this article as a useful review of the Big Buddha religious site in Phuket.
Keep reading to find out the best ways how to get there and other practical information to make it a safe and pleasant journey to the Big Buddha statue.
So, here are the key facts about the Big Buddha in Phuket:
Big Buddha address: Karon, Mueang Phuket District, Phuket 83100, Thailand
Contacts: +66 81 891 3827
Opening hours: Daily from 08:00 to 19:30
Entrance fee: Free, but there is a box for donations
Approximate visit duration: 1 to 2 hours
Is Big Buddha In Phuket Worth Seeing?
In my opinion, it is worth seeing, but I would like to share other people's opinions about this place as well.
We enjoyed our visit. They are doing lots of restoration work, but it didn't deter from our appreciation of this holy place.
Make sure if you have a choice and go for the evening view. You will see the small towns and villages light up at twilight.
Being blessed by a Priest was also a nice touch and meaningful for those who do it.
I had high expectations, but if I am honest, I was a little disappointed. It was not as grand and elaborate as we had envisaged. The big buddha in Hong Kong was far more magnificent.
When we were coming down a couple of monkeys come down to great us. They were so close we could give them a kiss but we didn't touch them.
To briefly comment on other people's opinions, I would also like to recommend Nakkerd Hill (that is where the Big Buddha statue is located) as one of the places in Phuket where to watch the sunsets.
My only concern would be getting down from the hill if driving by a scooter, but otherwise, it is worth it.
I don't remember the name of the cafe, but there is one nearly before reaching the Big Buddha site. That's the right spot where to watch the beautiful sunsets of Thailand.
If you haven't done your research yet, many travel blogs recommend Promthep Cape in Phuket as the very best sunset spot in Thailand and even in the world.
Now back to Big Buddha. TripAdvisor user Shell670 says that he waited for something spectacular but was a little disappointed, and somehow I felt the same. Nevertheless, I recommend visiting this place when you're in Phuket.
And regarding its small and furry inhabitants, I recommend reading my article about seven best places where to see monkeys in Thailand and safety precautions to take when meeting them.
What Are Big Buddha Phuket Opening Hours?
Big Buddha Phuket is opened daily from 8 AM until 7.30 PM.
If you travel to Thailand in high season, I recommend visiting Big Buddha either early in the morning or the late afternoon. 
In high season in Thailand (November to March), there are so many tourists around. Especially in such tourist hotspots as in Phuket, Pattaya, Phi Phi Islands, and others.
Big Buddha is one of the main tourist attractions in Thailand, and it is almost always crowded there. By coming early, it is possible to escape these crowds. The air temperature in the early morning will be lower as well.
By coming in the late afternoon, there will be fewer tourists as well, but besides that, you might witness a beautiful sunset.
Regarding weekdays there is no significant difference – there are always tourists around.
What Is Big Buddha Phuket Entry Fee?
There is no entry fee at the Big Buddha Phuket.
Nevertheless, donations are appreciated, and there are several ways how to donate to this religious site.
For example, right before the entrance into the Big Buddha statue, there is a possibility to purchase a small and square marble tile that will later be used to renovate the Big Buddha statue.
Also, for the tourists wearing inappropriate clothing (uncovered shoulders, miniskirt, leggings, etc.), they will offer sarongs in exchange for a small donation. Although donation here is not obligatory (they will lend you sarong for free), it will be appreciated. Note that the sarongs have to be returned after the visit to the Big Buddha site.
What To Wear To Big Buddha Phuket?
Although there is no specific dress code for a visit to Big Buddha, there is a list of items which are not allowed inside the Big Buddha site:
sleeveless shirts
short tops
leggings
short skirt
see-through shirts
Like its already mentioned in this article, they will lend you a sarong if you will be dressed improperly. Not all religious sites in Thailand will lend you sarongs for free, but they are free for use at the Big Buddha site.
I recommend buying a beautiful sarong on your first day in Thailand and then using it when visiting temples and other religious sites and then bringing it home as a souvenir from Thailand.
I also recommend reading my article Dress Code For Tourists In Thailand.
Where Is Big Buddha Statue Located?
Reaching the Big Buddha statue is relatively easy, and there are several ways how to do it.
When traveling in Thailand, I always recommend writing down the address of your desired destination in the Thai language so that you can show it to the taxi driver because the language barrier is often an issue.
You can keep this advice for other destinations around Thailand because, in Phuket, every driver will understand and know where the Big Buddha is and how to get there.
Taxi is one of the options on how to get around Phuket, but I recommend renting a scooter. Especially for exploring the beautiful seacoast among the Patong Beach, Karon Beach, Yanui Beach, and Rawai Beach.
I have written a super detailed and must-read article about the scooter rentals in Thailand. Read it HERE.
How to get to Big Buddha from Phuket Town?
Big Buddha is only about 10 miles (16 kilometers) away from the center of Phuket Town, and it takes approximately 40 minutes to get there either by a car or a scooter.
If driving by a scooter, be aware that the road that leads to Big Buddha is quite steep and curved, but the road surface is good, and the road itself is wide enough. The road that leads up the hill is 3.4 miles (5.5 kilometers) long.
There are no direct buses to Big Buddha. So your options on how to get there are either to walk or to rent a scooter or a car. Another option is to get a tuk-tuk or a taxi.
The price of getting to Big Buddha either by a tuk-tuk or a taxi will be about the same. The only real difference will be the comfort of the ride. Getting to Big Buddha by a tuk-tuk will be a fun challenge. Conquering the steep hills is not what they are designed for, but with a little effort, it is doable.
How to get to Big Buddha from Karon Beach?
Karon Beach is 9 miles (14.5 kilometers) away from the Big Buddha.
The options on how to get there are the same as for getting there from the Phuket Town – scooter, car, tuk-tuk and taxi.
My only advice would be to take extra caution when driving a scooter on the road that leads from Karon Beach to Big Buddha. It is a road with two lanes into each direction, and the speeds there are noticeably higher than on other roads around Phuket. If you will check Google Maps, the road number is 4028.
How to get to Big Buddha from Patong?
Patong is 13.5 miles (22 kilometers) away from the Big Buddha.
Similarly to the previous cities, your options on how to get to Big Buddha from Patong are scooter, car, tuk-tuk, and taxi.
Regarding the road choice, you have two options. The shortest road is the same as you would drive to Big Buddha from Karon Beach, but alternatively, you could also use roads number 4029, then 4020, and finally road number 4024.
How to get to Big Buddha from Phuket Airport?
I guess most travelers will arrive at Phuket International Airport and then head to their hotels or Airbnb's, but if you would like to go straight to Big Buddha, the best option would be to take a taxi.
As I have never done it that way, I won't be able to comment on the costs for such a ride. But to give you an idea of how much could it cost, depending on your negotiation skills, the taxi ride from Patong to Big Buddha and back costs about 1500 Baht (50 USD, 44 EUR, 38 GBP).
So 37 miles (60 kilometers) long ride from the Phuket airport to Big Buddha could cost a little bit more than 1500 Baht.
Can you walk to Big Buddha?
Yes, you can walk to Big Budha. If you're up for an hour-long hike, you should try it. My only recommendation would be to always carry water with you when hiking in Thailand.
If you would like to conquer the Nakkerd Hill on your foot from the east side of it (Phuket Town), I recommend beginning your walk from the intersection of Soi Jaofa 49 and Chao Fah Tawan Tok Road. To get there, you can take a bus that goes from Phuket Town to Karon Beach.
If you would like to begin your hike from the other side of the mountain (Karon Beach), head to Patak Soi 12 and look for the handwritten sign that says "walk to Big Buddha." From there, just follow the signs, and you should reach your destination in about 1 to 2 hours.
What Attractions Are Near Big Buddha Phuket?
The Big Buddha statue is located in the middle of the Phuket. After spending a couple of hours at the top of Nakkerd Hill, there are plenty of other tourist destinations nearby.
Here are few I recommend visiting:
Colorful (literally) Phuket Old Town – 30 minutes away from Big Buddha
Rawai Beach seafood market and restaurants in it – 25 minutes away from Big Buddha
Lovely Yanui Beach (my favorite in Phuket) – 30 minutes away from Big Buddha
Karon Viewpoint for the perfect Instagram picture – 30 minutes away from Big Buddha
Phuket is small, and within a couple of days, you should be able to visit each of these places without a hurry.
Note that there are no restaurants inside the Big Buddha site, but you will be able to buy some ice cream, fruit, and smoothies. So maybe it is a good idea to pack something to eat and drink for your trip to Big Buddha.