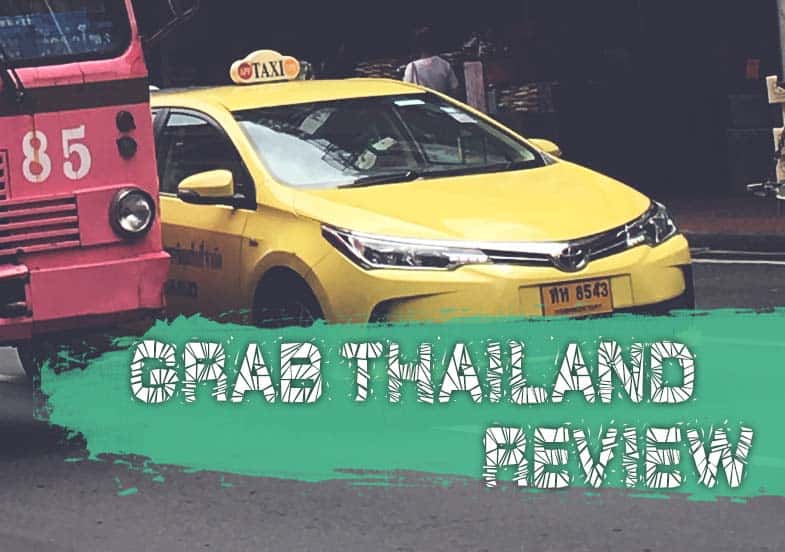 In this Grab Thailand review, you will find valuable information about Grab Thailand app, price, services, and other traveler tips regarding ridesharing culture in Thailand.
Is there Grab in Thailand? Already for several years, Grab is the most successful ridesharing and taxi app in Thailand.  Grab runs its transport, courier, and food delivery services in the biggest cities of Thailand, and it is expanding its business fast. By 2022 Grab plans to become a nationwide service in Thailand.
You could also find this article of mine useful where I review the best Uber (not operating in Thailand since 2018) alternatives in Thailand.
So have a good read about Grab in Bangkok and Thailand!
 For long-distance travel in Thailand (bus, train, airplane, ship) I always use 12 Go Asia services. It is a trustworthy website and the most convenient way of booking tickets for public transport in Thailand. Take a look at it here HERE.  
What Is The Difference Between GrabTaxi And GrabCar?
The main differences between GrabTaxi and GrabCar are fares and the car types provided by each of the services. GrabTaxi has metered fare, but for GrabCar the fare is fixed. Another difference is the car type – GrabTaxi is a regular taxi while GrabCar is a private car.
For both GrabTaxi and GrabCar, it is possible to pay either by a card or cash.
What does JustGrab mean?
JustGrab is another service by Grab, and it was launched in 2017.
What JustGrab means is that it combines both GrabTaxi and GrabCar into one service.
The main advantage of JustGrab is that it allows you to see the price for the ride upfront.
Its main downside is that you will not know either GrabTaxi or GrabCar will be sent to you.
So if the upfront pricing is something that you look for when booking a taxi, then JustGrab in Thailand is the right choice for you.
Note that using JustGrab most likely will be a faster way how to get a ride because of the broader network of the cars around you.
Is Grab Legal In Thailand?
Although Grab has some legislation issues, it is recognized by the Thai government and all political parties. Therefore it is safe to say that Grab in Thailand is legal, and getting a Grab ride will not get you in any trouble whatsoever. 
One of the issues with the legal side of Grab is that not all of its drivers are licensed, but it is the responsibility of a driver to get a license.
Currently, Grab is operating in more than 20 cities in Thailand, and the company is expanding fast.
Here is the list of most popular tourist destinations in Thailand where Grab services are legal and available for everyone:
Bangkok
Pattaya
Phuket
Chiang Mai
Chiang Rai
Koh Samui
Krabi
Using Grab in Chiang Mai is the same as in Bangkok or elsewhere in Thailand. Just open the app, select your location, and book a ride, and the nearest Grab driver will be assigned to you.
Is Grab Safe In Thailand?
Grab Thailand is safe, and for many tourists, it is the most convenient way how to get around cities in Thailand.
Here are a few reasons why is Grab safe in Thailand:
The meter will always be turned on. So no place for scams
You won't have to negotiate the price of the ride
The Grab app will let you see the driver approaching you
Getting around with Grab or a regular taxi is easy and cheap, but there are other good alternatives to it as well. Read my article about public transport in Thailand for tourists.
How To Use Grab Taxi in Thailand?
To access Grab, download the Grab app from Google Play Store or App Store.
I guess as for other Apps as well they sometimes might not work as expected.
I had experienced a situation when I was unable to evaluate my ride because the evaluation screen didn't come up. The ride was okay, but I always rate the drivers.
Sometimes given rates disappear as well.
You won't find this kind of information on Grab Thailand website, but here is the list of some reasons why Grab drivers could refuse you a ride:
If the driver finds the distance too short
If the driver doesn't understand the language
If you are driving with a pet
If the driver sees that you're about to have a meal in the car
If the driver doesn't know where to drive (his GPS could not work etc.)
You won't find this kind of information on Grab Thailand website because it is not something a business would like to promote. Just be aware that situations like these might happen to you as well.
After the Grab App update in early 2019, they have implemented a new system which forces customers to pay more if they don't show up for the ride five minutes after the driver has arrived.
While it shouldn't be a problem for most of Grab users, with many glitches that the App has after its update, it is becoming a problem, because too often the rides are canceled, prices for the rides are doubled for no reason, and there are other glitches as well.
What happened during the Grab App update is the Grab Food integration with other Grab Apps. Apparently, it wasn't an easy task. Let's hope they fix all the App bugs as fast as possible.
Do you need to tip the Grab driver in Thailand?
It is not necessary to tip the Grab driver in Thailand although the round-up of the fare will be appreciated. Tipping for the Grab rides in Thailand is not expected, and it is not what locals would do as well.
How to report Grab driver?
I most cases the Grab drivers won't talk to you, and I believe it is because of the language barrier.
Nevertheless, I have had rides with very talkative Grab drivers, and in most cases, they tried selling me tickets to various tourist attractions such as zoos, cabaret shows, private longtail boat rides and other.
Be cautious when booking services from them or their friends because you could end up paying more than you should.
I prefer booking such services from this website – klook.com.
So, how to report Grab driver? To report a Grab driver, you have two options – either to rate a driver right after your ride or from the history section in your Grab app.
To rate a Grab driver from the history section, you have to follow these five steps:
Click on the Menu button
Click on the History button
Choose a Grab ride you want to rate
Rate it with stars from one to five
Click on the Submit button
Lately, there have been reports of Grab drivers being picky and refusing the rides for no reason. So don't get confused if this happens and look for another trip.
How Much Does Grab Cost In Thailand?
First I would like to mention that on average a Grab ride will cost you more than a regular taxi ride, but if you prefer not worrying about the cash then Grab Taxi or a Grab Car might be the best choice for you.
Here are five main factors that determine the price for the ride:
The distance from your location to your destination
Highway toll fees
Time of the day (rush hours)
Airport surcharge
Booking fee
The first one is obvious – the further away you are from your destination, the more you will have to pay.
What are Grab Thailand booking fees?
Grab booking fees are different between all three taxi services provided by Grab.
Also, different Grab booking fees apply to different types of cars within one service.
For example, a booking fee for a regular Grab Taxi is 20 Baht (0.64 USD), but booking fee for a seven-seater Grab Taxi is 150 Baht (4.79 USD).
Note that unlike for Grab Taxi and Grab Car, advance booking is not available for Just Grab.
How much is the highway toll in Bangkok?
Highway fees are something that you will be introduced with when traveling from the Bangkok city to Bangkok International Airport (BKK).
The Highway toll from Bangkok to Suvarnabhumi Airport (BKK) is 75 Baht (2.39 USD).
The Highway toll from Bangkok to Don Mueang Airport (DMK) is 120 Baht (3.83 USD).
The highway is the fastest way how to get from Bangkok to any of those airports if you've chosen to get there by car.
For example, to get from Bangkok to Suvarnabhumi Airport, it takes about 40 minutes, but be aware that sometimes it can take even up to two hours.
Note that usually, it is the driver who pays the toll. At least in most cases, drivers offer to do so. In this case, the amount of money paid will be added to the total bill for the ride.
Grab rate during rush hour
During rush hours the Grab rates are by 30% percent higher than regular rates.
I prefer anything else over getting a Grab ride during a rush hour in Bangkok and in my opinion, the metro (MRT) or the Skytrain (BTS) are the best alternatives to Grab in Bangkok.
What are Grab Thailand rates?
JustGrab Thailand rates:
Base fare 55 Baht (1.76 USD, 1.55 EUR, 1.38 GBP)
Fare per kilometer for the first five kilometers is 3 Baht per kilometer
Fare for each kilometer after the first five kilometers is 6 Baht per kilometer
Fare per minute 2.3 Baht
Is advance booking available for Grab in Thailand?
Advance booking is available for GrabTaxi, and it costs 45 Baht (1.44 USD, 1.27 EUR, 1.13 GBP).
Advance booking is not available for JustGrab.
Does Grab Taxi accept credit card?
Yes, Grab Taxi in Thailand does accept credit cards although to eliminate any chance of credit card fraud it is wiser to pay by cash.
Does Grab Taxi accept cash?
Yes, Grab Taxi accepts cash, and it is the best way how to pay for the ride.
By paying by cash, you don't have to give away your bank card details as well as it will reduce the possibility of your bank card being stolen if you will not carry with you.
The amount you will have to pay for GrabTaxi, GrabCar or a regular taxi will rarely be more than 500 Baht (16 USD, 14.11 EUR, 12.56 GBP).
Are toll fees included in Grab?
No, toll fee is not included in Grab fare. Toll fee is a separate payment, and it can not be found as a function or a separate payment within the Grab app.
Highway toll fees in Thailand can be paid either by the passenger or the driver.
For example, if the Grab driver would pay a highway fee toll, he would then charge you the highway toll fee after the ride.
I have always let Grab drivers pay the toll fee.
Is Grab Cheaper Than A Regular Taxi?
In some occasions having a Grab ride could be cheaper than to have a regular taxi ride, but on average Grab will cost you more than a regular taxi.
Situations, when a regular taxi in Bangkok or elsewhere in Thailand is more expensive than a Grab ride, may be caused by unfair taxi drivers who make wrong turns and therefore longer routes for the trip.
Does Grab Taxi have a booking fee?
Yes, Grab Taxi have a booking of 25 Baht (0.80 USD, 0.71 EUR, 0.63 GBP).
Basically, it is a fee that covers the costs for the drivers to reach their clients.
Is there a cancellation fee for Grab?
As of April 2019, there is a new Grab cancellation policy.
Grab will charge for cancelation if:
client cancels his ride 5 minutes or longer after the request was made
driver cancels the trip because the client didn't show up in 10 minutes after the driver arrived
Grab cancelation fee is between 10 Baht (0.32 USD) to 50 Baht (1.59 USD).
How much does Grab to the airport cost?
The average price for the Grab ride from Bangkok to Suvarnabhumi Airport (Bangkok International Airport) is 400 Baht or 12.76 USD, 11.35 EUR, 10.05 GBP.
I have used both Grab and regular taxi services to get from the city to the airport, and the rides have always cost around 400 Baht. This article is written by thailandtravelessentials.com
Note that once you will get inside the Grab Car or Grab Taxi, the driver most likely will ask to you or should I say inform you that you will be driving on an expressway to the airport which will add an additional 70 Baht to your ride. 
Of course, you can refuse his offer, but it is not a good idea because driving the city streets will make it a very long ride.
By the way, the ride from the city center to Bangkok airport should take approximately 40 minutes if you're driving on a highway.
How To Use Grab Thailand App?
Can I use Grab without internet?
Not really because you need an internet connection to book a ride.
As you need an internet connection for the booking part only, you could look for Wi-Fi to book a ride, and for the rest, the internet wouldn't be needed.
Note that in this case, you wouldn't be able to receive a notification about the refused ride, answer to a drivers message, or to track the location of the driver.
Can I use Grab without a phone number?
No, you can not use Grab without phone number because the phone number is needed to complete the registration for the Grab app.
I recommend getting a tourist SIM card and using it during your trip to Thailand.
In this article, I've reviewed the best SIM card options for tourists.
So now that you have read my Grab Thailand review, I hope it will make your trip to Thailand easier.
Remember that Grab and regular taxis in the biggest cities of Thailand are everywhere and getting one on short notice shouldn't be a problem. Especially in Bangkok.